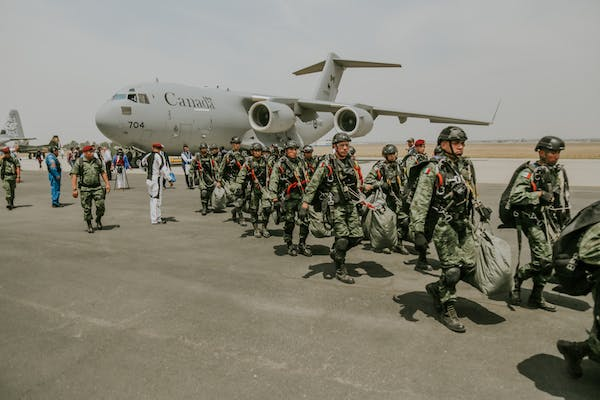 The Air Force is one of the branches of the United States military. Although it is the youngest of the branches of the armed forces, it is equally as important. The primary duty of the Air Force is to defend the country by taking control of the air and space. In addition, it protects the country from any attack or warfare that may involve aerospace.
Operating in the Air Force can be demanding, and it is often stated that the Air Force is the hardest to get into among all military forces. Many personnel work together to make the air force do its job correctly.
Apart from being tasking to do, Air Force jobs are also not always available. The good news is that it is easier to know about available Air Force jobs nowadays. You can stay updated about any job openings in the Air Force on reputable job search websites like Jooble without leaving your home.
To enlighten you more, we have collaborated with experts from job aggregator Jooble to discuss the 10 highest-paying jobs in the Air Force and share what these jobs entail. Let's explore more.
Highest Paying Jobs in the Air Force
Many jobs in the Air Force pay well. Most Air Force jobs pay over $50,000 per annum, and some pay as high as $300,000. Not all Air Force jobs involve flying; some Air Force officers stay on the ground to ensure operations run smoothly.
However, it is worth noting that most Air Force jobs that pay well require good educational qualifications and specific training. Some other Air Force jobs require training in different fields and obtaining a university degree will provide you with higher chances of getting the job. Below are some of the high-paying air force jobs and their requirements:
Medical Professionals
Medical professionals are required in every aspect of life, and the air force field is not left out. The Air Force medical personnel includes physicians, dentists, ophthalmologists, biomedical equipment technicians, and health or safety managers. They help airmen manage different aspects of their health and advise them on health and safety issues, among other jobs.
You need a university degree to become a medical professional, which usually takes four years. You also need to graduate from medical school after getting a degree, which can also take between three to four years to complete. However, it is worth noting that you must complete your residency and medical fellowship to become a certified medical practitioner.
Although becoming medical personnel is expensive and time-consuming, it is equally rewarding. They earn at least $60,000 per annum and can earn well over $300,000.
Air Traffic Control
Air Traffic Control deals with aircraft's safe and efficient movement both on the ground and in space. Their major responsibility is to prevent collisions, organize the free flow of air traffic, and guide pilots. They control the traffic on runways and taxiways by providing instructions to pilots.
To become an air traffic controller, you should consider a degree from an Air Traffic Collegiate Training Institute. Although this is not mandatory, it will make it easier for you to get the job. You also need to have completed the aviation administration requirements; you must take the Federal Air Authority Academy Course and pass their pre-employment test.
Air Traffic Controllers earn an average of $57,000 per annum and can earn up to $130,000.
Air Force Pilot
Pilots are professionals who operate all types of aircraft. Airforce pilots are specially trained and can become pilots of fighter jets, trainer pilots, test pilots, general pilots, bomber pilots, etc. Their specialization depends on the aircraft they operate. Therefore, each pilot category is trained in the operation of the plane they will work with.
Becoming an air force pilot requires a lot of hard work. However, you do not necessarily need a Bachelor's Degree. You must also be trained as a pilot and have completed the required flying time.
Pilots earn an average of $82,000 and can earn up to $170,000 per annum.
Cyber Warfare
Cyber warfare is an Air Force job coined out of technological growth. It involves attacking a country through cyber means, such as with a computer virus. It also consists in defending important government systems against cyber attacks.
Cyber warfare is a vital job, as a cyber attack can lead to a disruption of government and civilian networks. It can also lead to a leak of confidential information, which can cause losses and damages to a country.
Cyber warfare officers in the Air Force earn about $87,000 per year, on average. However, some can make up to $180,000.
Command Center Operator
Command center operators are specialists who ensure that communication goes on efficiently. They inform commanders of the status of aircraft and missions. They also alert the base of any emergency that needs to be known. Their main responsibility is to ensure the smooth running of operations, as every quarter of the Air Force is armed with necessary information.
Command Center operators can make up to $95,000 per annum.
Financial Management Analyst
Financial management analysts are in charge of managing the Air Force's finances to make everything run efficiently. They establish internal control and oversee the internal financial organization. A proper job done by them will ensure there are funds left for equipment, maintenance, and other important things, instead of spending all funds on unnecessary things.
A bachelor's degree in accounting, economics, finance, or business administration is required to get the job. You also need some experience to improve your chances. The average pay for this job is $106,000 per annum. You can earn close to $200,000.
Legal Professionals
The Air Force is a military sector, which means that it has legal ways and courts. Legal experts in charge of these include attorneys, judges, prosecutors, and paralegals. Legal experts do many works in the Air Force, such as research and interviews, to ensure law and order in the Air Force.
You must possess a law degree and must have passed the Bar Exam before becoming an air force legal expert. A paralegal needs a high school diploma, at the least. Depending on their job, legal experts in the Air Force earn between $60,000 to $220,000.
Logistics Planner
Logistics planners plan, execute, and coordinate operations in the Air Force. They are in charge of making sure events in the Air Force are carried out smoothly. They may be in charge of operations ranging from social events to the training of new recruits.
The salary of an Air Force logistics planner can range from $60,000 to $112,000.
Air Safety Personnel
Air safety personnel are in charge of preventing accidents and keeping everyone safe in the Air Force. They help eliminate potential harm on the Air Force base. They also train airmen and their family members on safety around the base. In addition, they ensure everyone follows the safety rules.
Air Safety Personnel earn an average annual salary of $63,000.
Public Affairs Officer
A public affairs officer is the link between the air force and the outside world. They are in charge of news releases and media communications, among other groups. In short, they project the force's image onto the general public. They promote and strategize communication between the industry and people.
The median pay for an Air Force public affairs officer is $113,000.
Conclusion
The Air Force is a military branch, hence very important to national security. Many experts work in the Air Force and are paid well. However, some people are paid more than others.
Comments (2)
Add Your Comment