When flying between most major U.S. cities and their German counterparts, the choice of carrier (and subsequent airline product) can become overwhelming. With its novel series of "Allegris" seats spanning all classes, Lufthansa wagers that its new onboard products will give you the best bang for your buck.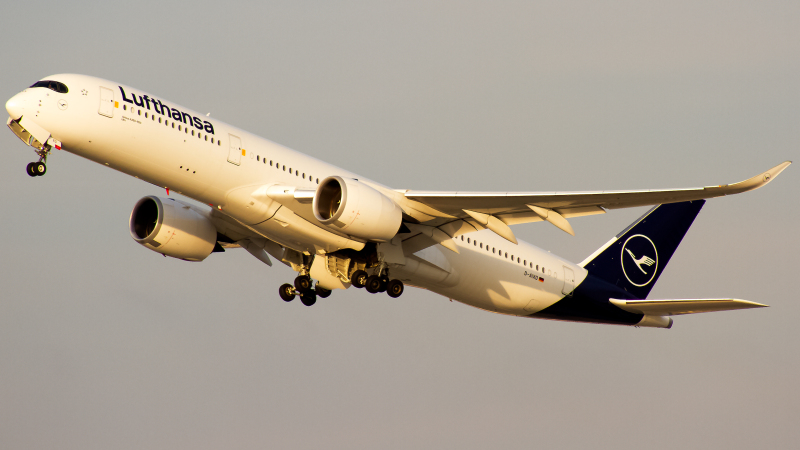 Lufthansa First Class - "Suite Plus"
Lufthansa has taken a cue from major Arab carriers such as Qatar Airways and Emirates, creating a "suite". This novel First Class product features a 1-2-1 configuration that has a floor-to-ceiling wall surrounding the suite. For complete privacy, there will be a sliding wood door to close the suite off from the aisle of the aircraft. Inside each suite, there will be a large fold-out table for food, and two seats (almost one meter in length) that can combine to form a bed. There will also be a large IFE screen and a tablet-like device to control it.
Each suite will also be equipped with its own climate control system which can be controlled from the tablet. In the center aisle of the aircraft equipped with this product, there will be two suites separated by a wall, but the wall can be removed to create one large, singular suite for couples traveling together. This is similar to what Qatar Airways has on offer with its "Q" suite product on the 777s and A350s. Along with the luxurious suite, gourmet food will also be on offer as per usual in First Class.

Lufthansa is banking on the fact that the new suites will be the first of their kind for any non-Middle Eastern carrier with the hope to give the airline an advantage on longer flights such as Frankfurt to Los Angeles or Munich to Johannesburg.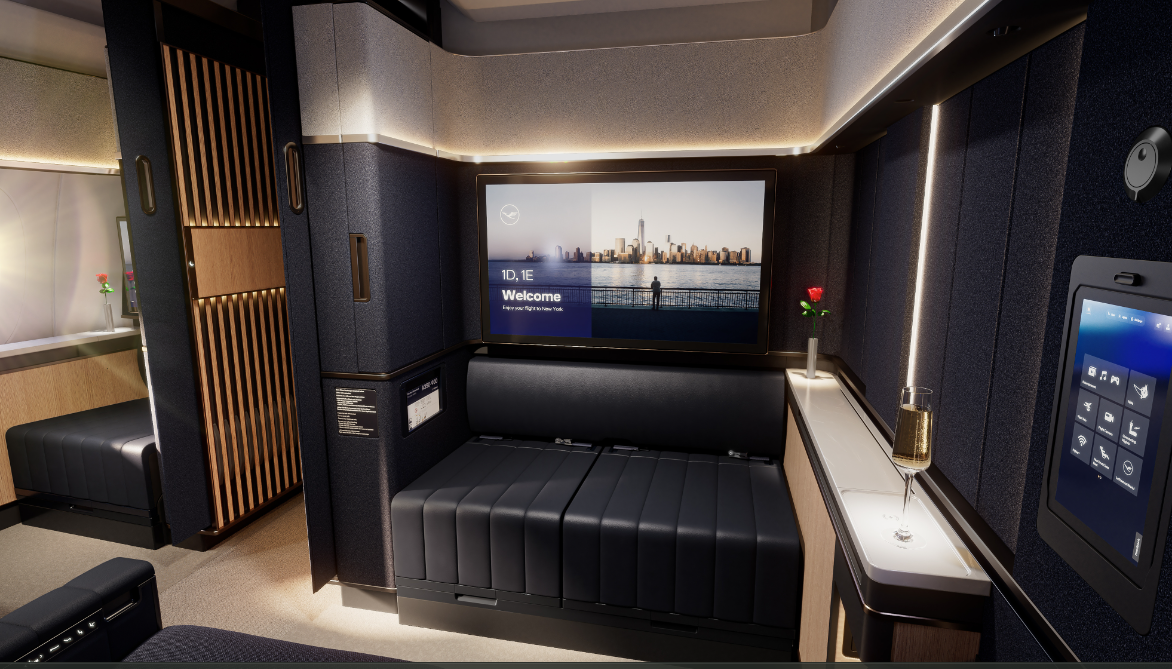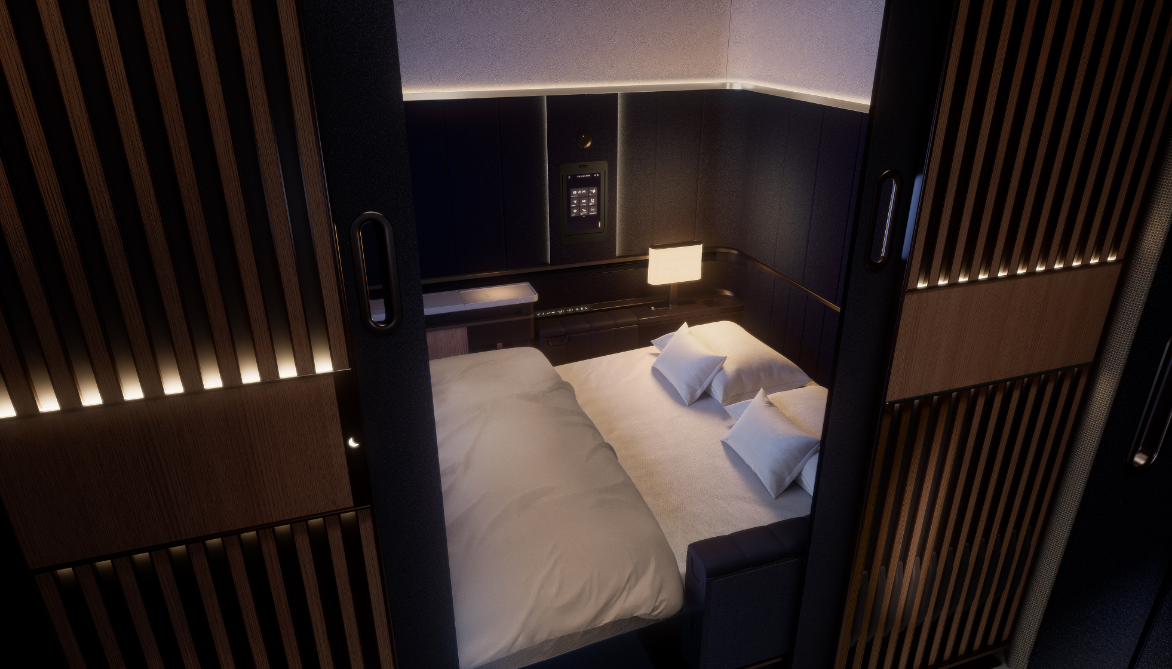 Modified Business Class Seats
Lufthansa's new business class will feature chest-high (1m) walls and sliding doors similar to the new first-class product, but not completely isolated from the rest of the cabin. This still gives passengers flying this new product a higher degree of privacy than what is currently offered on Lufthansa's 747, A330, and A340 aircraft. On top of this, each seat will feature extra storage for passengers as well as a 27-inch, 4K IFE screen. Each business class seat will have the ability to fold into a 2.2-meter-long lie-flat bed. Large, fold-out dining tables along with tablets to control seat functions and the IFE screens are also featured. Among the other amenities Lufthansa is planning to offer, there will be wireless headphones, both wired and wireless charging, heating and cooling functions for the seat, and Bluetooth connectivity integrated into the IFE system.
As with Lufthansa's new first-class product, if there are two business-class passengers traveling together, they will be able to lower the wall between the two business-class suites.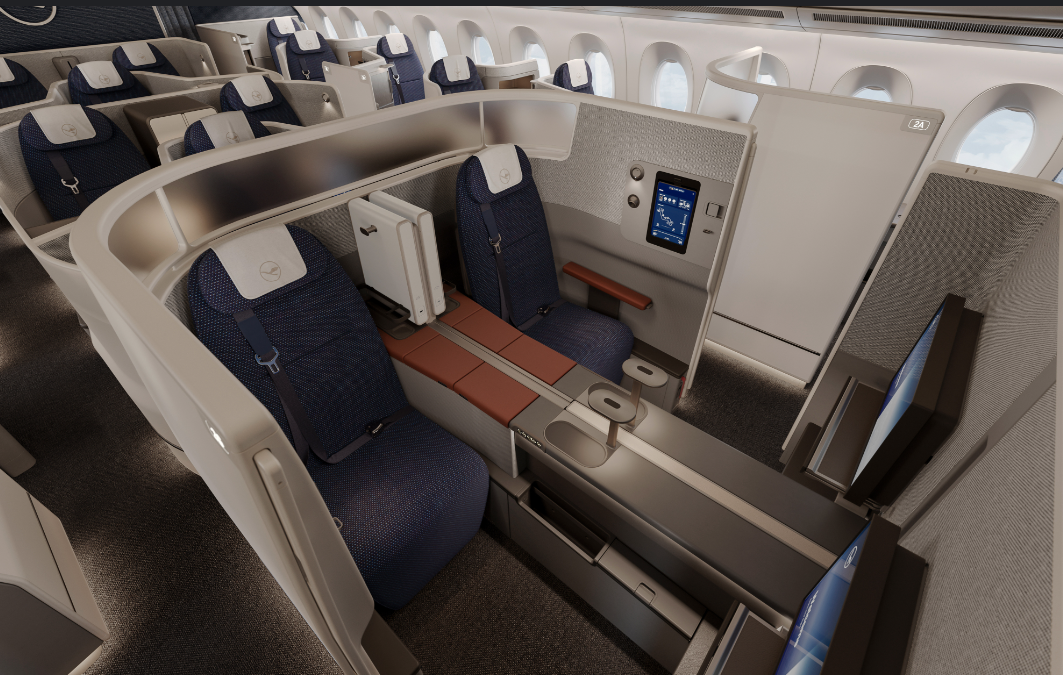 So, which aircraft will receive the new products?
| | | | | |
| --- | --- | --- | --- | --- |
| | First Class Suite | Business Class Seat | Premium Eco. | Eco. |
| Boeing 747-8i | No | Yes | Yes | Yes |
| Boeing 777-9X | No | Yes | Yes | Yes |
| Boeing 787-9 | No | Yes | Yes | Yes |
| Airbus A350 | Yes | Yes | Yes | Yes |
Lufthansa has also recently updated its Premium Economy and Economy class offerings, which debuted on one of Lufthansa Group's partner airlines, SWISS. Lufthansa's A350s will exclusively feature First Class suites while most of the new (or relatively so) aircraft in Lufthansa's wide-body fleet will have the new Business Class seats. No word has been made on Lufthansa's A380s as to whether they will feature the new premium products. Lufthansa's A340s are set to retire in a few years so they will not feature the new onboard products.
Comments (0)
Add Your Comment