In the early 1990s, United Airlines was facing a difficult challenge. For years, the airline had enjoyed dominating California and other important west coast markets in the United States. With a strong hub in San Francisco and a revived hub in Los Angeles, the carrier seemed to be in a strong position to compete against other legacy airlines on the west coast.
However, what the airline had not been prepared for was an aggressive assault on its territory from low-cost rival Southwest Airlines. With incredibly low fares, high productivity and frequency and reliable performance, Southwest had become an instant success in California and began to take market share away from United, especially after a strategic legal decision awarded them access to United's Los Angeles hub.
Steven Wolf, United's CEO at the time, recognized the threat Southwest and other low-cost carriers had to his airline's profitability. He realized that in order to compete with this new generation of startups, United's costs needed to be cut. Knowing this, Wolf went to his unions, informing them that his plan to compete with low-cost airlines required reduced employee wages and benefits along with a 10 percent increase in productivity.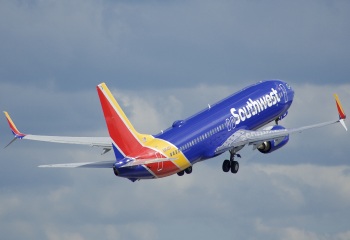 However, unions were unhappy with the concessions they were asked to make. Much of their negotiating power, however, was eliminated when Wolf threatened to end many of United's short-haul flights by contracting them to lower-cost airlines. The unions opted to come to an agreement with United's management in a settlement that ended with a compromise. Wolf got his concessions while United employees would buyout the airline and hold 55% ownership in the company.
With the needed cost cuts, the airline launched Shuttle By United, an "airline within an airline" focused on offering low fares, frequent flights and a simplified service that would support the higher productivity and lower costs the carrier aimed to achieve. Knowing that employees played a crucial role in the success of the airline, many of the daily operational details were created by a group of 150 frontline United employees with diverse job responsibilities. By doing this, United believed it would create a system that worked for each functional group, thus improving productivity throughout the Shuttle's system.
The planning committee also focused on selectively replicating the product and practices of low- cost airlines, especially their competitor Southwest. In Los Angeles, some would analyze Southwest's operations by observing its boarding process and even recording Southwest's infamous aircraft turn times.
Despite the lessons learned from Southwest, United sought to transfer some important aspects of its own brand to its new shuttle service. The challenge, however, came when trying to determine how to implement some of United's traditional offerings while still maintaining high levels of productivity by turning aircraft around in 20 minutes. Some of these challenges were overcome, like, for example, deciding to assign seats at the gate to encourage passengers to show up for their flight on time. Additionally, they found it was most efficient to board aircraft based on seat position, meaning those sitting in a window seat boarded first, followed by those traveling in a middle seat then passengers in an aisle seat.
With high morale from the recent employee buyout and an innovative product, on Oct. 1, 1994, Shuttle By United (eventually renamed United Shuttle), began operations from its San Francisco hub. At first, United Shuttle boasted strong performance. In its peak time, the carrier flew 469 daily flights to 22 cities throughout the western United States, including Seattle/Tacoma (SEA), Portland (PDX), Las Vegas (LAS) and Phoenix (PHX). The threat United's success posed to Southwest's profitability even played a huge role in Southwest's stock value dropping 54 percent between February and December of 1994. United Shuttle, it seemed, was beginning to achieve its goal.
However, it wasn't too long before United Shuttle began to face headwinds. For one, the Shuttle's main hub in San Francisco suffered from a dense fog many mornings, causing many of the fleet's first flights of the day to be delayed. Because United Shuttle focused on having productive aircraft, this meant that those early delays "snowballed" throughout the rest of the Shuttle's daily flights, lowering reliability within its west coast network. Additionally, while morale was high at United after the employee buyout, the positive culture wore off as time progressed, and without proper organizational practices designed to encourage good collaboration among functional groups, eventually productivity dropped.
The final nail in the coffin for United Shuttle was the terrorist attacks of September 11, 2001. The drop in air travel demand that followed these attacks, when combined with the other challenges United Shuttle was facing, forced United to integrate the Boeing 737s it used for Shuttle back into its mainline fleet, thus ending the carrier's low-cost experiment.
Though United Shuttle ultimately failed, many legacy carriers attempted to compete with low-cost airlines using similar tactics. Continental Airlines launched Continental Lite and U.S. Airways launched Metrojet, both of which ended within a few years of being launched. Delta launched Delta Shuttle, and after that failed, tried to create another low-cost brand named Song, which ended up being a financial disaster. United even tried to enter the low-cost market again in the mid-2000s with Ted. Just like the other legacy airlines, its second low-cost experiment failed.
In today's world, legacy carriers like United mostly compete with low-cost airlines by offering ticket classes with "unbundled" fares and fewer perks rather than creating an entirely new brand. Though Shuttle ended up failing, the lessons it taught United about product and pricing proved to be valuable as they moved through a difficult post-9/11 era, and can still be seen in its offerings today.
Comments (2)
Add Your Comment