10/23/2021
139 views
Friday, September 3rd, 2021
WF195 (OSL-FDE)


Welcome to my trip report featuring Widerøe! I'm flying from Oslo (OSL) to Førde (FDE) this evening, a small place in Western Norway.

My trip started at an extremely busy Oslo airport, but due to both no bags and a Fast-Track membership, I got through security in only a few minutes. After security, I went to the lounge, but it had a queue stretching 10 meters (33 feet) outside the lounge entrance, so I didn't bother to get inside. Therefore, I went straight to the gate to wait for my flight.

The aircraft for the flight was a 28-year-old De Havilland Dash 8-100, with registration LN-WIA, in the "old" livery. Widerøe is currently updating its logo and livery, so only a handful of their aircraft have been repainted.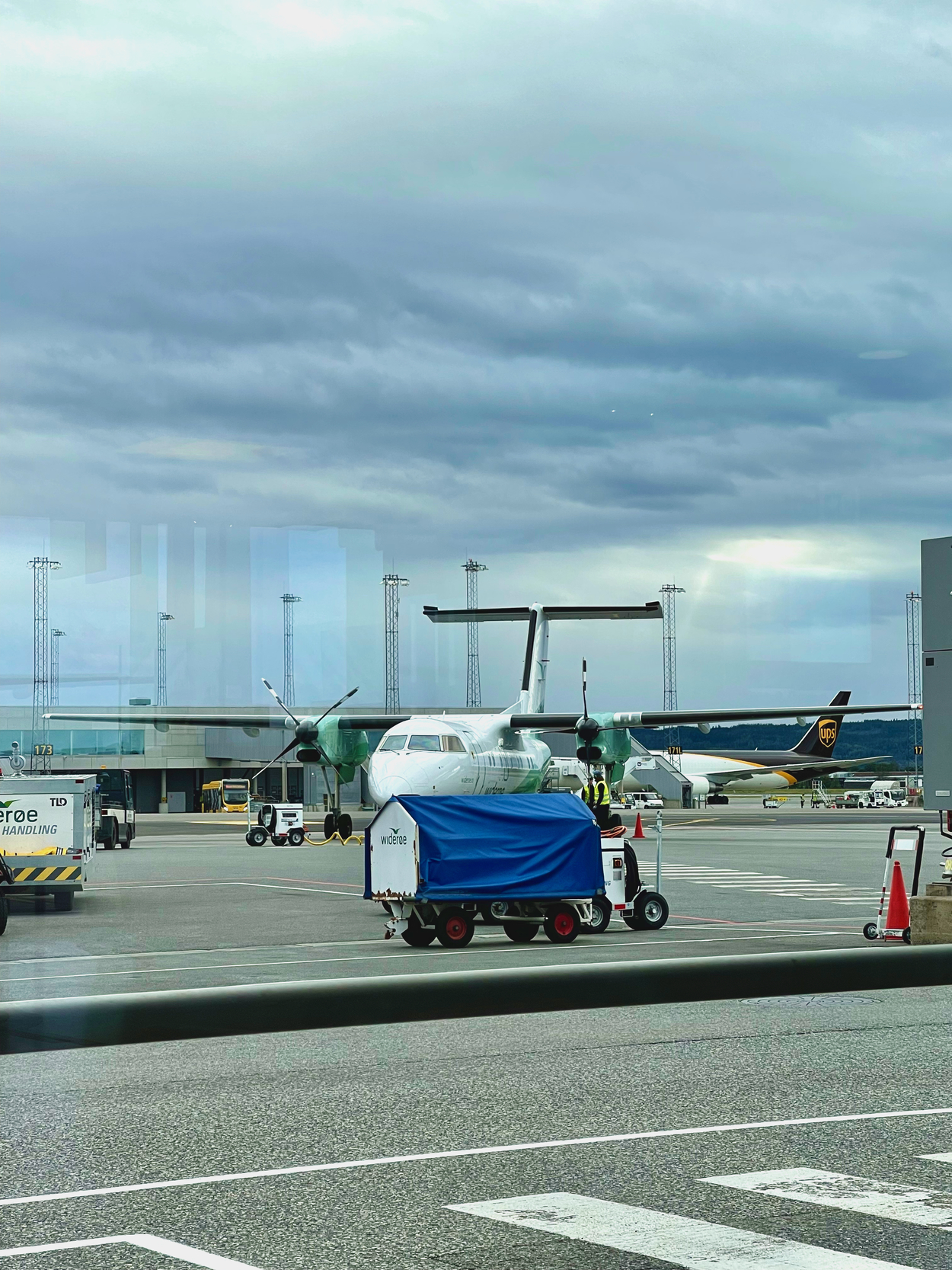 The flight for today is to Førde, a small place in Western Norway, only home to about 10400 people. I'm going there for a family gathering, so I decided to fly. Boarding started after a little waiting time with everyone boarding at once. I was the last to board. Widerøe offers free seating on a "first come, first serve"-basis on these tiny birds, so since I was the last to board, I got seated in 10C, which happened to be in the last row of the aircraft.

A very full flight today, even with five daily flights to FDE from Oslo, so only a couple of seats were free. The interior of the cabin is as retro as you can get in my opinion. This aircraft is 28 years old, and it shows. On a brighter note, Widerøe is looking to replace these Q100s with electrical aircraft in a few years to serve these small routes, so stay tuned for that later!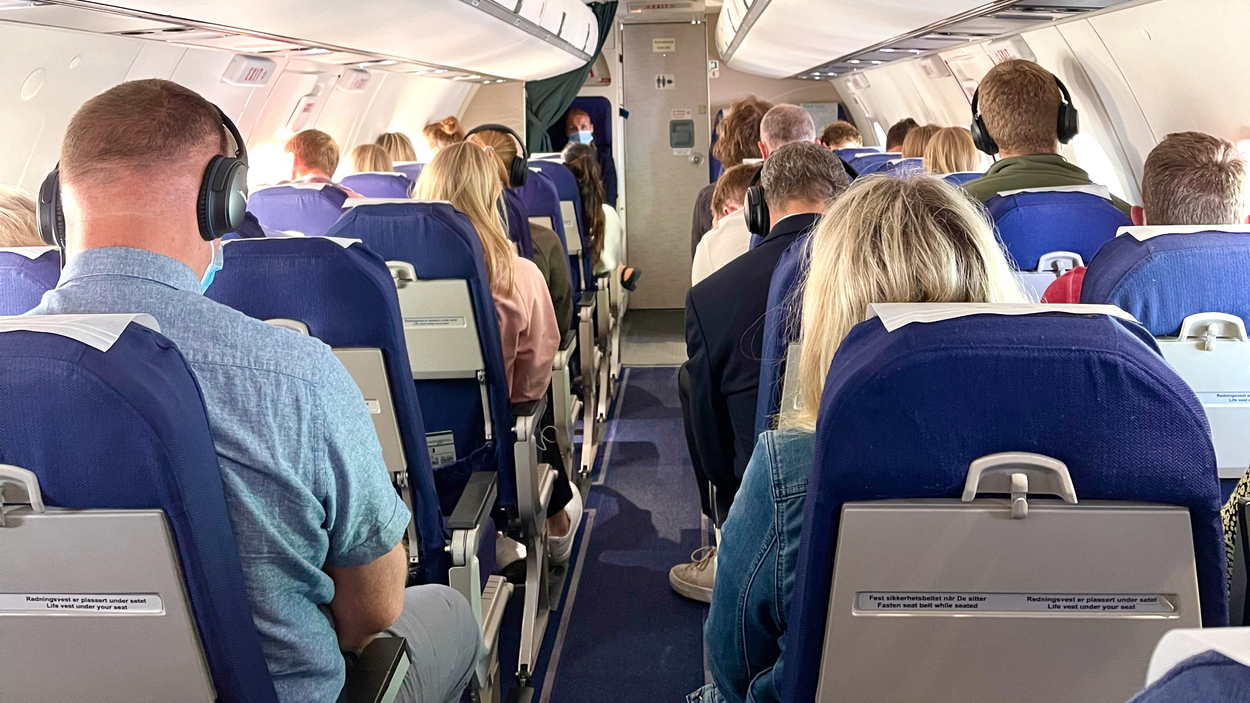 We pushed back only one minute after the scheduled departure time and taxied to runway 01L. We took off fairly early before turning left towards the north-eastern coast of Norway. The hour-long flight was quite bumpy and noisy, but that's to be expected when you are flying on a tiny Dash-8.

Our cruising altitude was only 22,000 feet, but due to some low clouds today, the view wasn't anything to write home about. I did have an aisle seat, but I managed to look out a bit regardless.

There was no onboard service today, either because Widerøe hasn't restarted their pandemic-paused onboard service, or they just don't offer service on their smallest planes. However, after about 50 minutes of flying, we descended towards Førde and landed straight in on runway 25. We then de-planed into the smallest airport terminal I had ever seen in my entire life.


Monday, September 6th, 2021
WF184 (FDE-OSL)


After a few days in Førde with my family, it was time to head back home to Oslo. The next flight was on the same type of aircraft as the outbound. I got to the airport about 45 minutes before the flight, which made for plenty of time. I then proceeded through security, which was very smooth due to the size of the facility.

The waiting area contained a few seats and a vending machine, and that was it. A little later, boarding started, with everyone boarding at once. There were only about 10-15 passengers on this morning flight to Oslo.

Our aircraft was a 26-year-old De Havilland Dash 8-100, with registration LN-WIL. Again, no specific seat beforehand, but due to the little number of passengers and because I boarded fairly early, I managed to get a window seat, seat 3A, right next to the propeller. We taxied to runway 25 for departure and took off to the west before turning left towards Oslo. Quite remarkable views on departure before we entered the clouds.

Again, a bumpy and noisy flight on this aircraft that's older than me. We climbed to our cruising altitude which today was 21,000 feet. Not much happened after takeoff, but we started our descent roughly 40 minutes later. A little foggy and cloudy at Oslo airport (OSL) upon arrival, but we had a smooth landing nevertheless on runway 19R, approaching from the north.

Upon arrival at the gate, I got permission to have a quick chat with the pilots, who were very friendly. However, I forgot to take a picture of the cockpit; sorry about that.

All in all, I had two great flights with Widerøe, and I finally got to fly on the Q100!

Thank you for joining me!
You must be logged in to contribute.
0 Likes Cite Us



Recently Released Articles