09/08/2021
145 views
Thursday, August 19th, 2021:
SK1463 (OSL-CPH):
Welcome to my trip report featuring SAS and Vueling! Today I'm flying with SAS from Oslo, Norway (OSL) to Venice, Italy (VCE) via Copenhagen, Denmark (CPH). Then I'm flying with Vueling from Venice to Barcelona (BCN) tomorrow. Finally, a day after that, I'm flying back home with SAS to Oslo via Copenhagen.
My day started with taking the 4:50 am airport express train to the airport, the earliest train you can take from where I live. I had already checked in online, but because of COVID-19, I had to get my documents checked manually. The documents check was easy: I just had to show the passenger locator form for arrival in Italy and proof of vaccination. All of that was done in a matter of seconds, and then I got my boarding pass.
Barely any queue at security this morning, I suppose the main holiday rush is over. Because there was no queue, I was through security and on my way in no time. My gate this morning was all the way at the end of the new north terminal. Also, no lounge today, as the lounge only opens one hour before the first domestic departure, and my flight today is at 7:10 am.
After a little while, boarding started. SAS recently changed its boarding procedure, so now everyone boards at once. Not even a separate priority boarding, which is odd. Anyways, I got a wet wipe again upon boarding, and found my seat, 12A, for this short one-hour flight to Copenhagen.
The aircraft for today is a 14-year-old Boeing 737-700 with registration SE-RX, featuring the new SAS livery as seen below. This aircraft is retrofitted, but for some reason lacks seatback pockets for all seats.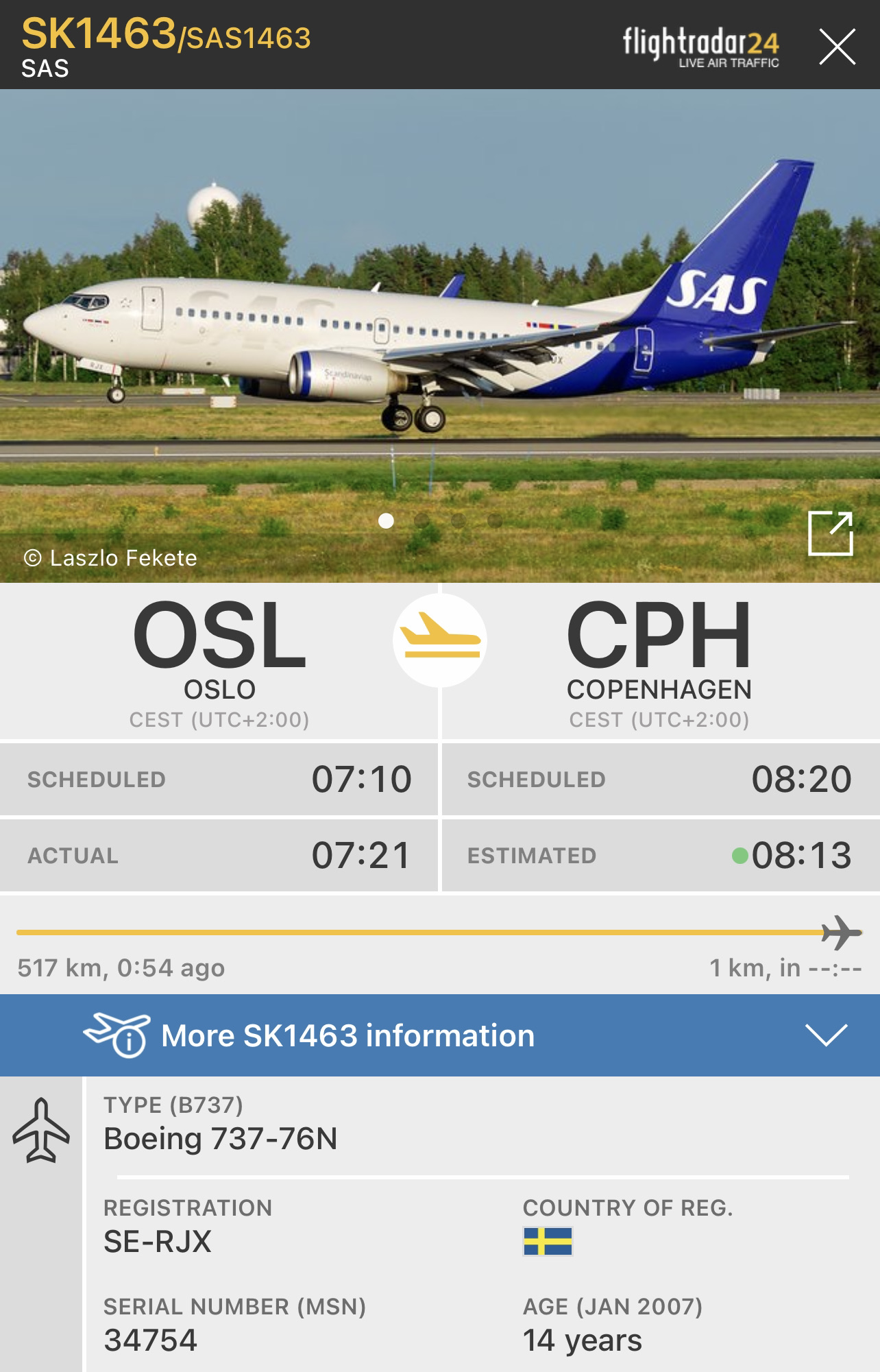 It was very cold in the cabin this morning, so I had to grab my jacket from my bag before departure. Good thing I'm going somewhere warm at the end of the day! Very few passengers today on this early morning flight to Copenhagen. I'm counting about 30 people at most. These flights were almost always packed before the pandemic.
We pushed back on time and taxied onto runway 01L, departing north before turning 180 degrees to the right and then flying south towards Copenhagen. Slightly bumpy on departure with a little turbulence, but perfectly calm above the clouds. I got to see a stunning sunrise while the cabin crew started the onboard service. I also got myself a smoothie for free because of my SAS Eurobonus Diamond status. The crew on this flight were very friendly and nice, smiling all the time.
For the rest of the flight, I slept a bit and listened to music. It wasn't until we started our descent that the ride got a little bumpy again, which turned into moderate turbulence through the clouds. You could even see the white caps on the waves in the sea upon approach. We approached from the southeast, landing a bit hard on runway 30, seven minutes early.
After de-boarding, I then had a three-hour layover before I continued to Venice, and I spent that time in the SAS lounge here at CPH.
SK2691 (CPH-VCE):
For this two-hour flight to Venice, I'm flying on a 14-year-old Airbus A319 with registration OY-KBR. I was supposed to fly on an Airbus A320neo, but it got swapped the night before, according to my booking.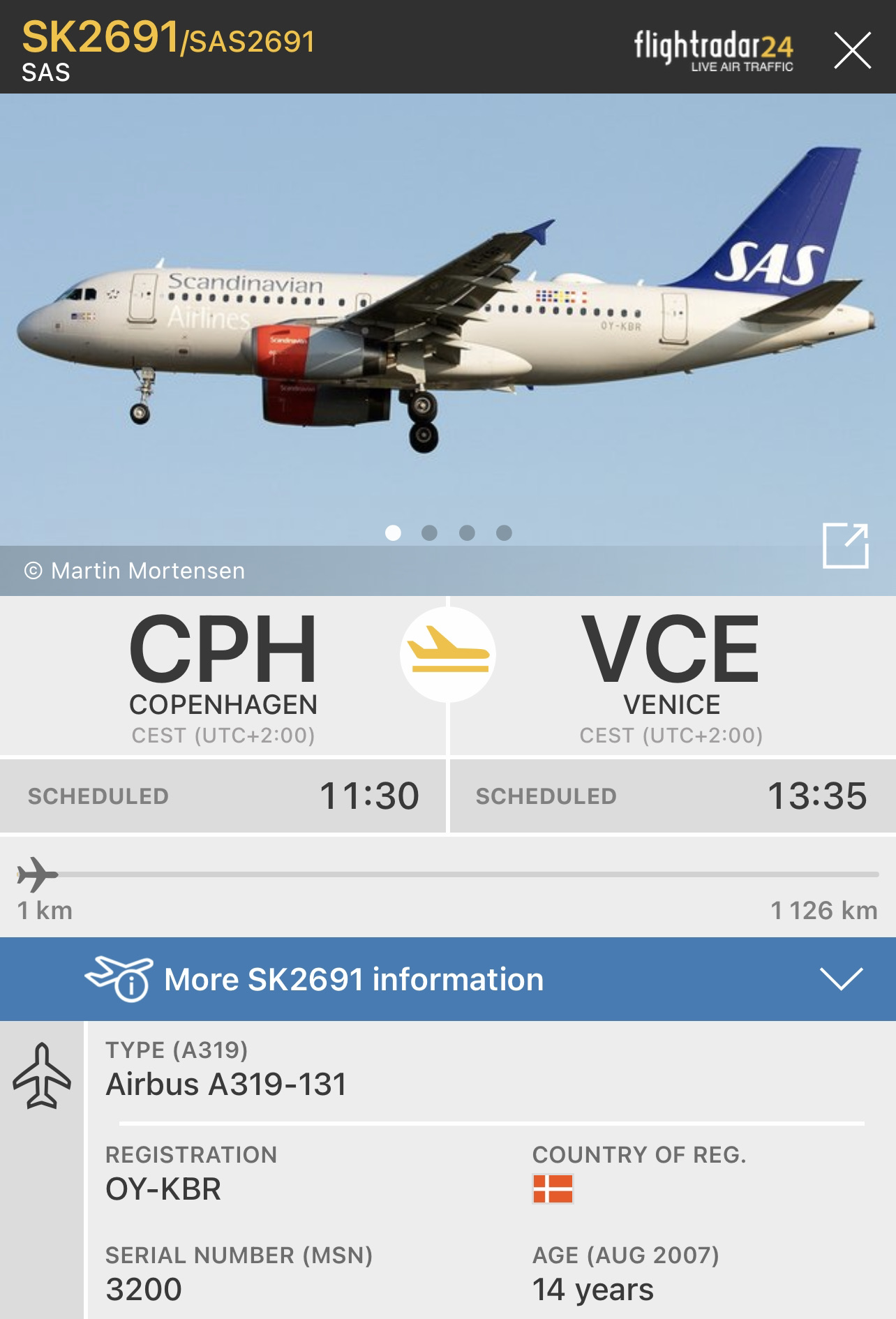 Nevertheless, this aircraft was also retrofitted, and it did have both seatback pockets as well as USB charging ports, which are very useful when there are no plug sockets available. In addition, this aircraft had WIFI.
Once again, the cabin crew handed out wet wipes while we boarded. I'm in seat 9F on this pretty full flight, but I still have the seat next to me free, which for some reason seems to happen nearly all the time, but I'm not complaining.
We pushed back on time again and taxied to runway 22R, a very commonly used runway here at CPH. A southwest departure today before turning south towards Venice.
There was service on board this flight too, and I got my free drink (a Coke this time), but I also ordered a sandwich (which was very disappointing), and a chocolate bar. As for the rest of the flight, I almost finished watching a movie before we started our descent.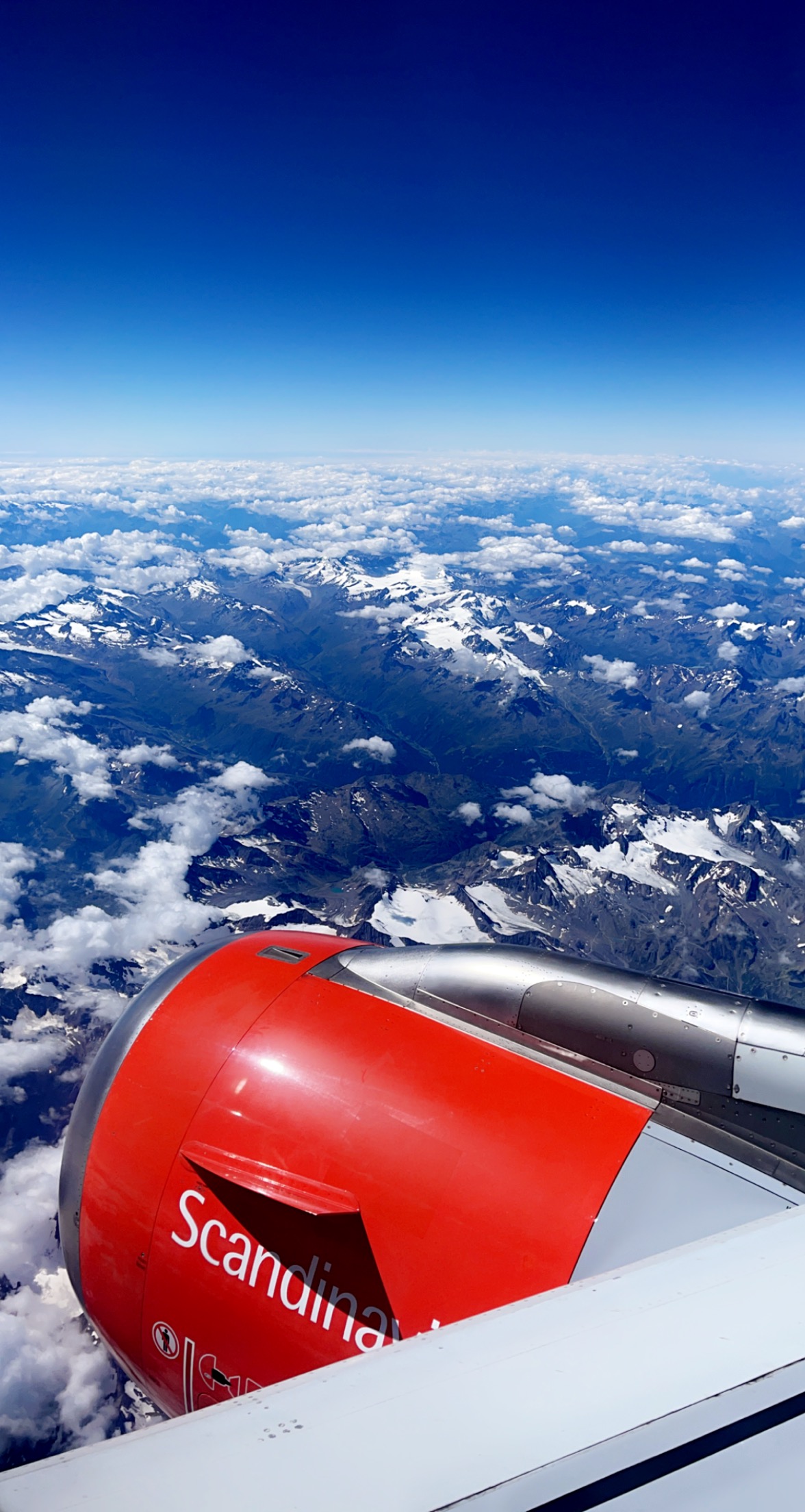 The descent over northern Italy was smooth and we came from the north, did a 360 as a KLM flight was landing before us, and then approached from the south-west, landing softly on runway 04R, seven minutes before schedule. Right before arrival, I could see Venice from the air as I sat on the right-hand side of the aircraft. After landing we taxied to a remote stand and were transported by bus to the terminal.
The hotel I'm staying at here in Venice offers a complimentary shuttle boat service directly to the hotel, so I took advantage of that. The boat ride took about 10-15 minutes. I checked in to my lovely suite (as I am a Hyatt Globalist), and now I'll enjoy my 20 hours here in Venice before I fly to Barcelona tomorrow.
Friday, August 20th, 2021:
VY6401 (VCE-BCN):
Early morning in Venice and once again I had the opportunity to take the shuttle boat, so that's what I did. I arrived a bit over one hour before my flight, and since I already had my boarding pass and didn't have to check a bag, I went straight to security. It was a little busy, but right when I got there, they opened another lane, so I was through and on my way to the gate in less than five minutes.
After walking through the duty-free, I got in a line to have my documents (passenger locator form, proof of vaccination, and passport) checked to enter Spain. I'm flying with Vueling for the first time today and I'm very excited. I've heard both negative and positive things about them, so I'm curious.
Our gate today happened to be a bus gate, so we boarded a bus that took us to the waiting 6-year-old Airbus A321 with registration EC-MGZ that's taking me to Barcelona. The interior was fresh, I would say, with black seats with spots of yellow everywhere.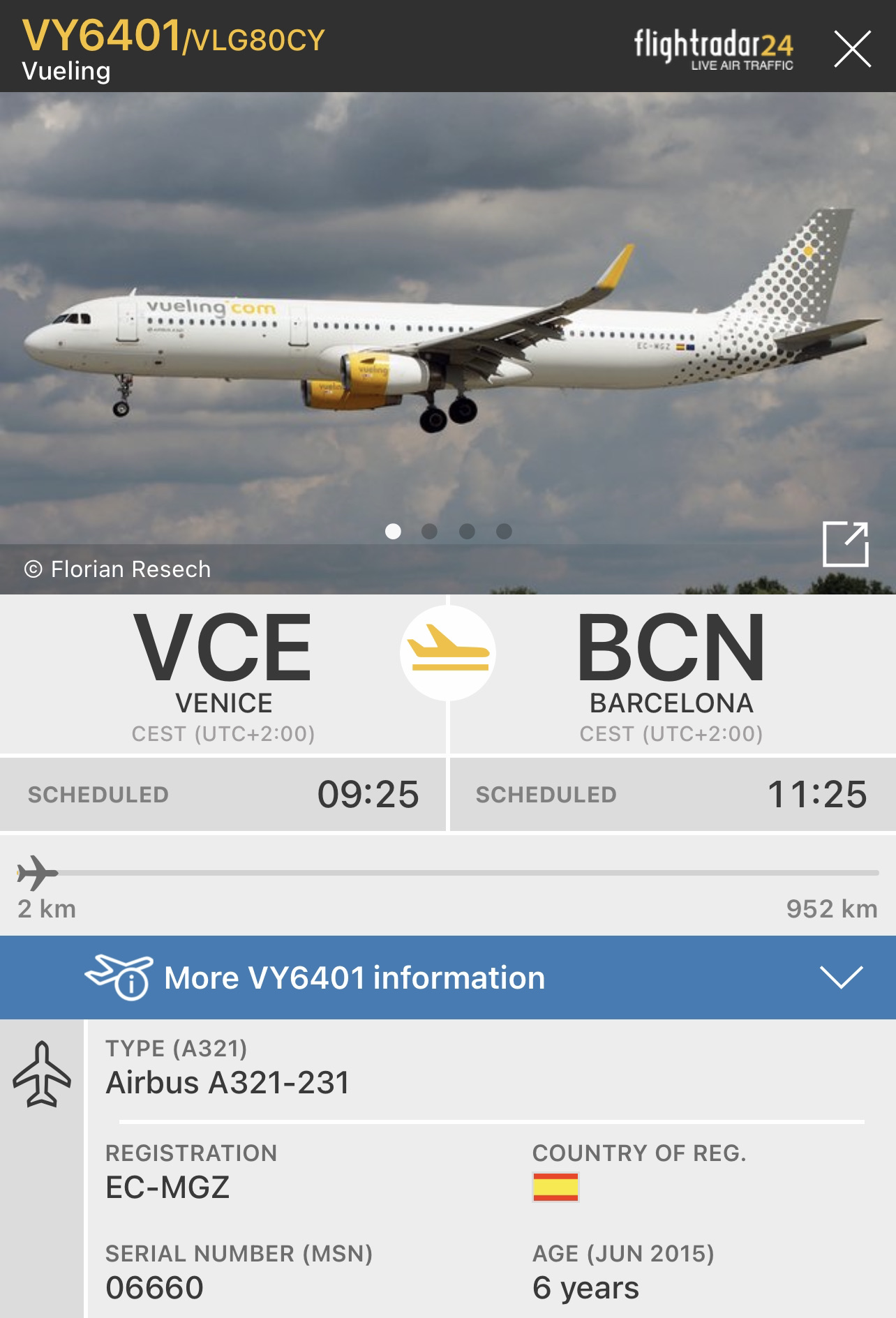 The seats are a bit hard and skinny but decent for short flights like this, which is also to be expected with a low-cost carrier. Legroom, however, was pretty good! I'm 180 cm or 5'11 and I still had enough space. My seat for today is 6F, and I was lucky enough to have a whole row to myself.
We pushed back 12 minutes after the scheduled departure time and then taxied to runway 04R, the same runway I arrived on yesterday. We took off straight out before turning right over the sea, turning around completely before setting the course for Barcelona.
After reaching cruise altitude, I decided to purchase WIFI access, since this aircraft offers so. The speed was fast enough for me to check Snapchat and similar, but I'm not sure about streaming Netflix or similar. Service started, and I bought some snacks and a Coke. Not the best quality snacks, but prices were good for a low-cost carrier.
The rest of the flight was very smooth, and I got to see the Alps again. Credits to the Captain for announcing our airspeed, ground speed, altitude (both in feet and meters), and the outside temperature after we reached our cruising altitude. And after about one hour and 30 minutes, we started our descent.
We approached from the northeast, landing straight in on runway 25R. A nice landing, but very harsh braking, only five minutes early. Overall, a good flight with Vueling, and I would for sure fly with them again later if possible. After de-boarding and on the way out, the airport staff checked the passenger locator form, but that was it. Also, no boat to and from the airport here, so I just took a taxi to my hotel.
My room at my hotel once again got upgraded, so I got a big suite with a view over the entire west side of Barcelona! Now I have about 30 hours in Barcelona before I fly home to Oslo tomorrow.
Tip: They don't really have Uber here, the only cars you can get with the Uber app are normal taxis and they take forever to accept, so just don't bother. Either take the metro or hail a cab on the street.
Saturday, August 21st, 2021:
SK1586 (BCN-CPH):
Today (tonight) I'm flying back home to Oslo with SAS via Copenhagen. I have the chance to check out at 4 pm, so I spent the day getting food and enjoying the sun before taking a taxi to the airport. I got there a bit too early because check-in hadn't opened yet when I arrived. After around 15 minutes, check-in started, and I was able to use the priority lane. There were "normal" procedures in checking documents and proof of vaccination to transit in Denmark and to enter Norway.
I bid for an upgrade using cash a few days prior to departure, and my bid got accepted. Therefore, I'm flying in SAS Plus on this leg to Copenhagen. Because of this upgrade, and because of my Star Alliance Gold status, I was also able to use the security fast track here at Barcelona El Prat International Airport. And because of that, security only took 2-3 minutes.
I bought some things from the duty-free and headed to a café to wait until boarding started after about one hour or so. For this two-and-a-half-hour flight to Copenhagen, I'm flying on a 13-year-old Airbus A319 with registration OY-KBT. I'm in seat 3F today on this retrofitted aircraft, again with USB charging ports. This aircraft also offers WIFI.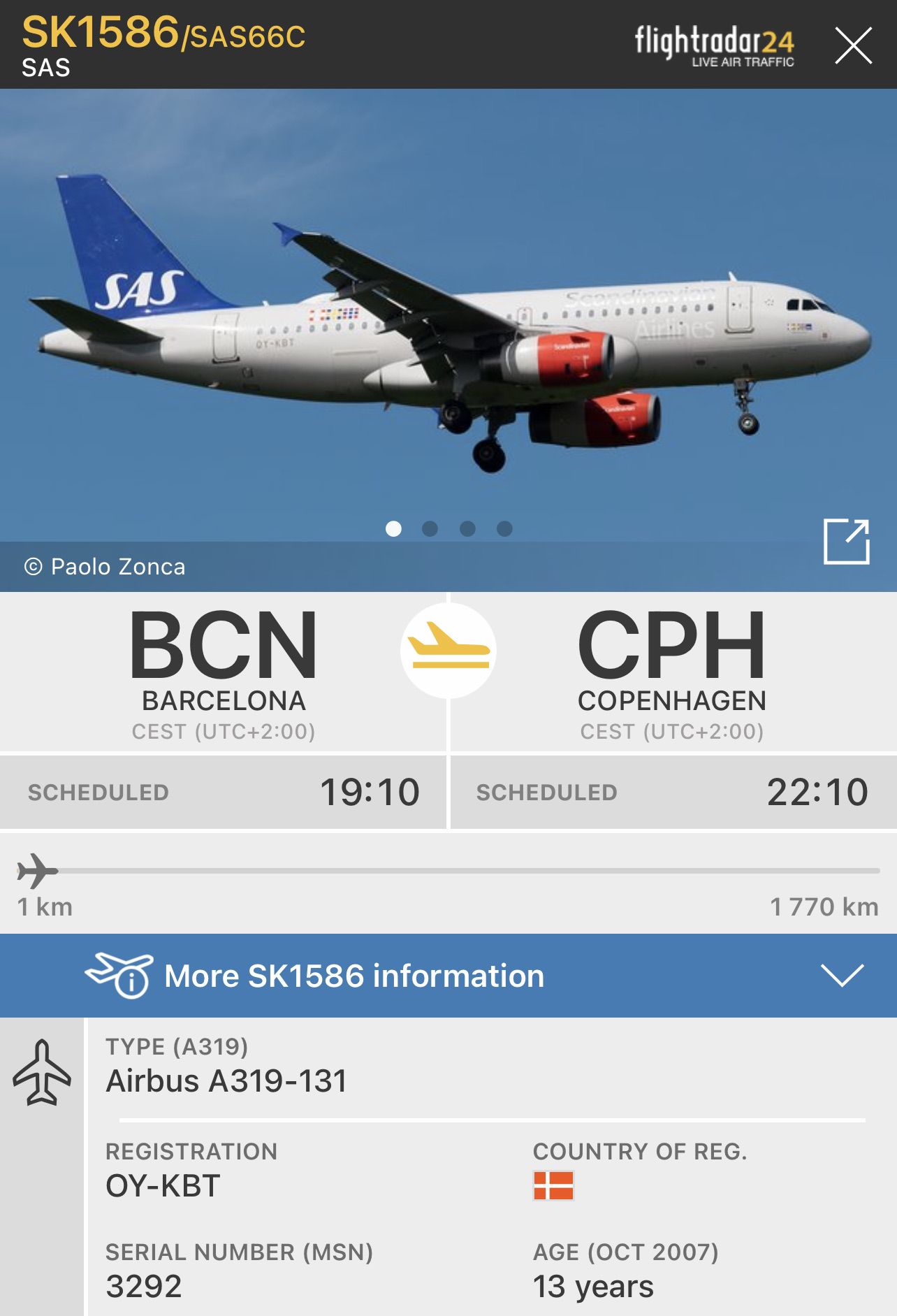 Legroom in SAS Plus (but also for most other intra-European business class flights) is the same as in economy. Everything in terms of the hard product is the same as normal SAS economy, but you get free food, several more bags, fast track, and more points.
We pushed back a few minutes before schedule and taxied to runway 25L for departure. We took off, immediately turned south towards the sea, and then continued turning left while climbing, until we had done 180 degrees.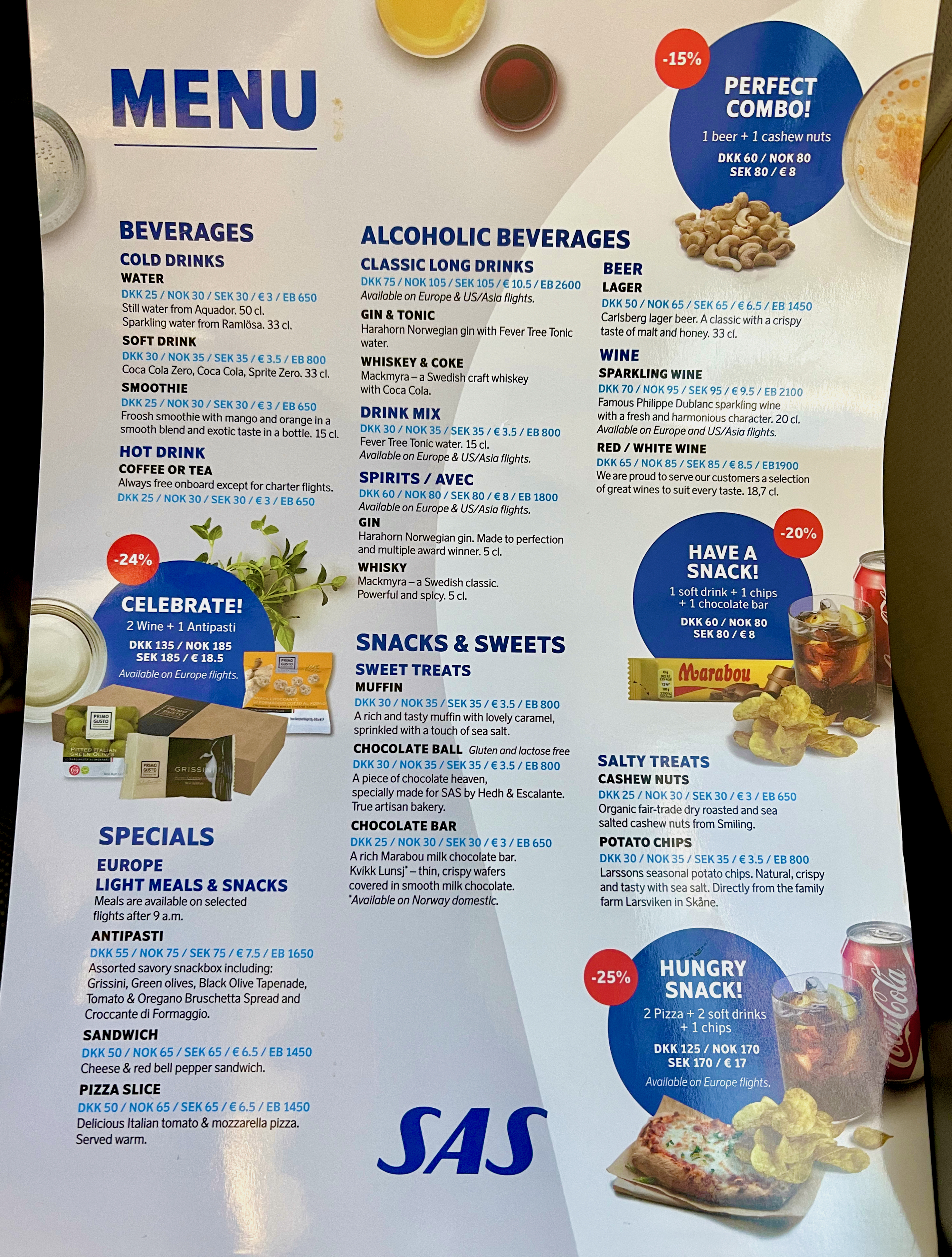 In SAS Plus you get food, snacks, and drinks for free, so I got a food box with chicken, potatoes, kale (which was pretty decent), and a Coke.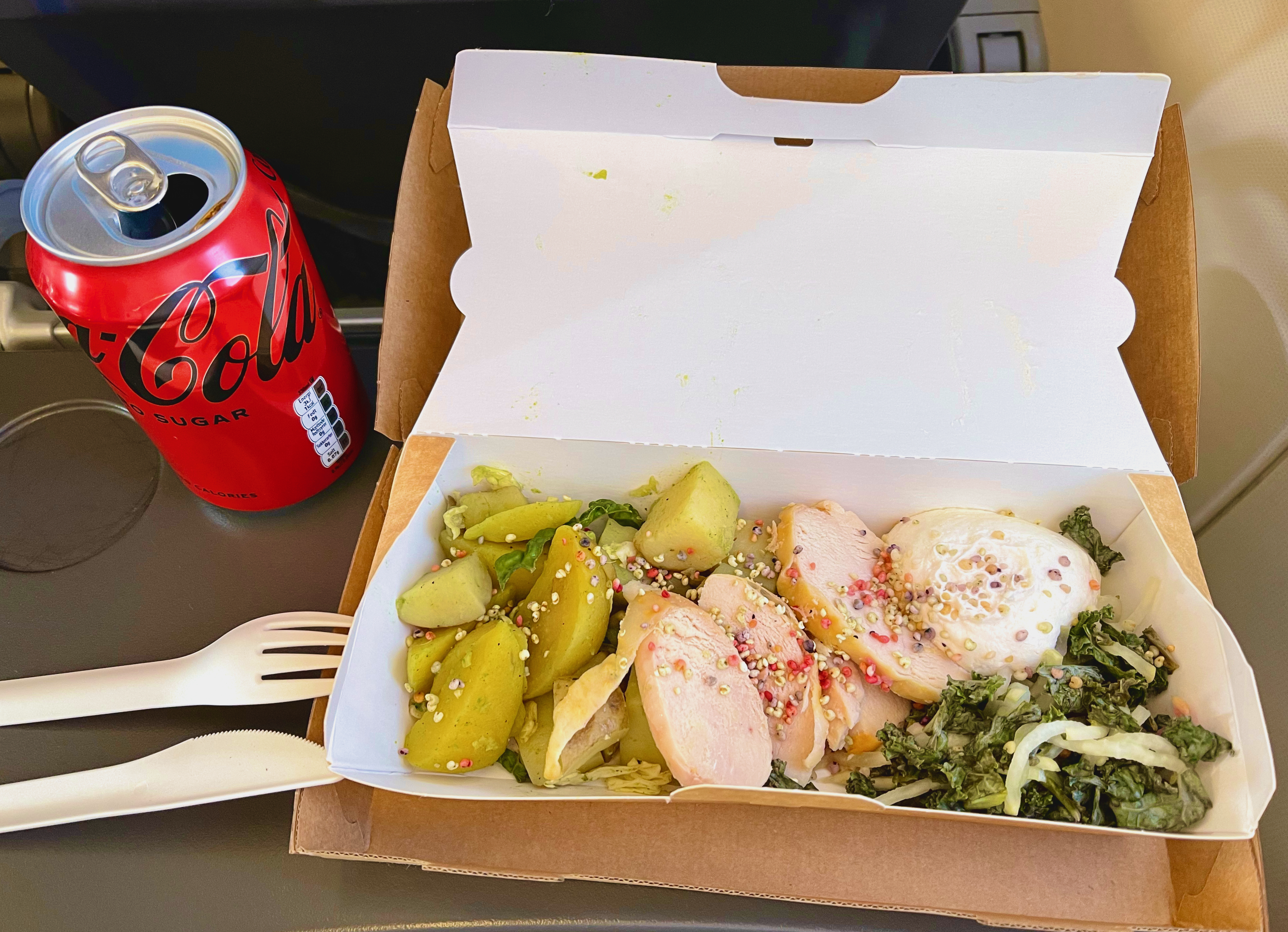 The flight attendant taking care of SAS Plus passengers was very lovely and friendly, and she always made sure we had enough to drink. Passengers in SAS Plus also get a little box of chocolates after the food/dinner (which I forgot to take a picture of).
As for the rest of the flight, I just watched a movie I had downloaded and listened to music. We kept cruising at a nice 39,000 feet before starting our descent over the northern coast of Germany. The approach was fairly standard, coming in from the south and then a left turn, landing very smoothly on runway 30 a whole 25 minutes early. On approach, I had a lovely view of the Øresund Bridge connecting Denmark and Sweden. Due to being Pride at the time of flying, the bridge was lit up in Pride colors which made me very happy. I sadly didn't manage to get a good picture of it.
SK1474 (CPH-OSL):
After landing in Copenhagen, I just walked straight to the gate through the emptiest airport I have been at in all my life. Not a single soul to be seen all the way to the gate, and even when boarding started after my short one-hour layover, there was only a handful of passengers waiting for this last flight of the day to Oslo, and the last flight in general from Copenhagen that night. I counted around 20 passengers in total.
For this last flight, I'll just do a quick summary, as not much happens on such a short flight since it's late and it's dark. The aircraft for tonight is the same 14-year-old Airbus A319 I flew to Venice two days ago, with registration OY-KBR. Flight time tonight is only about 55 minutes.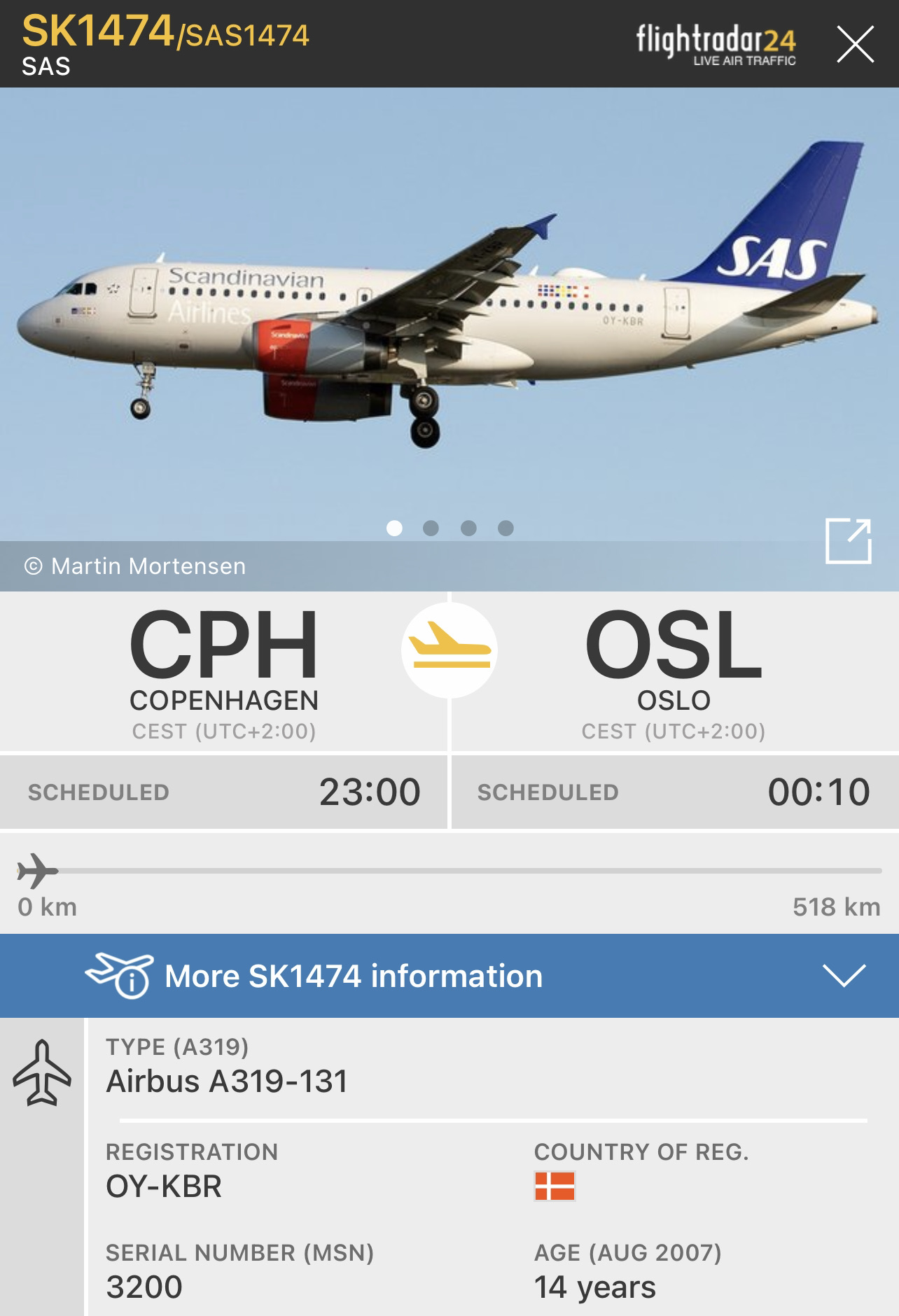 We pushed back a good ten minutes before schedule and taxied to the runway. Took off from runway 04R, a slightly less used runway here at CPH. We barely used any runway due to there being so few passengers, so we were in the air pretty quickly. There was service on this short flight, but I didn't get anything this time. It was a very calm and smooth flight, and we approached from the south and landed on runway 01R, a whole 18 minutes early.
Upon arrival, we had to take a short two-minute bus ride due to the gate we parked being not suited for us to go directly to the passport control. Anyways, I got through passport control very quickly due to being vaccinated, and I took the airport express train back home after stopping by the duty-free on the way out.
Thank you for joining me and thank you for reading!
-:-:-:-
I'll be back flying with Widerøe to Førde (a small place in Norway) in a tiny Dash-100 in about 2 weeks, so stay tuned for that!
You must be logged in to contribute.
0 Likes Cite Us



Recently Released Articles