11/18/2021
174 views
Juggling work and study can sometimes get stressful, so I recently decided to take a mini weekend trip down to my family's vacation home in Florida, while my parents were out of the country on business. Due to the seasonal demand, some Floridian destinations can reach a relatively high price, and the flights can fill up fast. Normally, I would have flown into Sarasota (SRQ) as it is only 35 km (22 mi) away from my destination, the once-daily nonstop flight was completely full. I looked at my next best options, Tampa (TPA) and Fort Myers (RSW), and ultimately decided on RSW because of the aircraft type and flight timing.
Boston (BOS) has a significant number of early morning JetBlue departures, and because of this, security lines can get somewhat long. This being the case, I arrived at the airport a bit earlier than I would for a typical flight. At around 05:45, I entered the relatively busy Terminal C check-in area, and since I was only bringing carry-on bags and had already checked in the morning prior with the JetBlue app, I headed straight to the TSA Pre-Check line.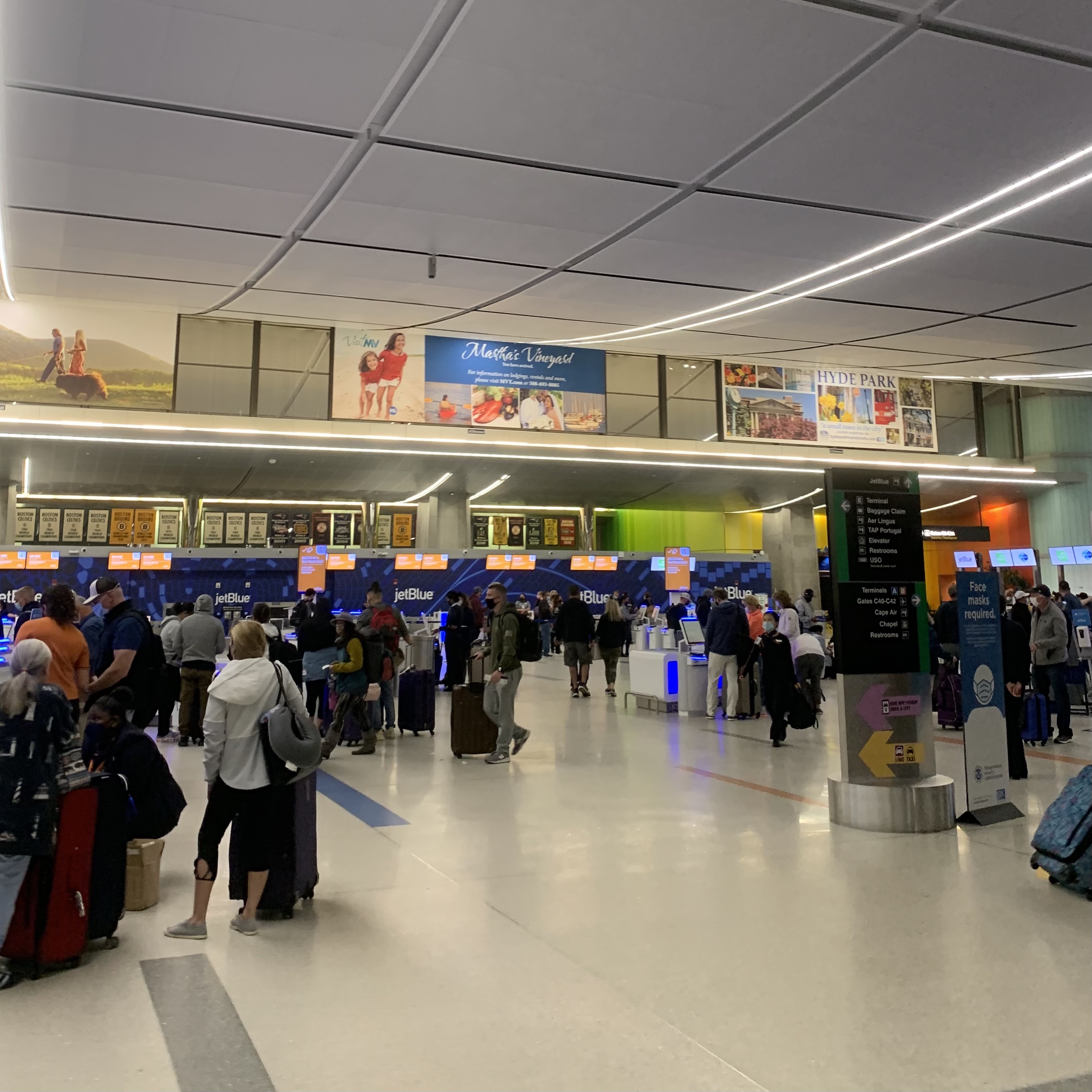 The line for TSA Pre-Check was indeed long, and it took me about fifteen minutes to get through. Upon clearing security, I made my way to gate C11 and planned to stop at the Dunkin' for breakfast. To my disappointment, however, it was not open until 06:30, at which point I would already be on board the aircraft. Nonetheless, I made it to the gate at around 06:10 and took a seat at the counter near the window.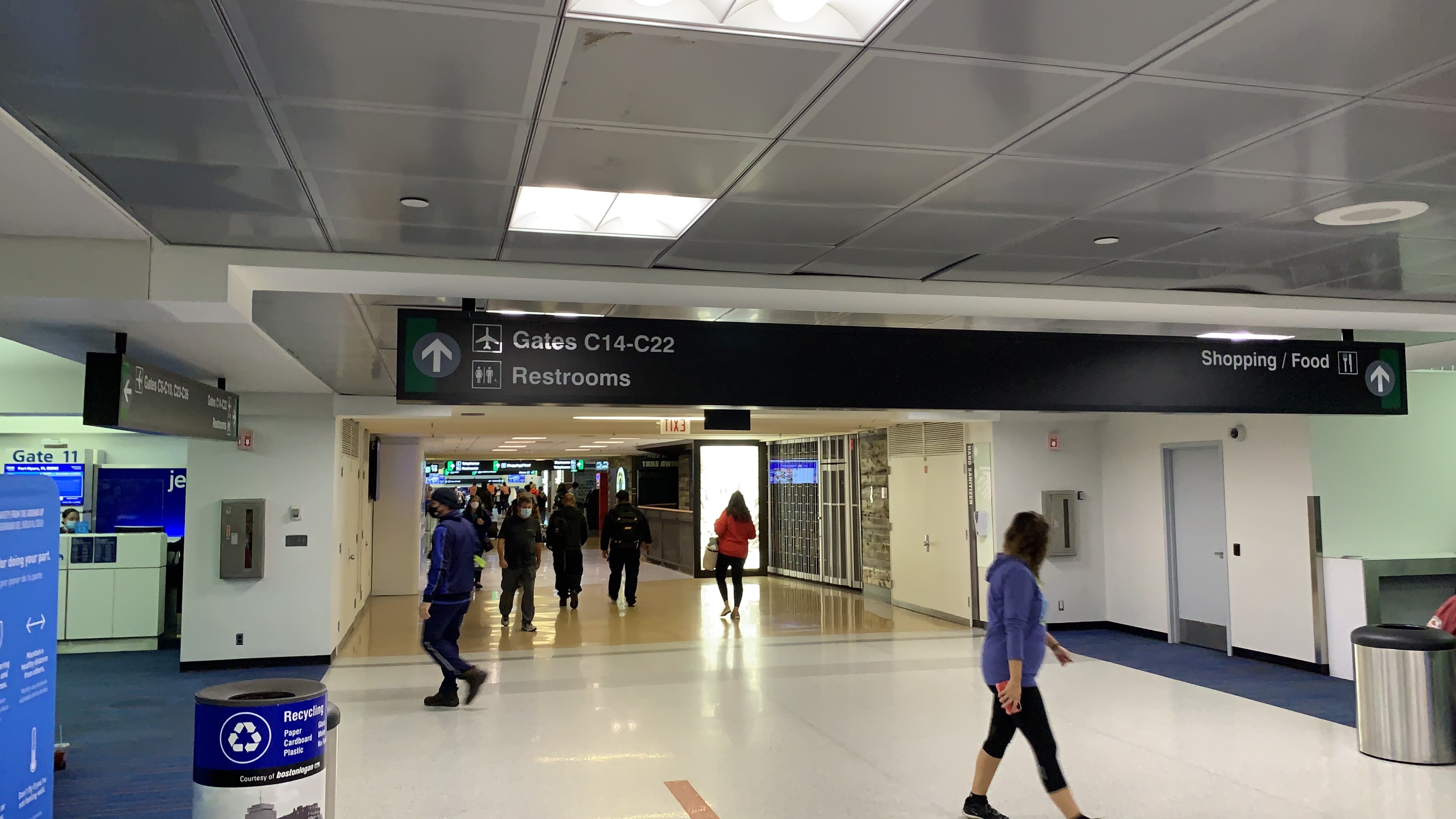 The aircraft taking me down to RSW, N3062J, was delivered new to JetBlue in August of 2021.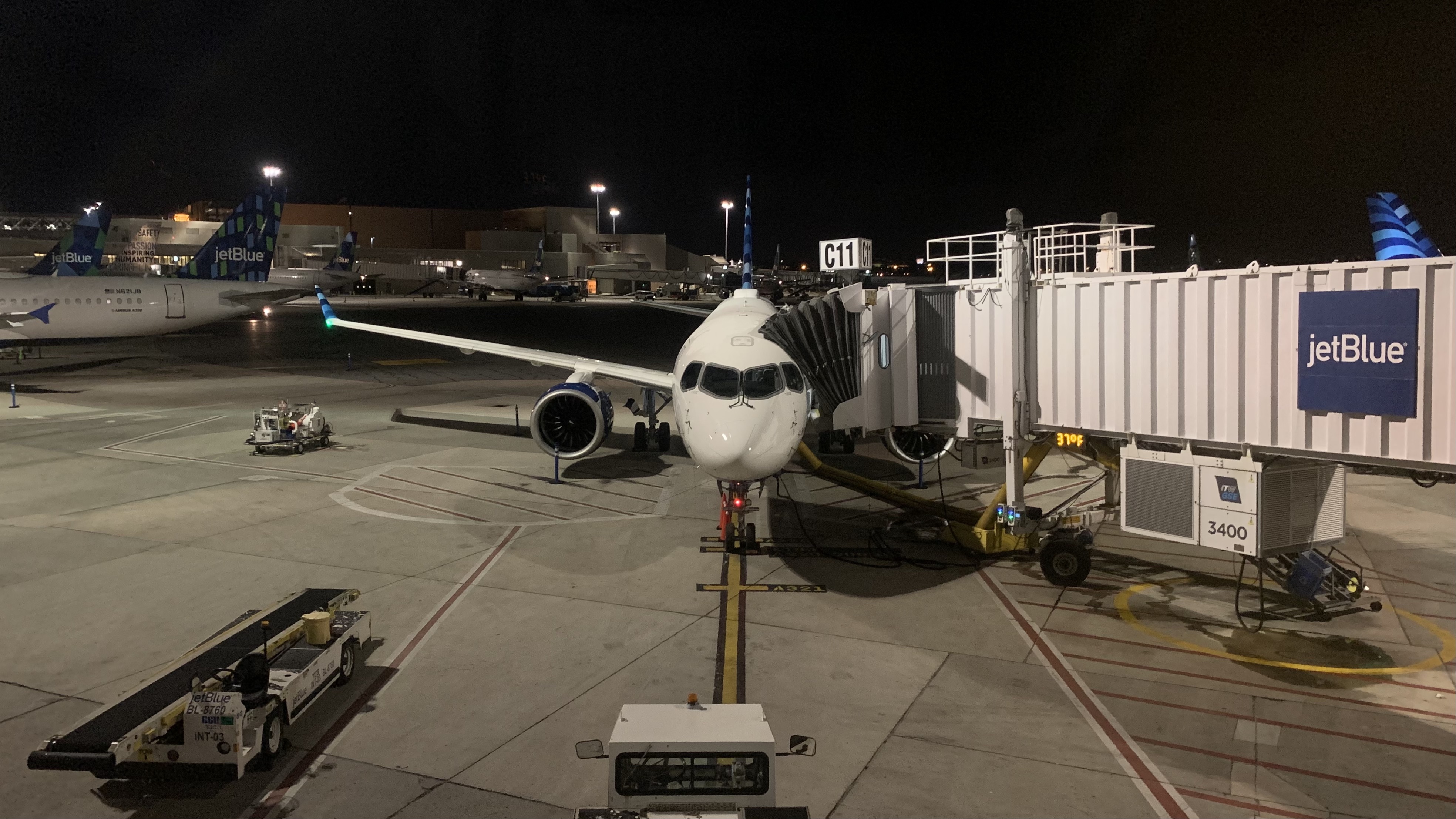 After about 15 minutes, boarding started. Because I booked an Even More Space seat, I was assigned boarding group A and was able to board the aircraft early on. After entering the aircraft, I headed to my seat, 4F (after some cabin photos, of course!).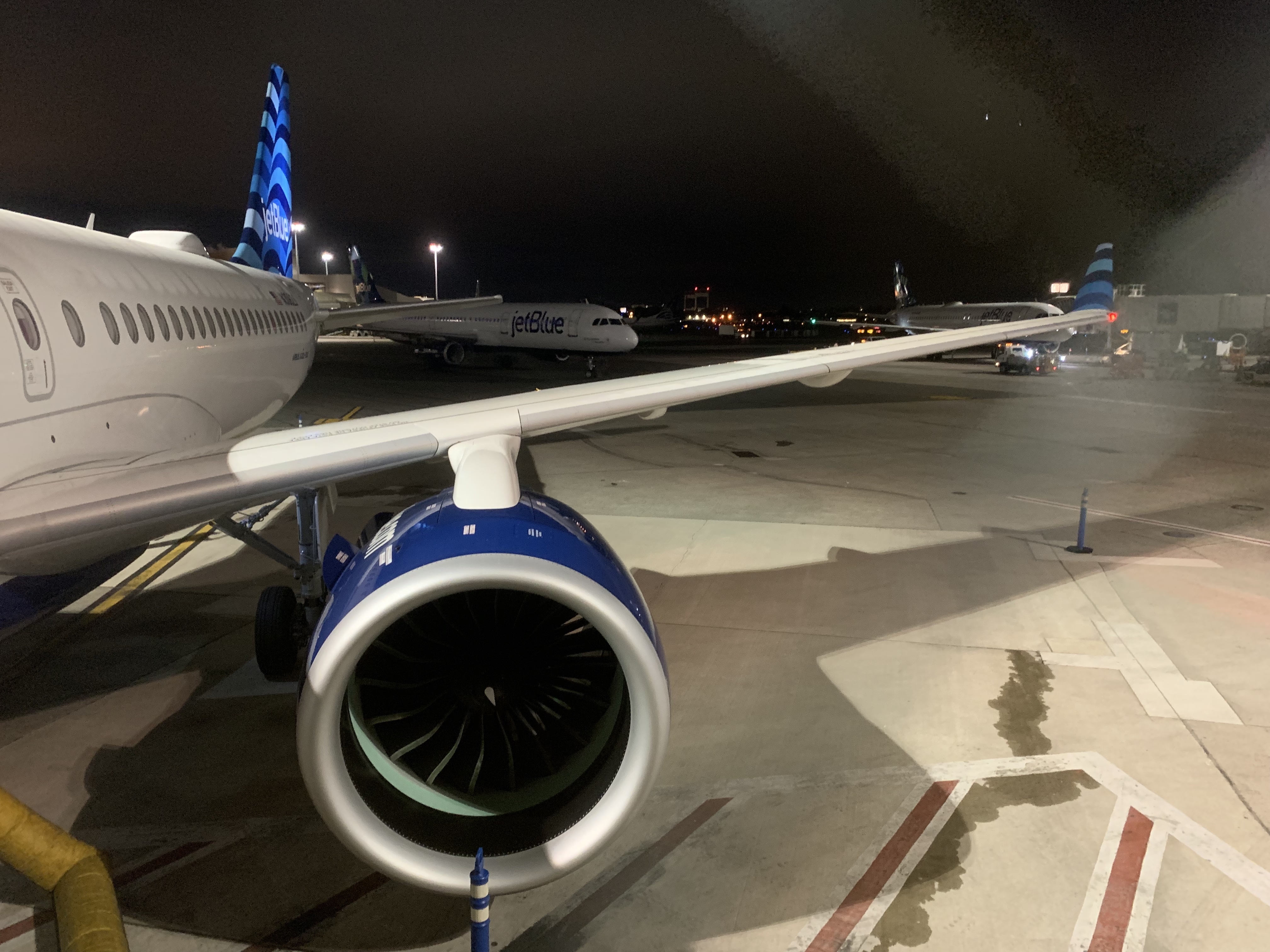 JetBlue's A220-300 features 140 seats in a 2-3 configuration, consisting of 110 Core economy seats and 30 Even More Space seats. The Core economy seats have 82 cm (32 in) of pitch, while the Even More Space seats have 89 cm (35 in) of pitch.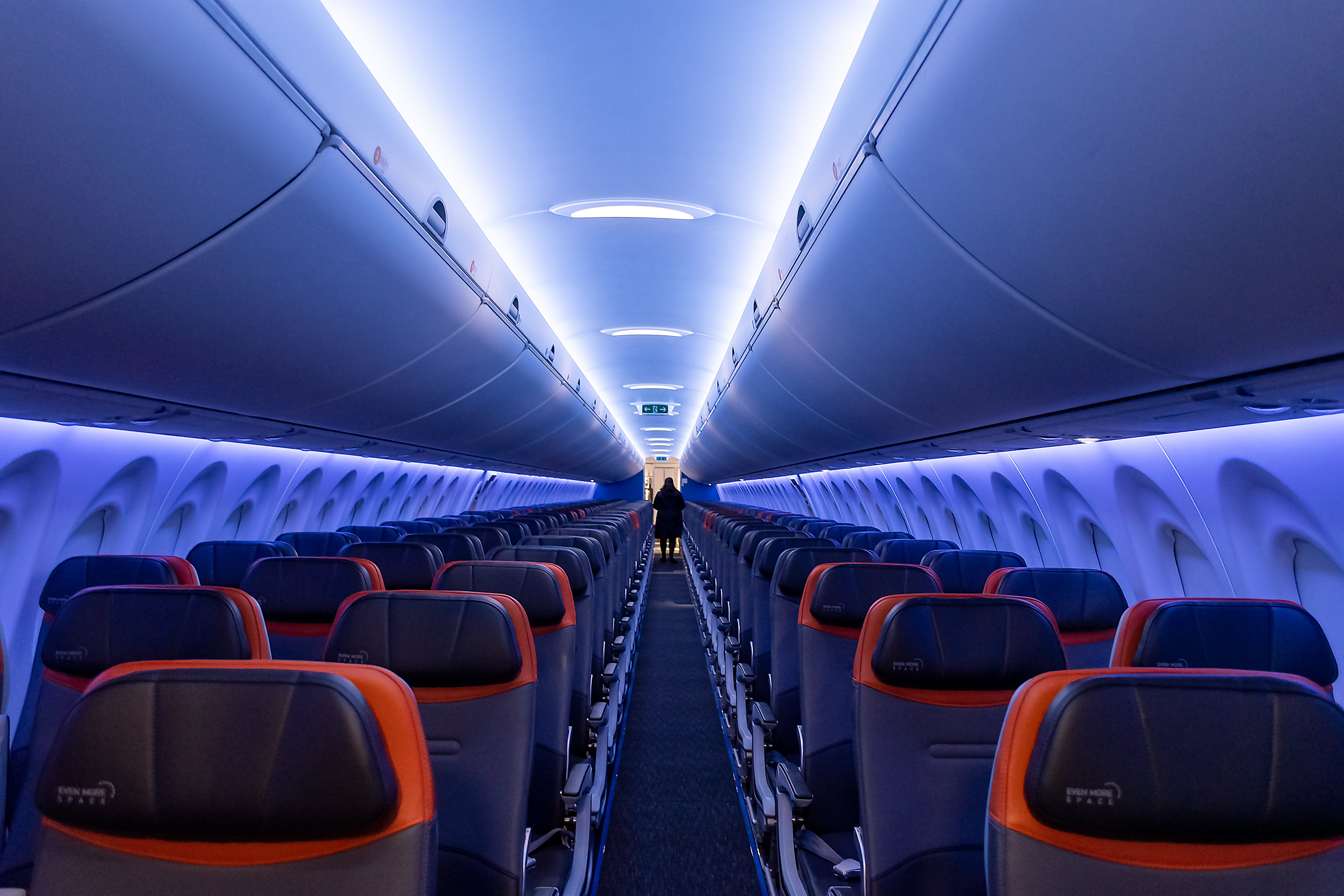 At every seat, there is a 25.6 cm (10.1 in) Thales AVANT touchscreen in-flight entertainment system with both VOD and live television, as well as a built-in 4.5W USB-A 3.0 port and 3.5mm headphone jack. In addition, there is a USB-C 4.0 and 110V AC outlet mounted underneath each pair of seats. There is also an NFC device intended to be used for contactless payments and device streaming in the future, however, nothing has been utilized as of now.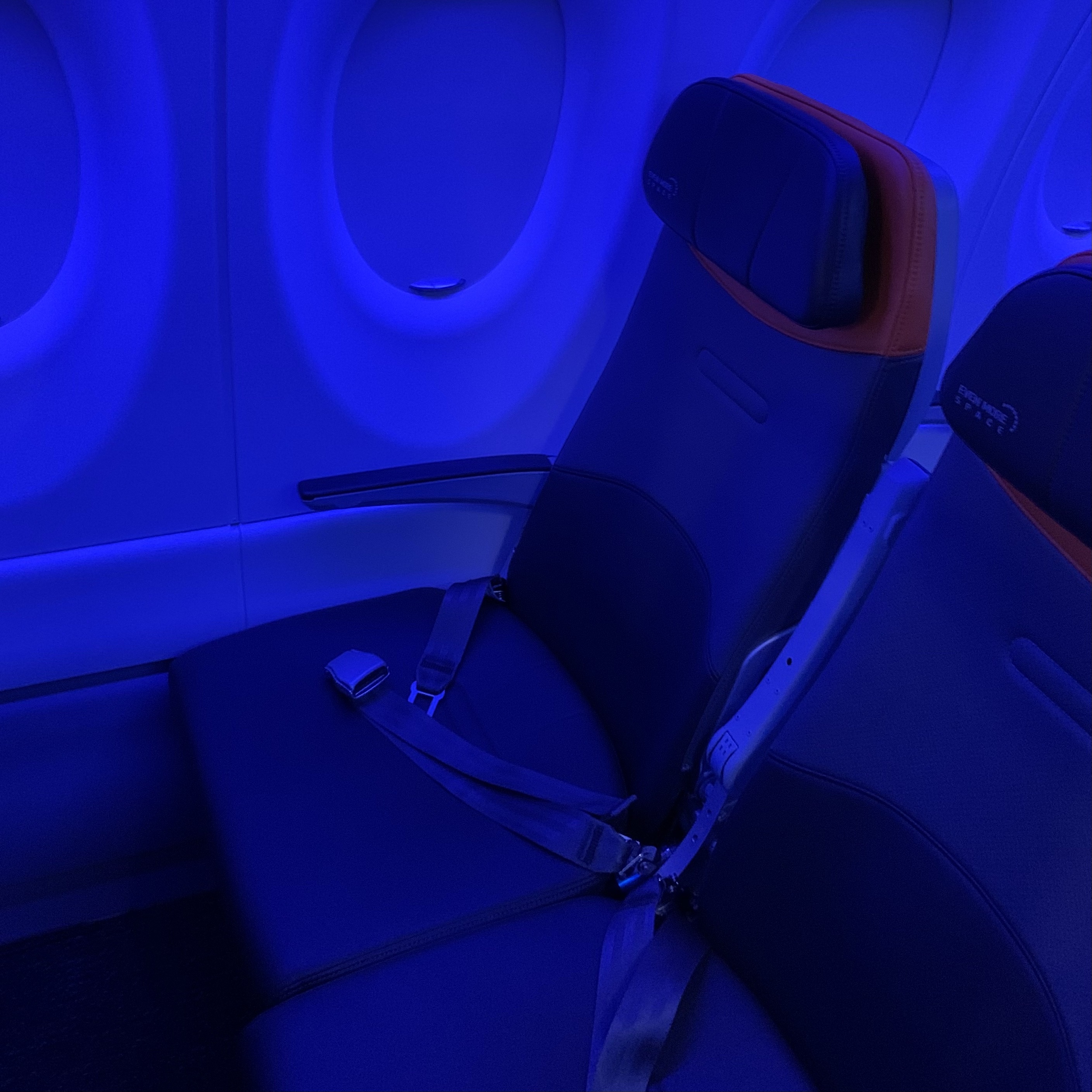 Boarding continued, and at around 06:50, the main boarding door was closed. We pushed back shortly after, right on schedule, and taxied out to runway 9.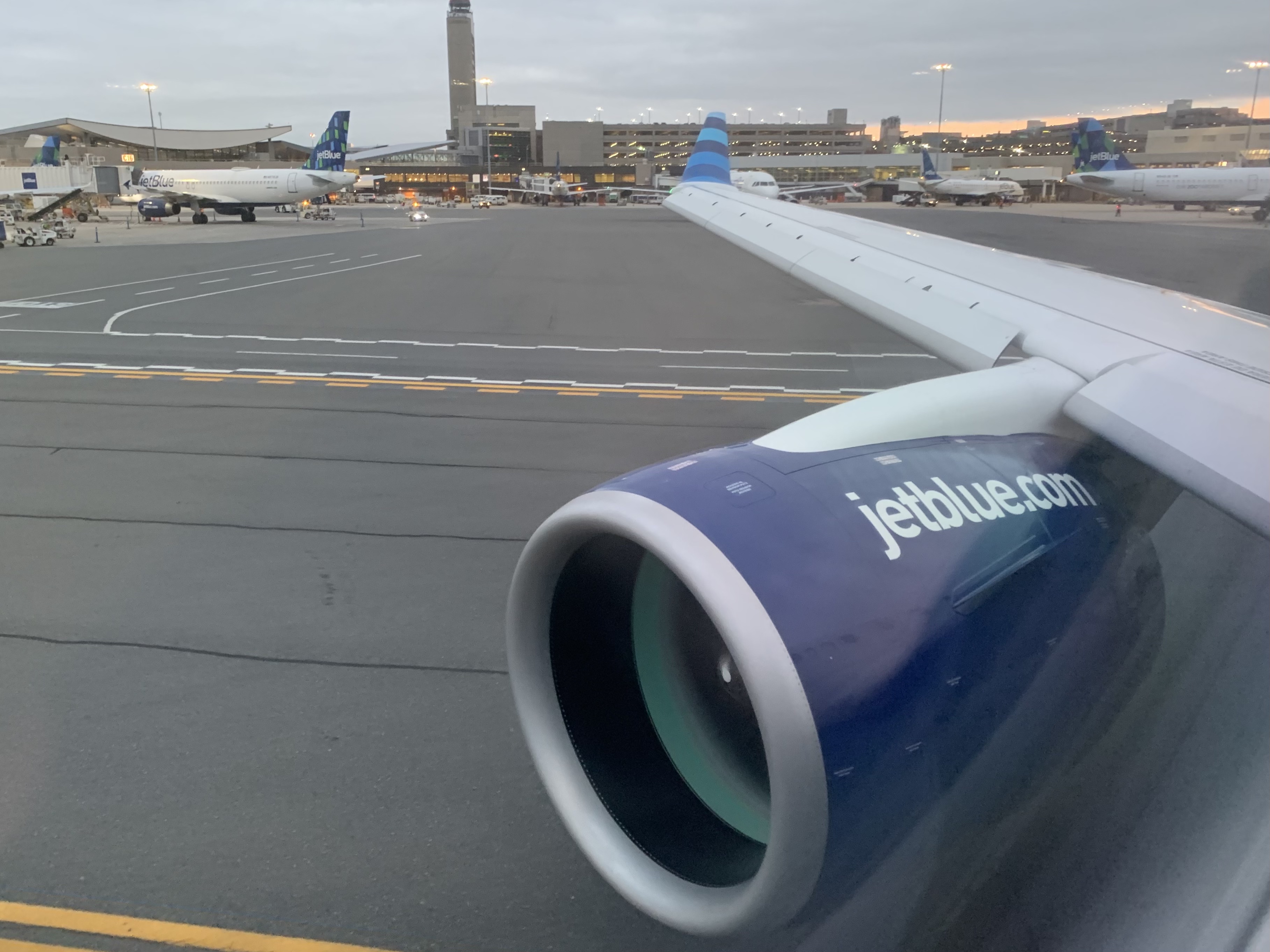 At 07:20, we departed east from runway 9. After climbing above the cloud cover, we were treated to spectacular views of the morning sun shining golden light on the sea of clouds below.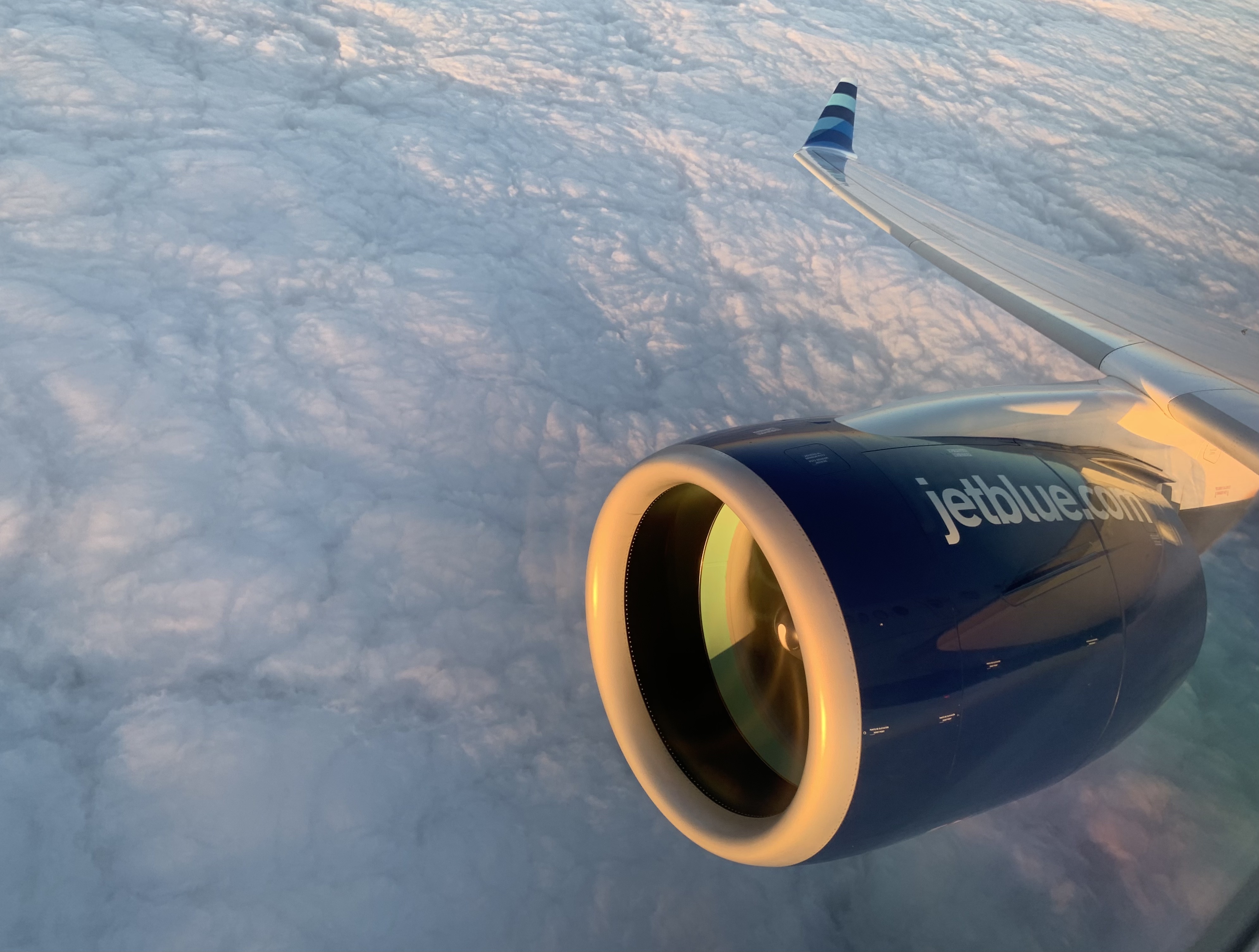 Once we reached 10,000 feet, the cabin crew started to come around first with EatUp snack boxes and items for purchase, then complimentary snacks and drinks. On this flight, I was offered a choice of snacks: Cheez-It crackers, PopCorners chips, TERRA Blue Chips, 88 Acres seed bars, and Goodie Girl cookies, and drinks: Bubly water, ginger ale, seltzer, tonic water, mineral water, apple juice, cranberry juice, orange juice, pineapple juice, tomato juice, virgin Bloody Mary, Pepsi, Diet Pepsi, Sierra Mist, Dunkin' coffee, Dunkin' black tea, and Higgins & Burke green tea. I ended up getting Cheez-It crackers and a cup of warm green tea.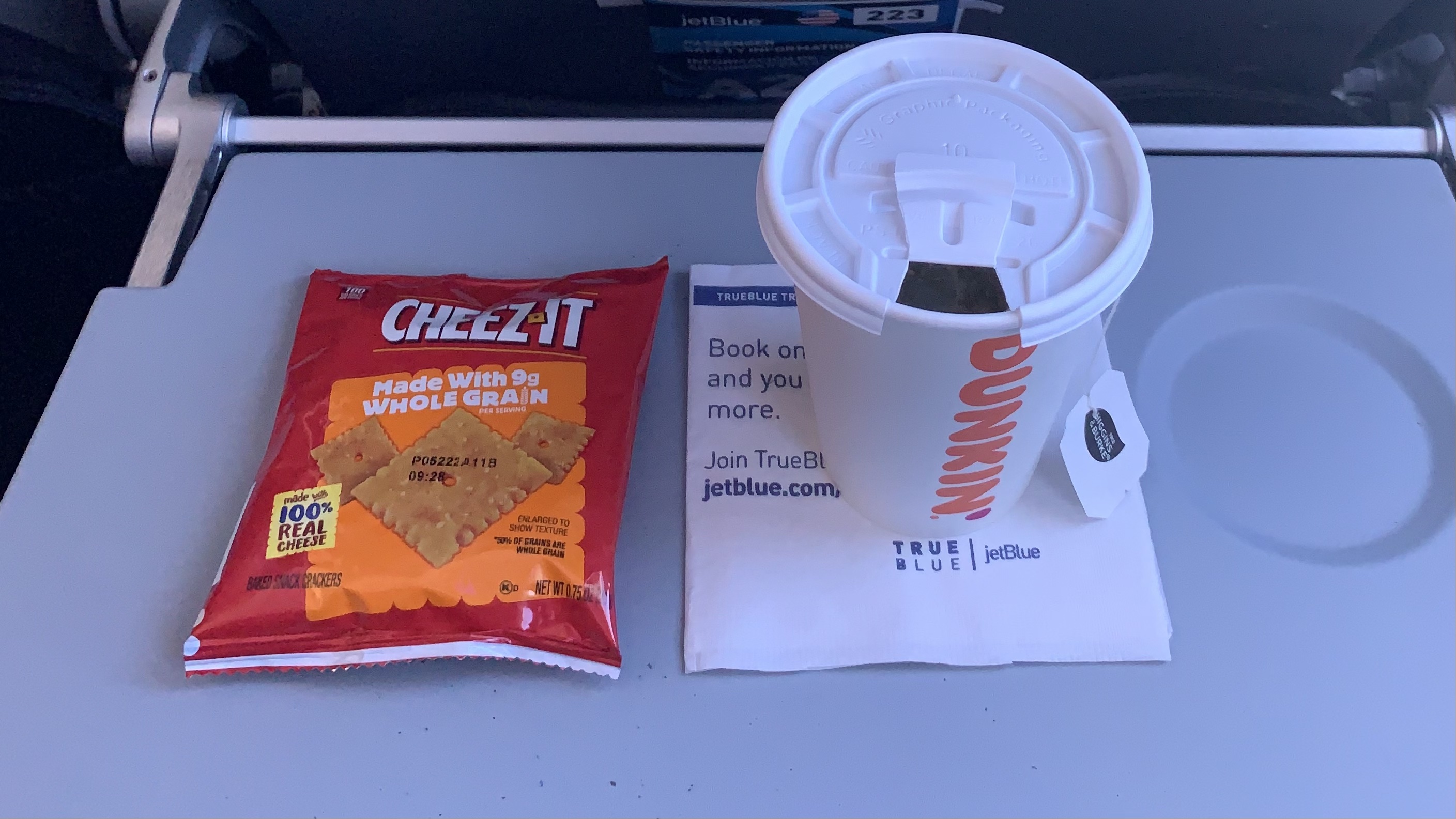 JetBlue also equips all of their aircraft with Fly-Fi, high-speed ViaSat satellite WiFi, which is free to use for every passenger. To connect, all I had to do was connect to the flyfi network, go to flyfi.com, and connect. From there, I was able to use the internet as normal. Fly-Fi is currently the fastest inflight WiFi of any US carrier, at a staggering 15 Mbps. As a point of comparison, Delta's WiFi runs at 12 Mbps, while Alaska, American, Southwest, and United all share speeds of only 9 Mbps. I decided to take advantage of the fast and free WiFi and work on some projects for AeroXplorer.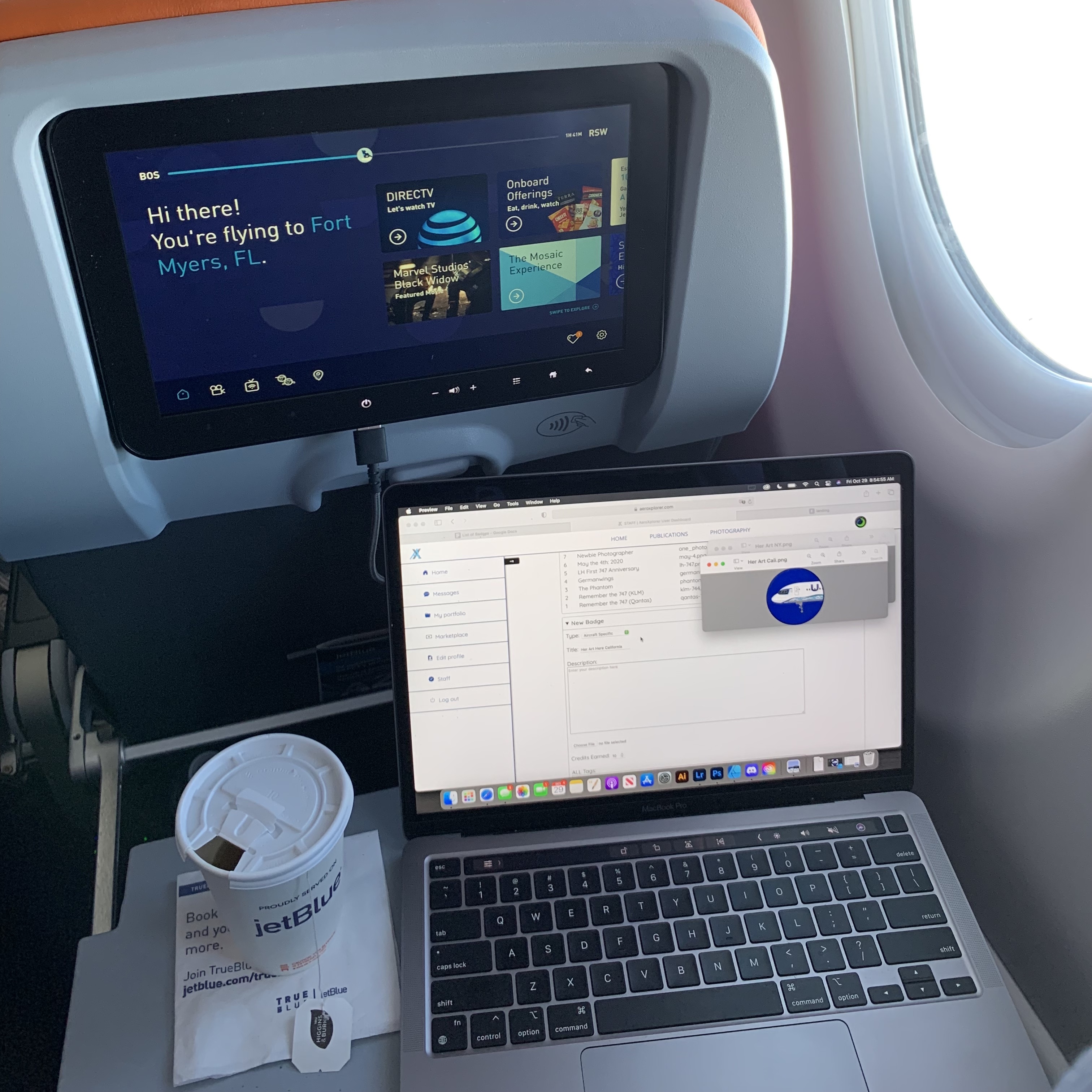 The 2,220 km (1,380 mi) flight down the East Coast took 3 hours and 40 minutes, at a cruising altitude of 36,000 feet. Soon enough we started our descent into the Fort Myers area, and within 30 minutes, we were on the ground.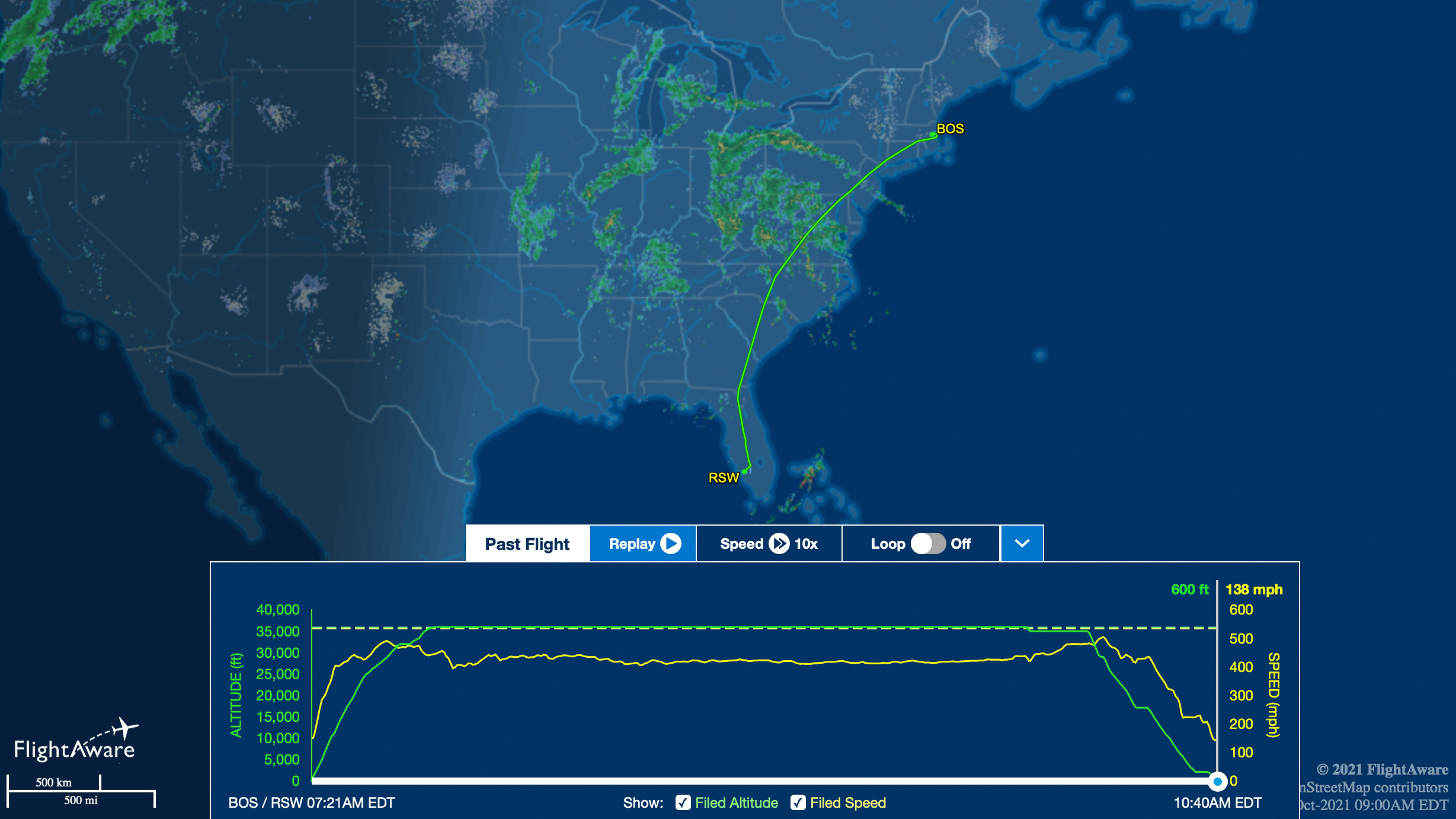 After reaching the gate and deplaning, I made my way to the long-term parking garage, where I was able to take the car and start my one-hour drive north to the house.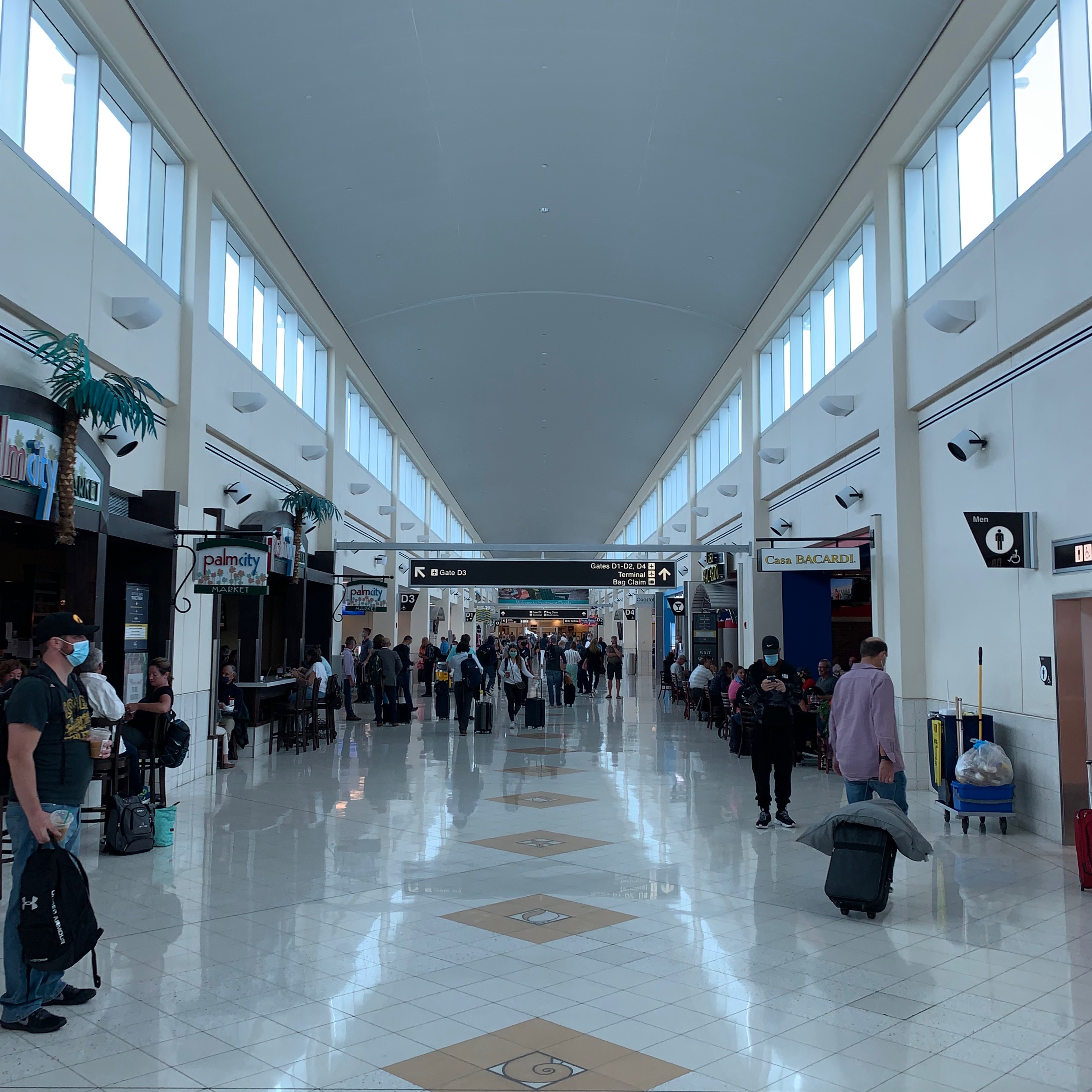 Overall, I think JetBlue has done an amazing job with its A220s. From the notable items such as the comfortable and spacious seats, large overhead bins, brand new IFE system, free high-speed wifi, and easily accessible power outlets, to the small cosmetic details like the morse code on the bulkheads, subway tile in the lavatories, and vibrant orange accents strewn throughout the cabin, it is quite obvious that customer experience was a huge factor in JetBlue's design of this aircraft. Given the recent network expansion, JetBlue's A220 will soon become much more common, and I would highly recommend trying it out if ever given the opportunity.
You must be logged in to contribute.
1 Likes Cite Us



Recently Released Articles