04/01/2021
726 views
Wednesday, March 10, 2021
Welcome to my trip report featuring SAS and Qatar Airways! Today I'm flying from Trondheim to Oslo with SAS, and tomorrow I'll be flying Qatar Airways from Oslo to Dubai with a stop in Doha. Both flights will be in economy.
--
I arrived at Trondheim Airport Vaernes (TRD) about an hour and a half before my flight. I needed to check a bag, but the agent at the check-in couldn't find me in the system, which was odd since I was already checked in. She finally found my reservation and checked my suitcase.
Security was a little busy, but because of my fast-track access, I could skip the queue. All in all, it only took about 5-6 minutes in total. Normally it takes much less time here in Trondheim (about 2-3 minutes), but because COVID-19 currently rules the land these days, the airport express offers fewer departures from the city, meaning more people arrive at the airport at once.
After passing security I needed to wait for nearly one hour before boarding started. No priority boarding either; boarding started with the last row and forward. Upon boarding, I was greeted by the cabin crew who handed out wet wipes like last time. The flight was onboard a 19-year-old Boeing 737-700, registration LN-TUL. This bird still holds the old SAS livery, but the cabin interior was retrofitted. I was in seat 12A, and like last time the seat next to me was free.
Even when the temperature was two degrees Celsius (roughly 35 degrees Fahrenheit), there was no need for de-icing. We taxied to runway 09 for take-off, and what a take-off that was! Flightradar24 showed 14kts on the ground, but with temporary winds of 25kts gusting at 35 degrees. There was even more wind at 670 feet above the ground with the wind at 23kts gusting 45 degrees. I had never experienced such an intense take-off in my life - only upon landing many years ago.
After take-off, the flight was uneventful. A little turbulence while climbing to our cruising altitude of 36,000 feet but mostly great flying conditions. After only two minutes at cruise, we started our slightly bumpy descent to Oslo, ending with a bit of a hard landing on runway 19R due to high winds in the area. We landed roughly ten minutes ahead of schedule.
After de-planing, I took the airport shuttle bus to my hotel. My plan was to stay at a hotel right next to the fence of the airport that has an amazing view over the west runway. However, this didn't happen as I was transferred to a different airport hotel due to my original one being used as a quarantine hotel for arriving passengers. I didn't miss anything though; it started snowing right after we landed, so I wouldn't have been able to see anything from my hotel room anyway.
Thursday, March 11, 2021
This was the day I had been waiting for for about a month! It was time to fly Qatar Airways in economy from Oslo to Dubai, with a layover in Doha. This was my first long-haul flight since I visited San Francisco in February 2020, just before the lockdown began. Remember those times?
I took a taxi to the airport, even though I could have taken the bus. Due to loads of snow and wind, I felt like I "deserved" a taxi. I arrived at the airport a bit under three hours before departure which was recommended by Qatar Airways.
Check-in was a little complicated. First, I had to weigh my bag, then move on to have my Covid-19 test checked, and then I could finally check in properly. The whole check-in process took about 30 minutes. I was very tempted to upgrade to business class, but I decided not to, both because I wanted to test their economy class, and because I had already purchased an upgrade for my flight back to Norway. The offer I got for my return flight was too good to turn down, so I went for it. Security however wasn't very busy, so I got through pretty fast and headed to the passport control and to the gate near the end of the terminal.
About one hour before departure boarding started. Well, not actual boarding, but our tickets were scanned, and we got seated in designated zones by the gate. We waited there for about 20-30 minutes before the actual boarding started which was done through the L2 door. The aircraft for was a stunning Airbus A350-900, just under 3 years old, registration A7-ALV. This aircraft did not feature the new Qsuites, but was instead fitted with the "old" reversed herringbone seats. However, according to Seatguru, my returning flight to Oslo will feature the new Qsuites. Business class was in a 1-2-1 layout with 36 seats, while economy was in a 3-3-3 layout with 247 seats.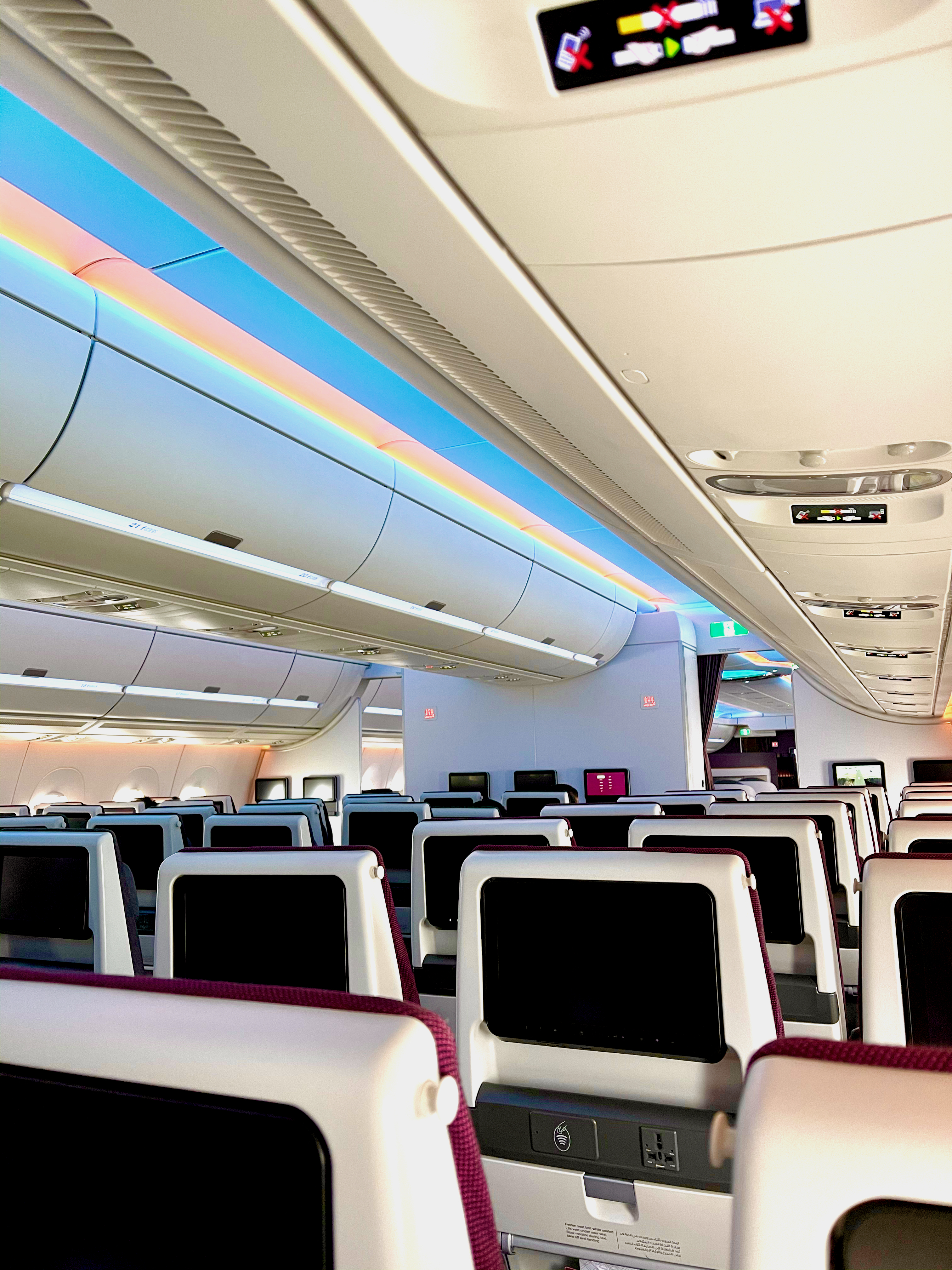 My seat for the flight was 23K. The legroom was amazing; even when I was a little laid back in the seat, I got plenty of space. An estimated guess of 75-100 passengers were on board, and I had a whole row to myself which was really nice. Waiting at my seat was a pillow and a blanket, and the cabin crew later handed out headsets. I did not use them, so I can't say much about them, but they are the basic ones given in most economy classes. The cabin crew then handed out refreshing towels and later a hygiene kit. At that point, I was already amazed by the service on Qatar Airways!
We left the gate around 30 minutes after the scheduled departure time and headed for de-icing, which took roughly 15 minutes. After de-icing, we taxied to the east runway and departed from 19L, banking left shortly after. We climbed to 39,000 feet where we stayed for most of the flight, before climbing to 41,000 halfway over Turkey. We hit some slight turbulence here and there over eastern Europe but for the most part, we had a smooth flight to Doha. The routing took us over southern Sweden, Poland, Hungary, Bulgaria, the Black Sea, and Turkey, before heading further west over Iraq, the Arabian Gulf, then to Qatar. This is the furthest east in the world I had ever been.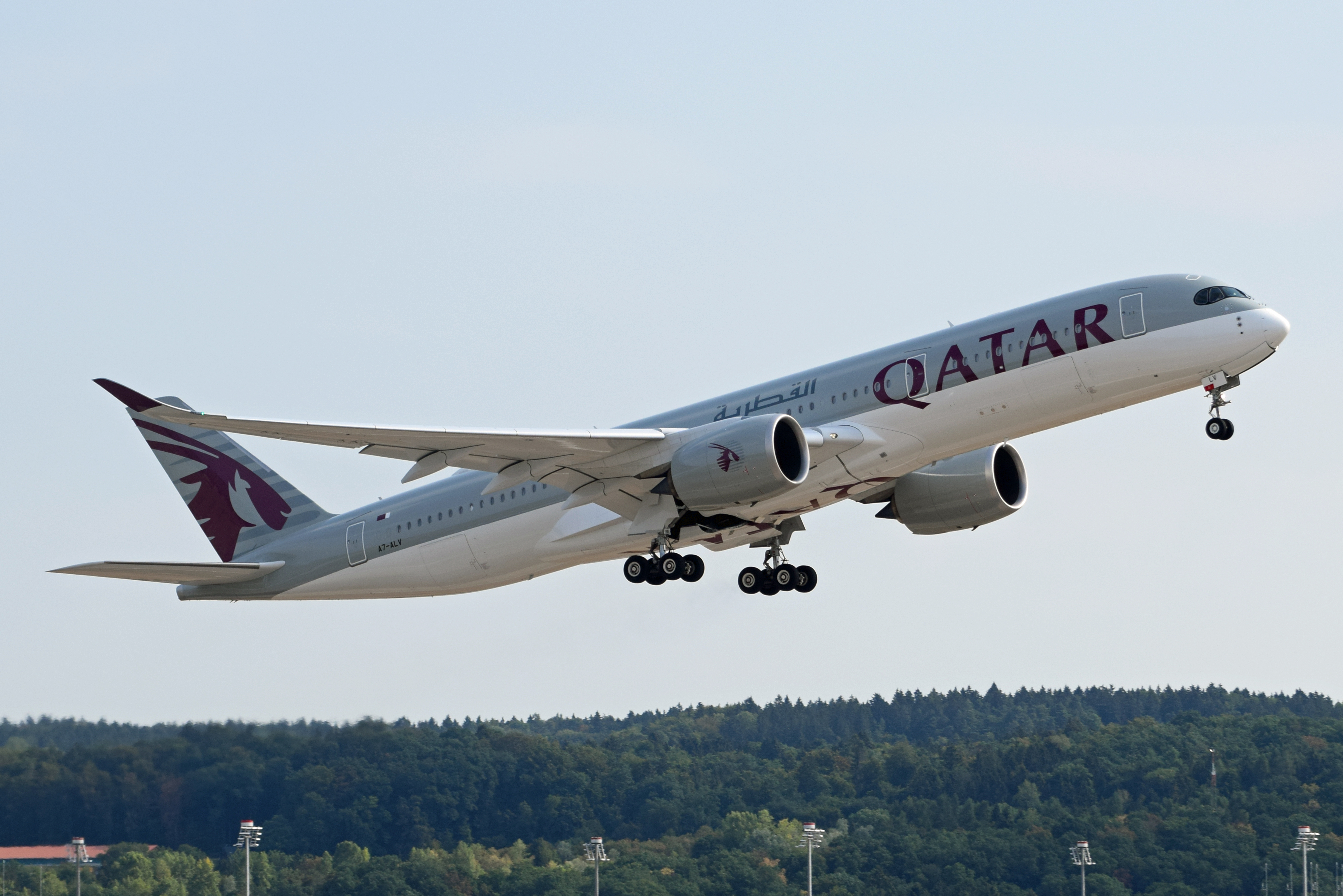 After reaching our cruising altitude, service started which some pretzels and a drink. A little while later lunch/early dinner was served. There were three different options, which surprised me. I chose a vegetarian lasagna which tasted great. How I had missed airplane food! Qatar Airways continued to surprise me by having metal cutlery, even in economy.
Just under halfway through the flight, the cabin crew turned off the lights, leaving not even the mood lighting on. I found this to be odd since the local time in Oslo was just past 7 pm. I guess people wanted to sleep. I, on the other hand, ended up staying awake for the whole flight, mostly writing this trip report and listening to music. I'm sorry to all of you waiting for me to review the inflight entertainment called the Oryx One, but I didn't really try it. I did however quickly browse the movie content, which was huge; almost any movie you could think of was there. The only feature I actually did use was the flight map to see where we were, and it worked really well with great graphics. I also want to mention the Wi-Fi onboard which was fast, and I only paid $10 for the whole flight. However, I did lose the Wi-Fi shortly before leaving Turkish airspace.
During the remainder of the flight, the cabin crew walked through the aisles several times with drinks, which was very nice. Just under two hours before arrival, over Iraq, the cabin crew handed out small bags of potato chips and some more drinks. Around the same time, we reached our top (ground) speed of 1117 km/h (694 mph). There were no other meals during this flight, only snacks.
After crossing into the Arabian Gulf, we began our descent towards Doha. After a bit of holding outside the Doha shore, we landed ten minutes late, from the north on runway 16L. The landing itself was a bit hard, nearly a slam-down at the end.
Upon arrival in Qatar, we parked at a remote stand, and several buses brought us to the terminal. A lovely 22 degrees Celsius (72 degrees Fahrenheit) in Doha (DOH) tonight. When we reached the terminal, we were guided through security with no other document checks; not even our passports.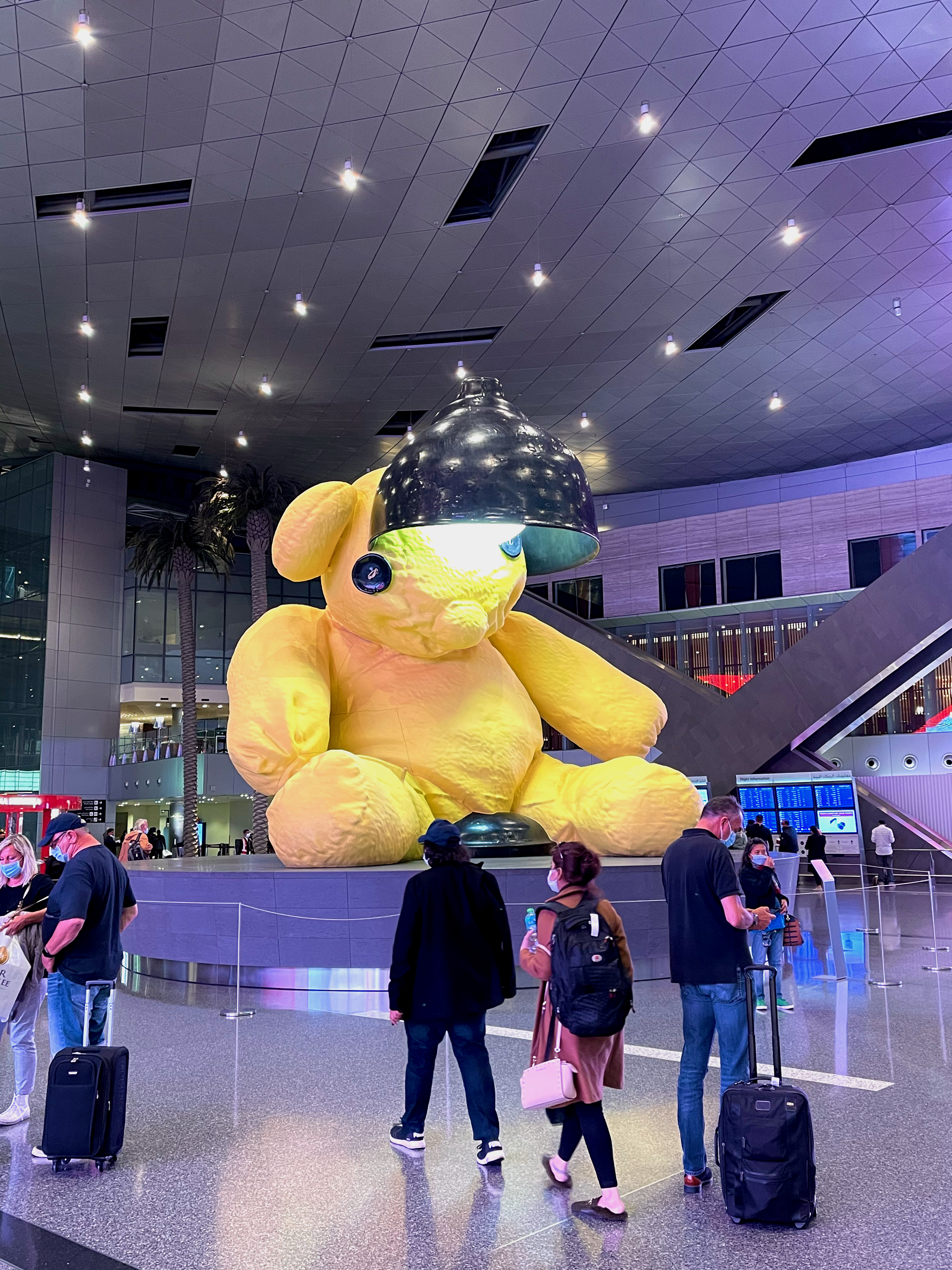 Since I was connecting to Dubai (DXB), I quickly found my gate, A3, where boarding had already started. This was the first time I had my passport checked since I left Oslo. When we actually boarded the aircraft, boarding was called by zones designated by seat rows. I was in zone 3 because I was in seat 17A for the flight. Same as my last flight, the cabin crew handed out refreshing towels and hygiene kits shortly after boarding was completed.
The aircraft for that flight was an eight-year-old Boeing 787-8 Dreamliner, registration A7-BCB. Business class was in a 1-2-1 layout with 22 seats, and economy was in a 3-3-3 layout with 232 seats. This flight seemed very full, at least from what I could see. My seat had a bit less legroom than my A350 flight, and the IFE box (In-Flight Entertainment) was also blocking some legroom. There was nobody next to me, but another passenger in 17C. I thought the cabin as slightly old; I just got that vibe from seeing the interior, but it might just have been the light and/or because I was tired. The window was slightly misaligned, but if I turned my head a bit more, I had the perfect wing view. This aircraft also featured Wi-Fi, but for twice the price of my previous flight. The data limit was also set to just 200 MB, so I didn't bother purchasing access.
We taxied to the runway for take-off, the same runway we previously landed on, runway 16L. After take-off, we only climbed to 21,000 feet, stayed on cruise for eight minutes before starting our descent to Dubai. During this short time, the cabin crew somehow managed to serve drinks and a little snack to all passengers. It felt very weird flying such a big aircraft on a short flight like this, as the whole flight only took 47 minutes.
During our descent, we flew north of Dubai, banking right before landing from the south-east on runway 30L, only two minutes late. This time the landing was smooth. While taxiing to the gate I witnessed the army of Emirates A380s, which was really cool to see. Things changed after de-planing, as I never realized Dubai airport was this big; from the outside, it looked a lot smaller. Inside the terminal, we walked for a really long time until finally reaching our first document checkpoint, which was a COVID test. I had already taken one in Norway, but it seemed like everyone had to take a test anyway upon arrival. After the test, we had our documents checked again, and once more after that. Our passports were then checked before taking the elevator down to baggage claim. After all of this, I could finally pick up my suitcase and go through customs. After reaching the arrivals hall, I ordered an Uber and went straight to the hotel. I quickly passed out when I reached my hotel room.
All in all, two lovely flights, both with a very friendly and polite cabin crew. I was really surprised of how good the service was too. Now I have seven days here in Dubai, then I'll be flying in economy from Dubai to Doha on a 787-8, and in business class in Qatar Airways' Qsuite from Doha to Oslo on an A350-900 -- or so I thought. Stay tuned for my returning flight in Qatar Airways' "normal" business class flight!
Disclaimer: This trip was deemed necessary due to both personal and work reasons. I completed all the needed tests and documentation before departing and I always wore a mask. Before arrival in the United Arab Emirates, I only needed a PCR test which I had a certificate for taking. I followed every rule wherever I went during my trip and kept my distance from other people as much as possible.
You must be logged in to contribute.
1 Likes Cite Us



Recently Released Articles