07/19/2021
736 views
Recently I had the privilege of traveling to New York JFK and back via Delta One on two different aircraft. After comparing the two Delta One experiences onboard, I believe there is a clear winner. Be sure to know which 767 you are flying on so that you can guarantee if you have the newer Delta One seat.
This was my first flight out of SFO in 18 months! I had flown Avelo out of STS ten days prior, so I was super excited about these flights. Here are the flight details:
Flight 1:

Airline: Delta Airlines

Aircraft: Boeing 757-200 | N721TW

Date: Saturday, July 3, 2021

Seat: 2D (Delta One)

Departure Time: 6:41AM PDT

Arrival Time: 4:10PM EDT

Flight Duration: 6h 29m

Route: SFO-JFK


Flight 2:

Airline: Delta Airlines

Aircraft: Boeing 767-300ER | N188DN

Date: Tuesday, July 13, 2021

Seat: 5A (Delta One)

Departure Time: 11:08AM EDT

Arrival Time: 2:05 PM PST

Flight Duration: 5h 57m

Route: JFK-SFO

SFO-JFK
Not pictured is our stay in the Delta Sky Club lounge in Terminal 1, which was great for our 20-minute stay. I had a nice potato breakfast with a decaf coffee. The terminal was much more crowded than I expected - there was some queuing in security and lots of line merging which was a bit of a confusing maze. Once through security though, it was smooth sailing. Perhaps the long security line was a result of two terminals going through the same security line; passengers flying Delta out of Terminal 1 had to go through security in Terminal 2 and walk over to their gate.

Seat Review: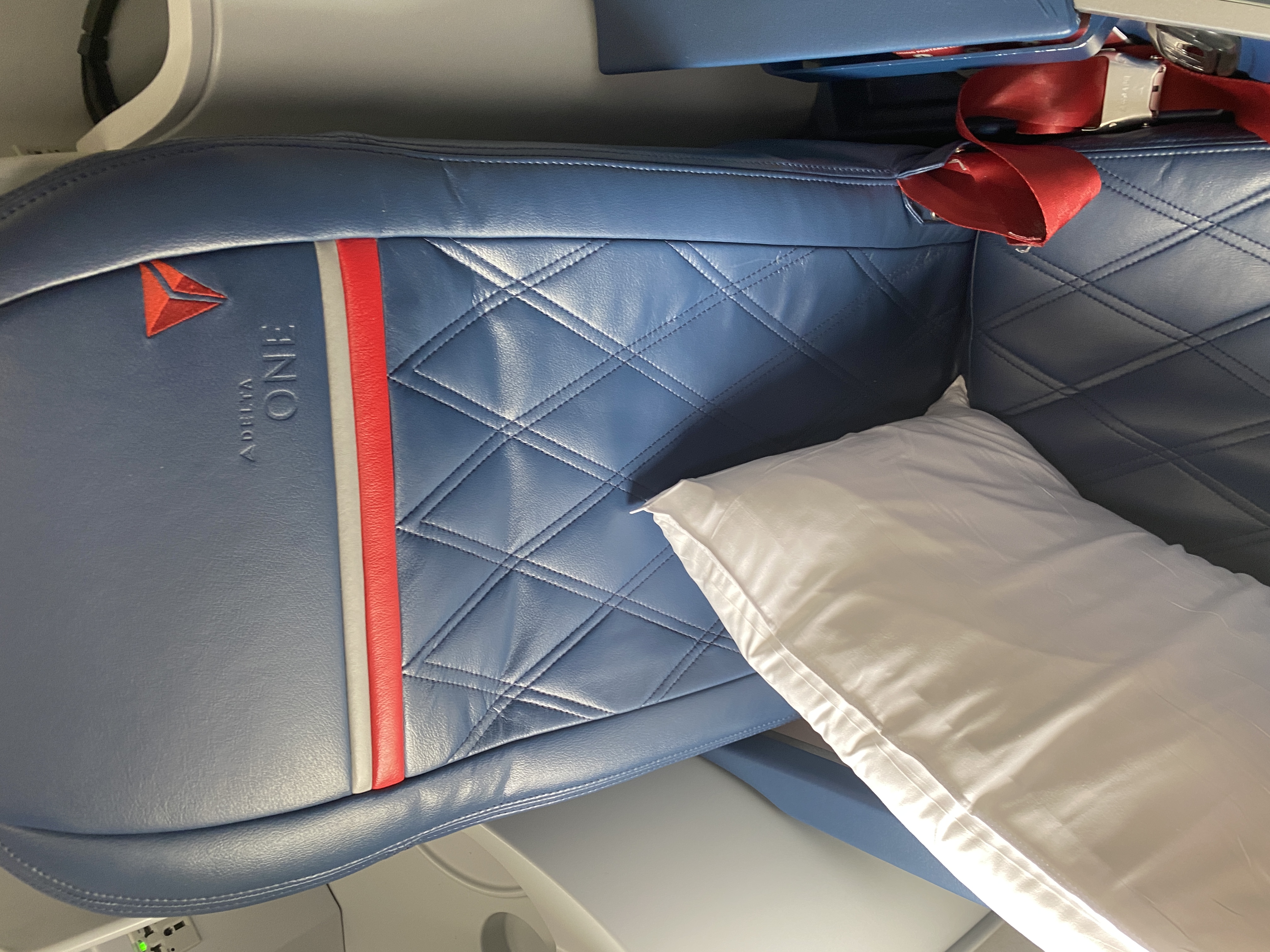 Entire seat - lots of space and a neat upholstery pattern. Delta provided quite a comfortable pillow - I was able to sleep for an hour on the flight without waking up, a rarity on domestic flights. The suite was very spacious as well with lots of seat space to spare.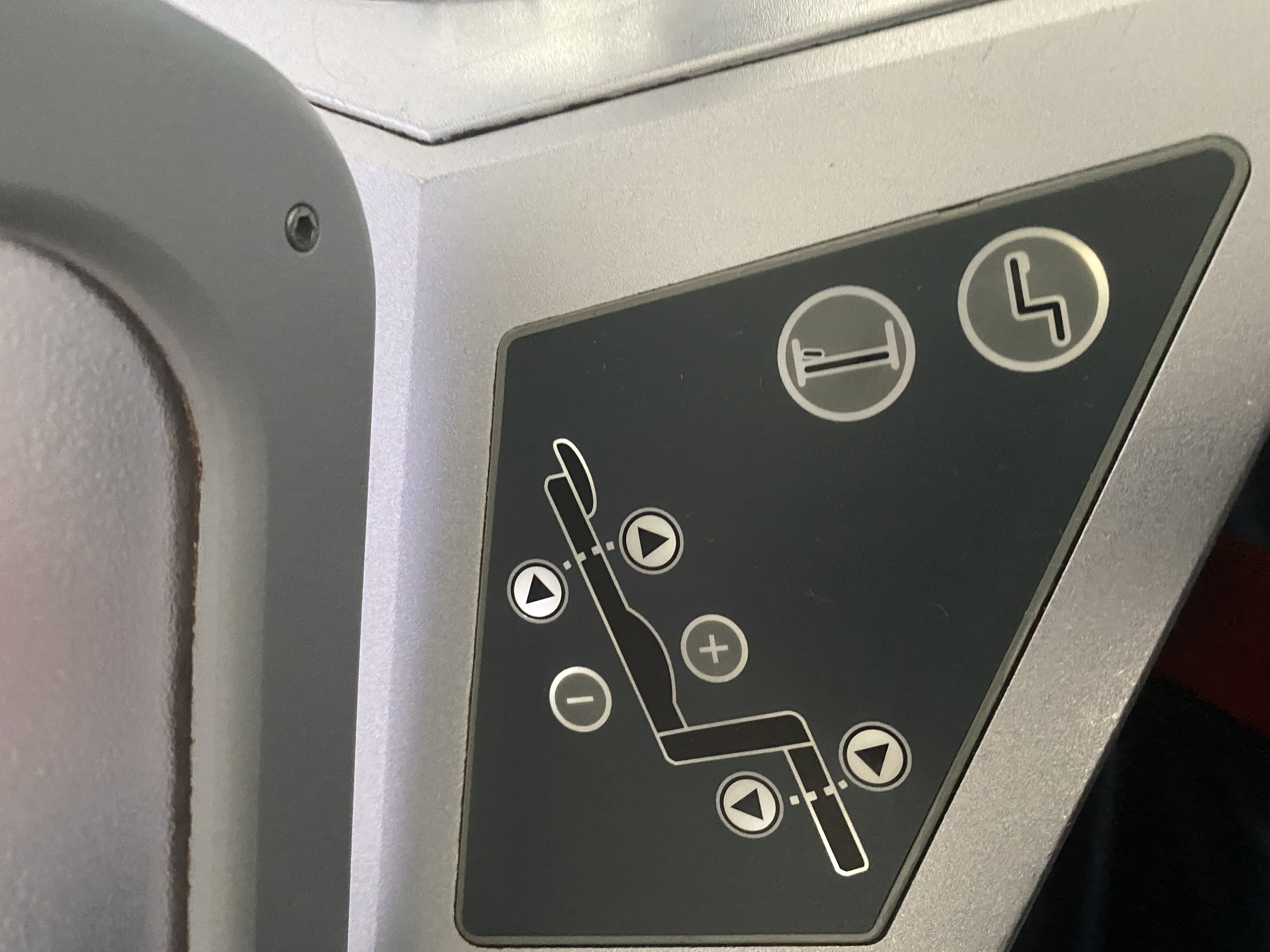 Pictured above is a more detailed look at the seat controls, which were much easier to understand than the 767. Whenever I wanted to adjust the recline, I could easily find the part of the seat on the button layout, not to mention the easy 180-access button.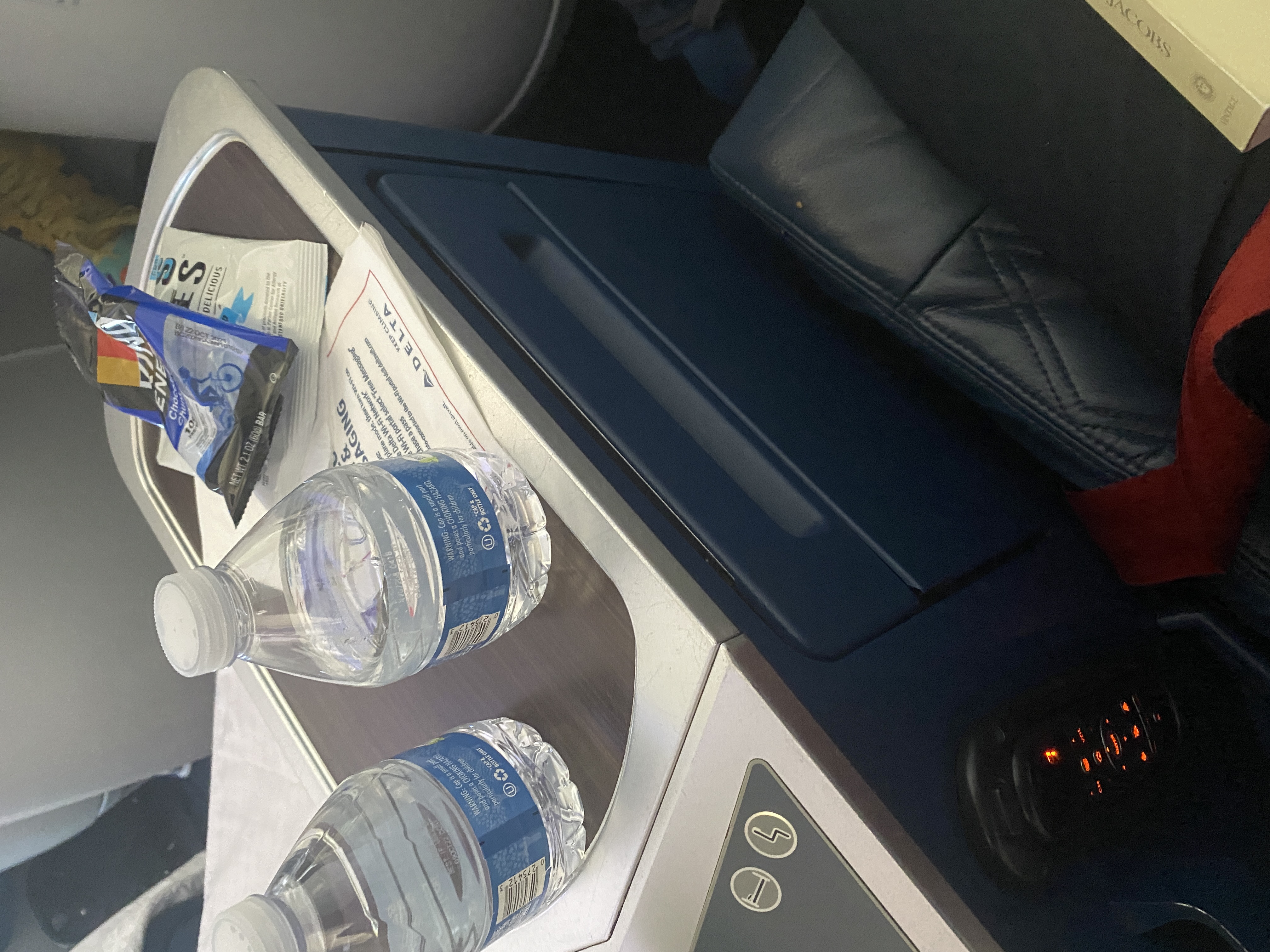 The seat had a really nice armrest with space for food and drinks, in addition to a table not stored on top making for easy access. I never once used the IFE controller since the TV screen worked really well. Ample water was served with a KIND bar as my first of *three* free snacks.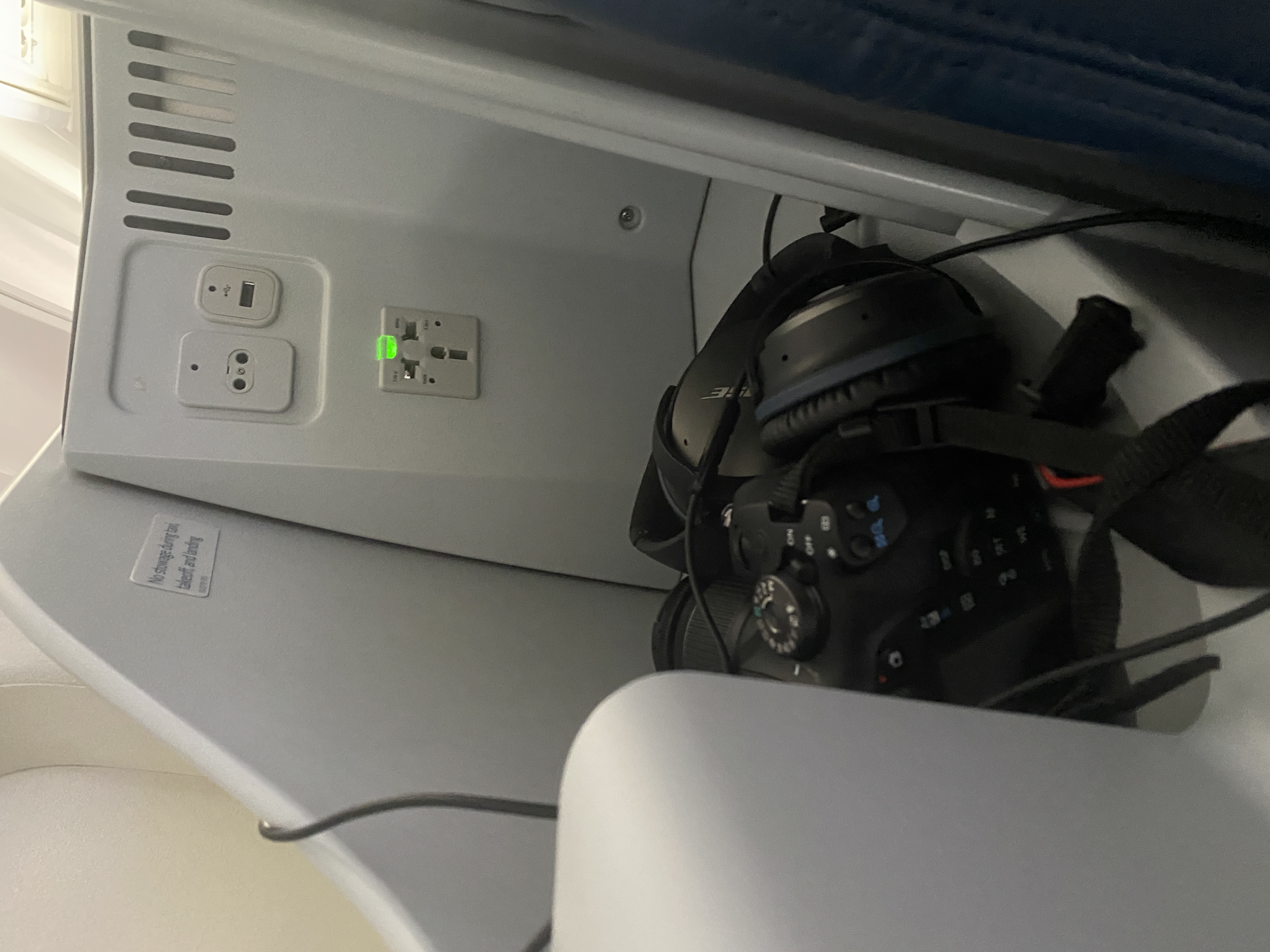 Took me a while to find this headphone jack(located behind the seat in a nook), but once I did I found it a great place to store my headphones and camera. Multiple outlets were a huge bonus!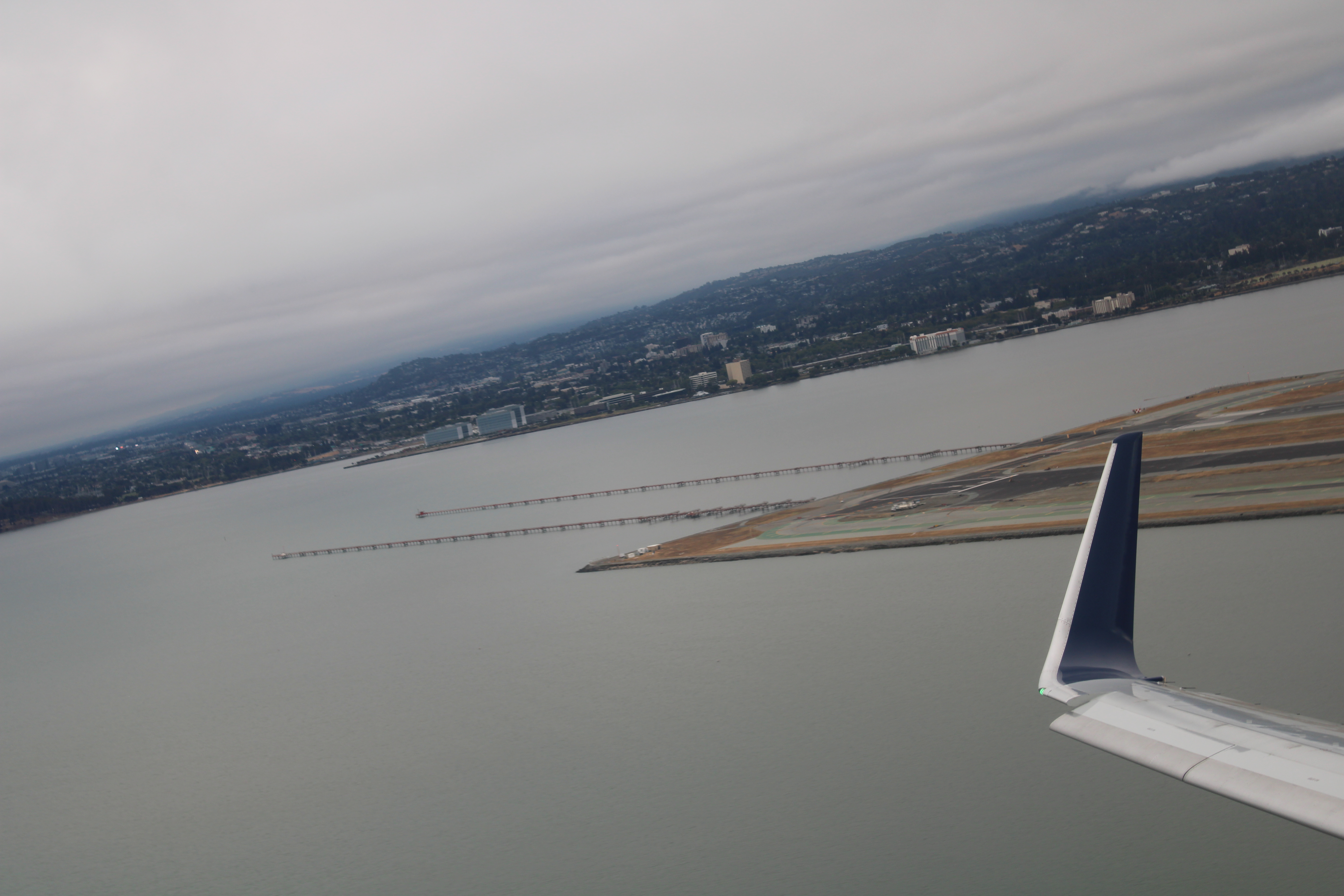 A beautiful takeoff from SFO's runway 1R. Soon enough we were above the marine layer. The airport is not very busy at 6 a.m. After three minutes, we were above the clouds and it was bright out!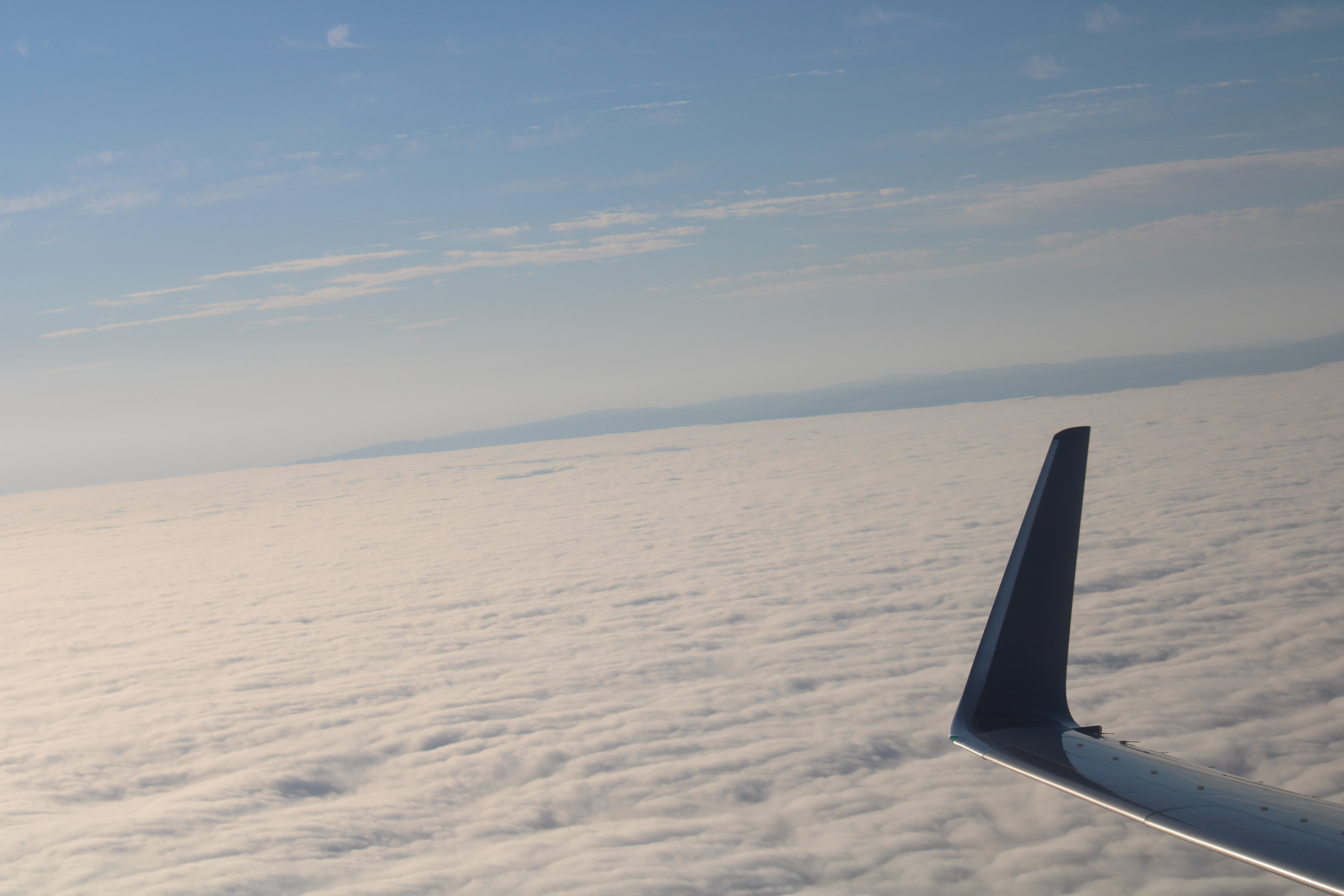 There was lots of legroom and more than enough space for my feet. I thoroughly enjoyed being able to watch live TV and Wimbledon for most of the flight. This screen is far bigger than the 767 screen and any TV screen I've used on a flight ever. After tennis, I got to watch the ending to the Czech Republic/Denmark match which was another bonus!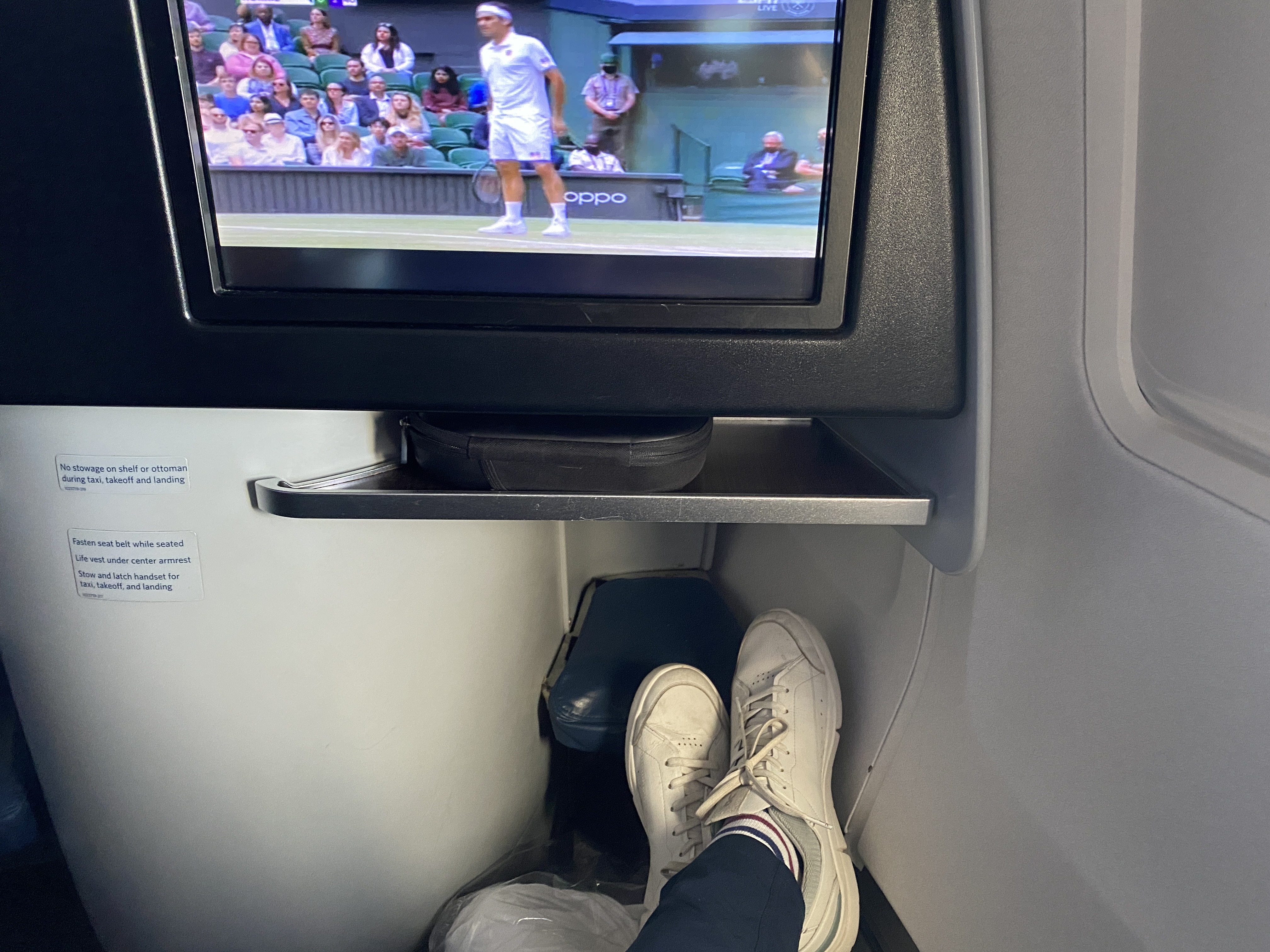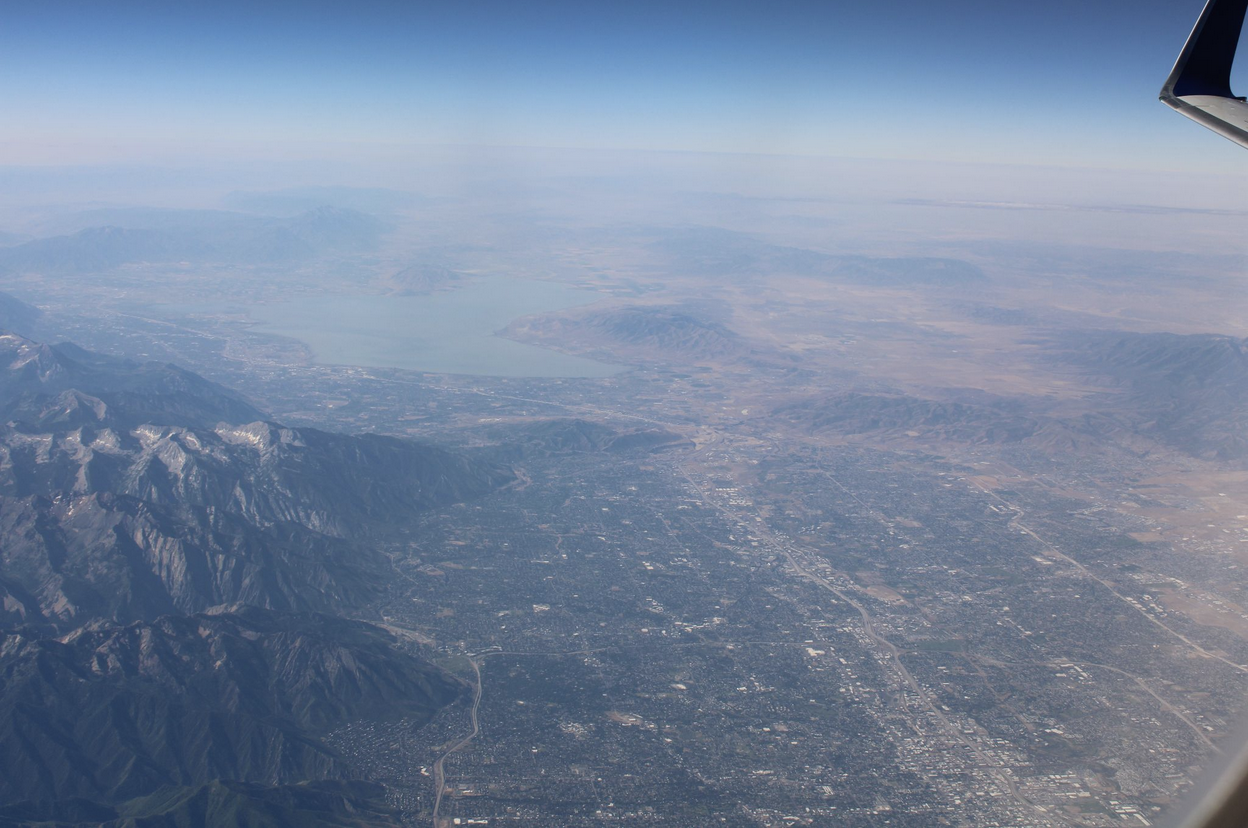 Soon after passing Salt Lake City, we were served breakfast.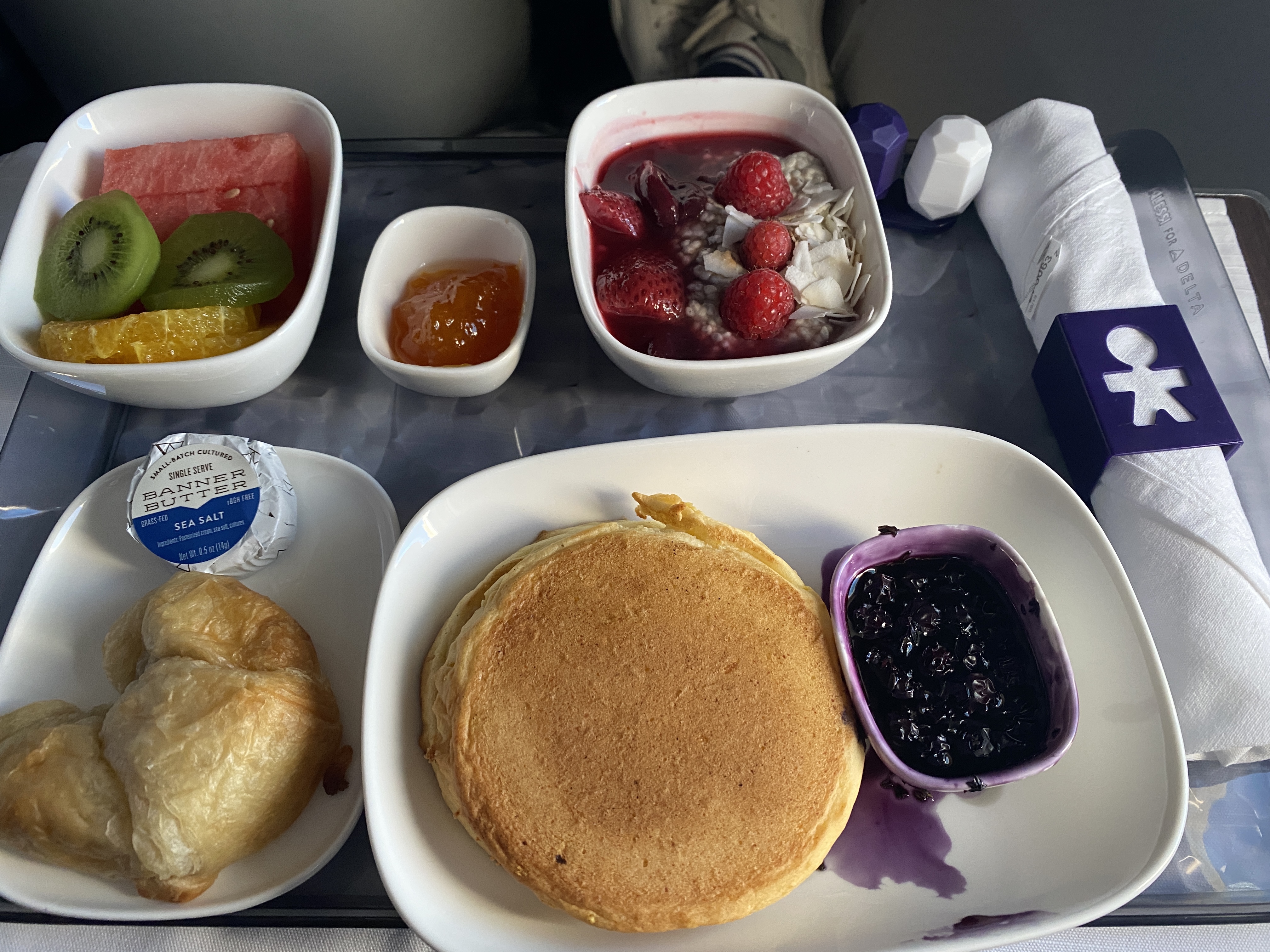 To my surprise, the food rivaled that of a reasonable breakfast restaurant. My previous Delta first-class meal of Oatmeal disappointed me, but this was quite good. The pancakes were fluffy, and the berry compote and apricot jam were nice sweet touches. The croissant and butter combination was fantastic as well, a nice pastry addition to the meal. I didn't dig much into the muesli as it wasn't up my alley — maybe me and Delta oats don't go very well together — and it was much sweeter than what I was expecting. Aside from that, the only meal served on this flight was great.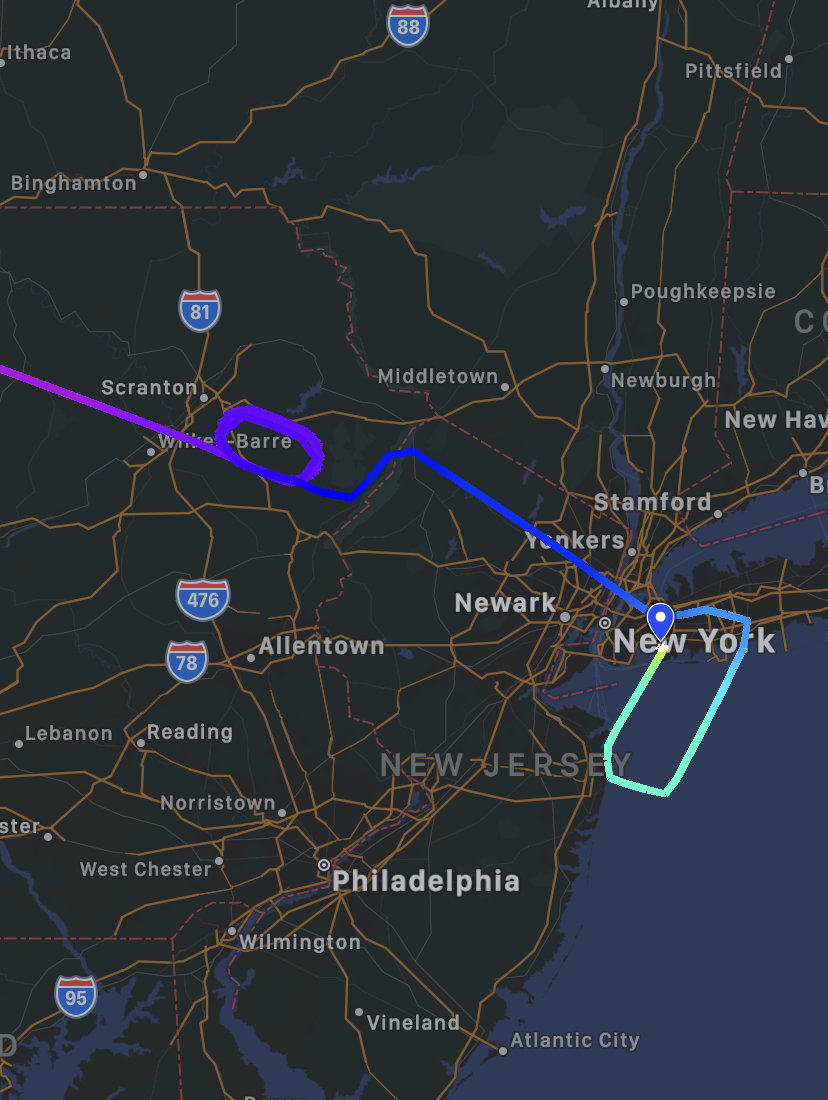 Our flight path into JFK was slightly unusual. When approaching JFK around Scranton, the pilot came on and announced that due to inclement weather, only one runway was open and we would need to circle to ensure traffic wasn't heavy in the New York Area. About 20 minutes after that announcement, news broke that the ATC tower at JFK experienced significant flooding and the roof collapsed, causing an evacuation. As a result, we circled around Scranton in case our flight needed to divert. We ended up landing at JFK — just one of the lucky afternoon flights that did — but took a new approach path (for me, at least) to land on the only open runway. Hundreds of flights landing at the same time were diverted and flights heading to JFK that hadn't left yet were held at their origin. This ultimately added an hour to the flight, but I was happy since it meant we spent more time in Delta One!
JFK-SFO
Seat Review: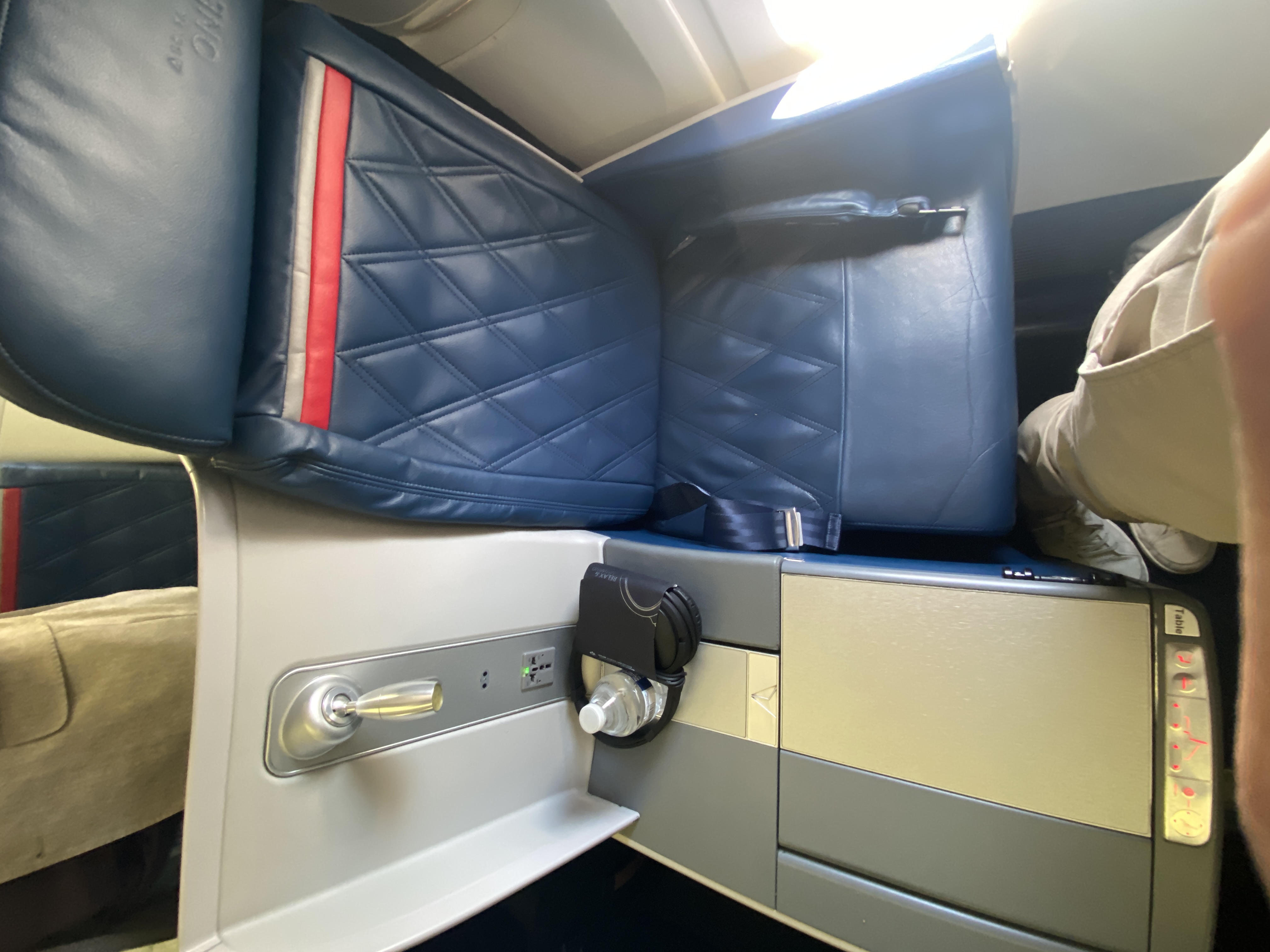 Right off the bat, I have to note that I was disappointed we were to be traveling in the Thompson Vantage seats, which are notoriously bad. The upholstery is somewhat similar to the 757, although the orientation, amenities, and location is slightly different. Considering the plane is in a 1-2-1 configuration for Delta One, the headphone jack and reading light are located to the right of the seat. This time, fancier headphones were provided. Other differences include the different table location since the 757 didn't sacrifice armrest space for the table and instead had extra space for water bottles.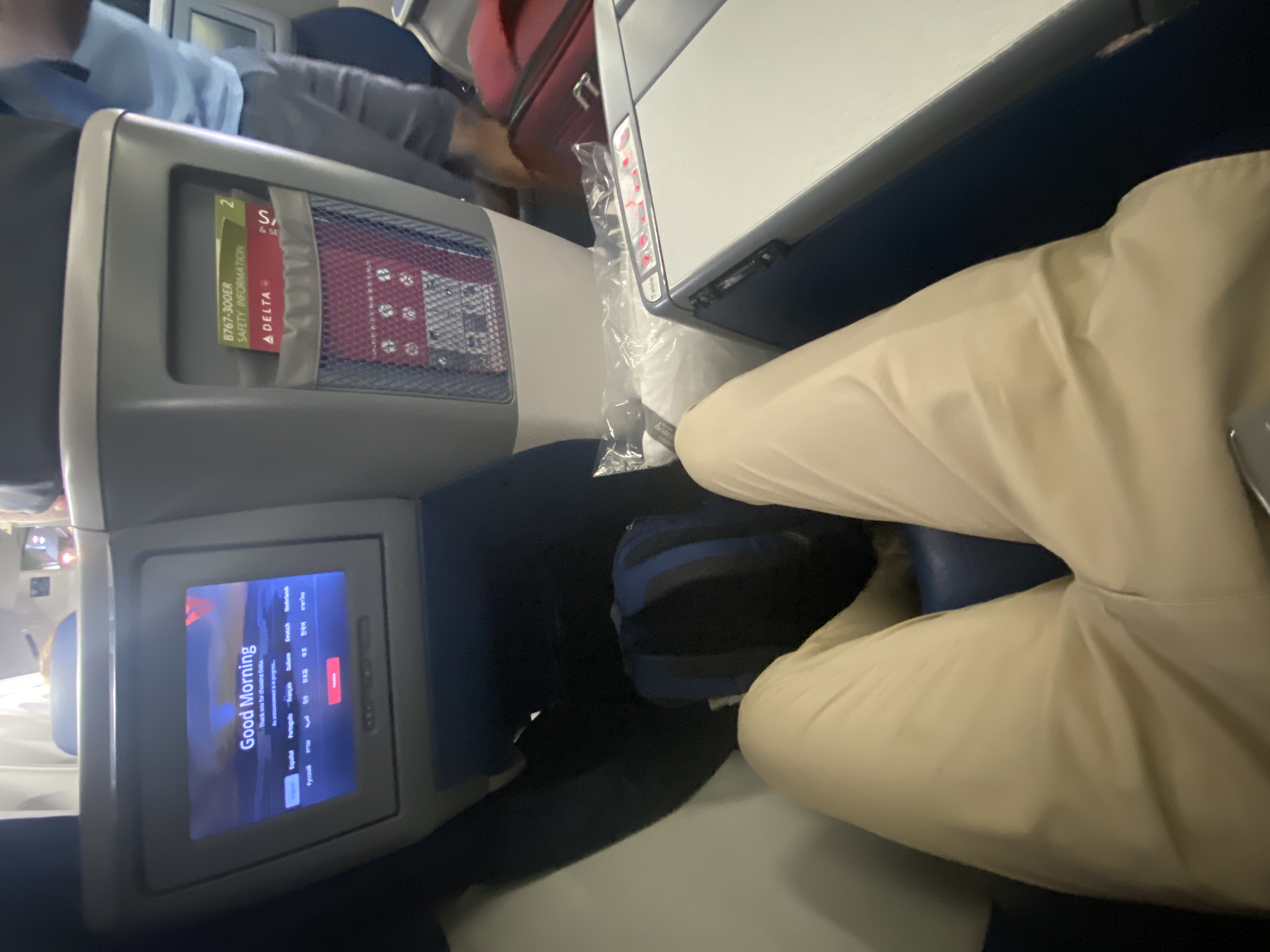 There was lots of legroom and space to spread out. I was concerned the footwell would be small in size but it worked perfectly! It isn't visible in this picture but there are additional pockets and an IFE controller on the front side of the armrest facing the IFE screen, both of which I ended up not using on this flight. However, the seat was quite low to the ground when I reclined it to sleep, which I was not expecting.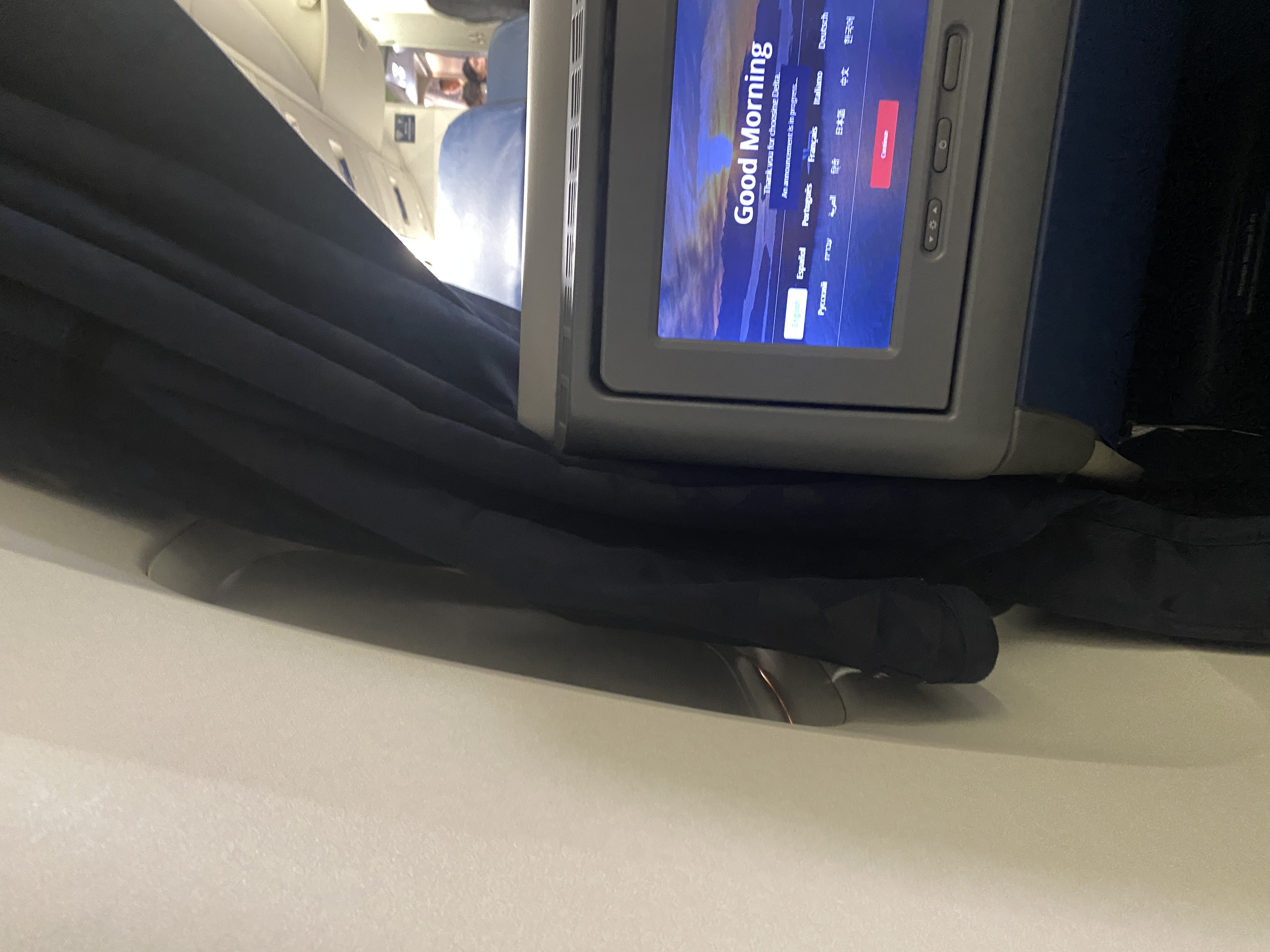 I should also note that I was warned that the curtain shown here would block the IFE screen, but luckily the passenger in front of me didn't touch it and I did not need to use it, so this was my IFE view the entire flight.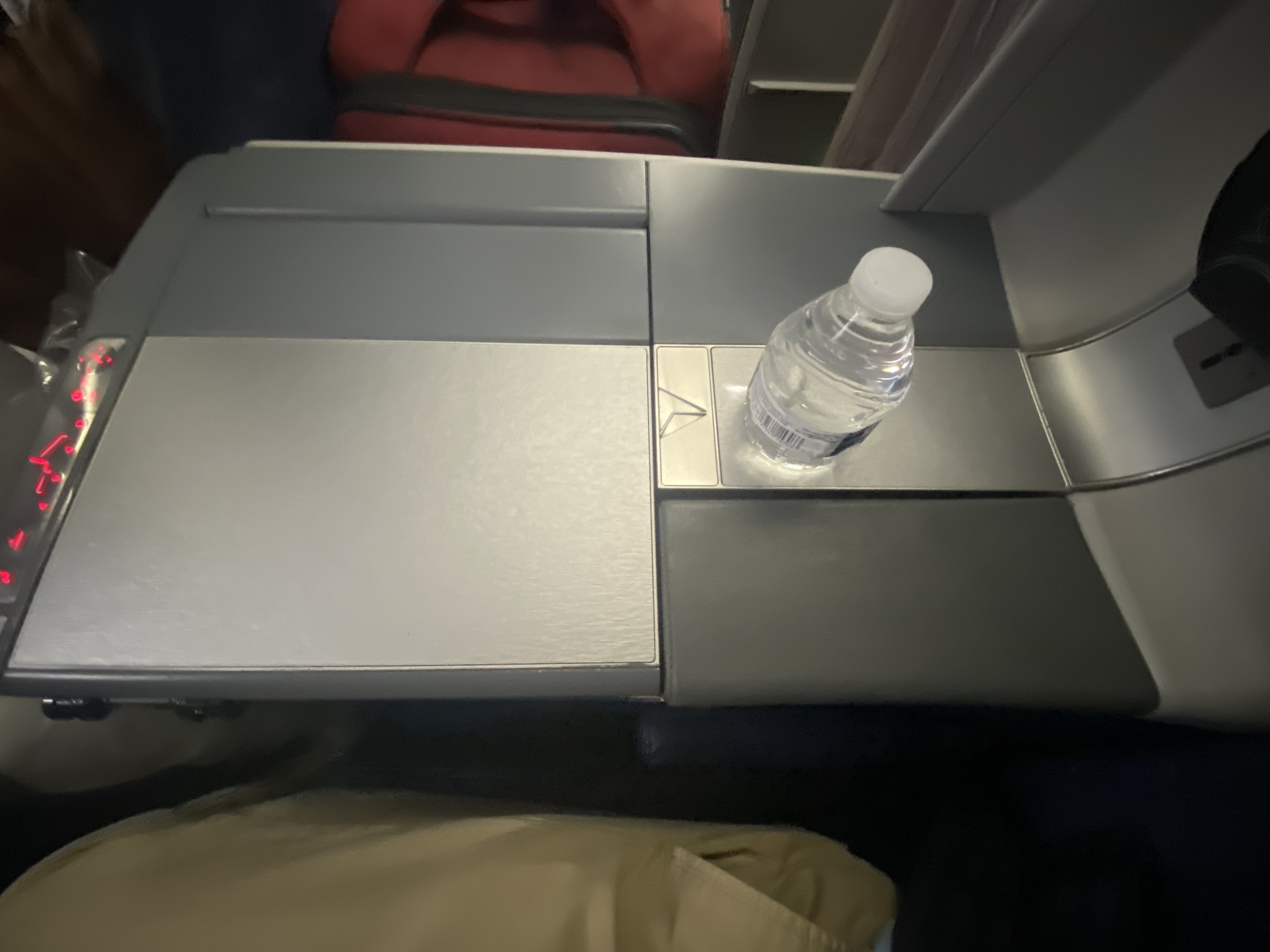 The controls for the seat on the 767 are slightly older in appearance compared to the 757, and a bit harder to navigate. Overall, though, it was easy to lie flat and get a good 60 min rest! This storage felt smaller than the 757 although it was much larger (especially considering I was not sharing the armrest), perhaps because the table was taking up part of it, limiting how much space there was.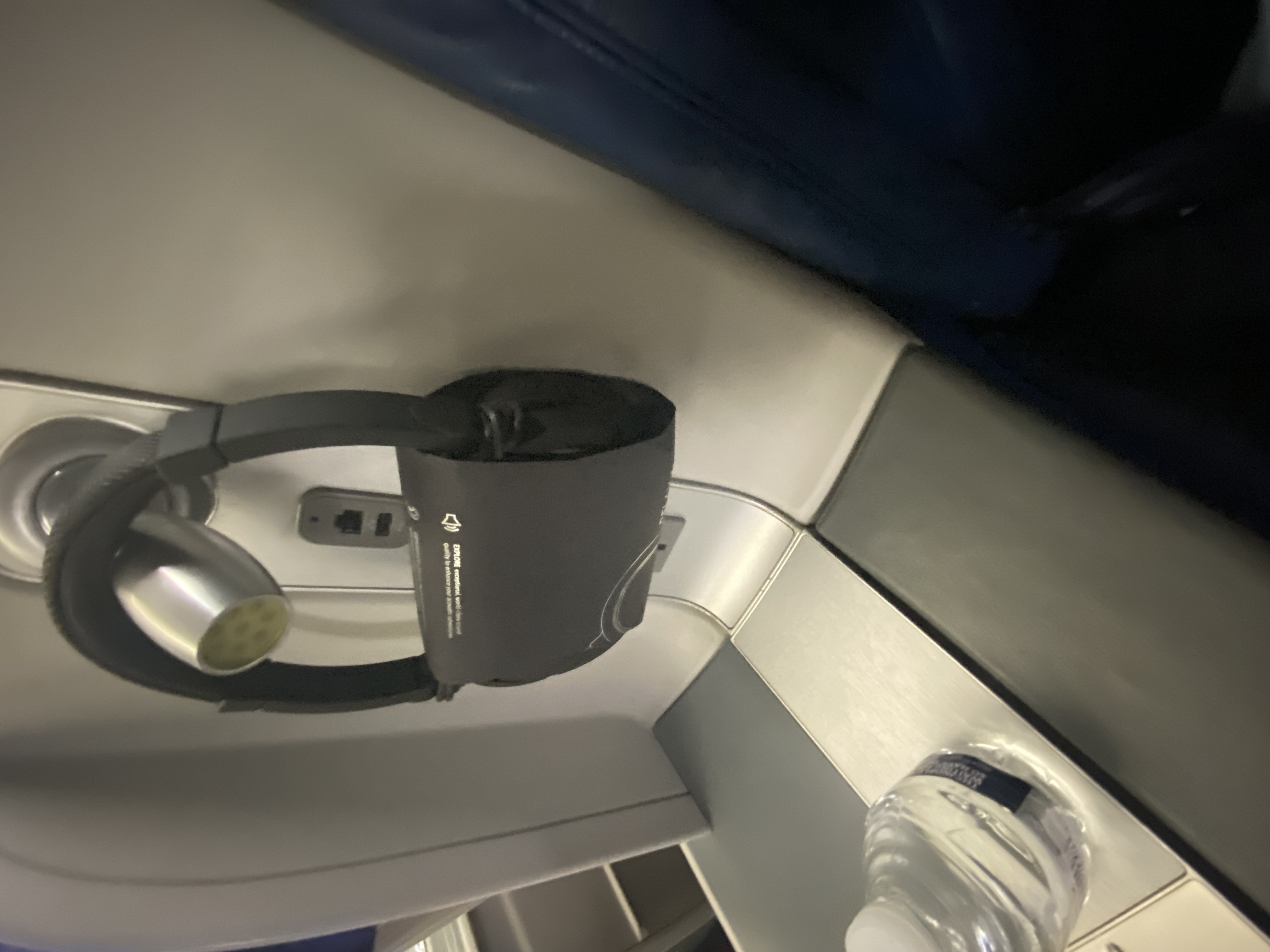 A convenient place to hang headphones. The flight out did not provide headphones this high-end, which would have been a bonus should I have not brought my own headphones.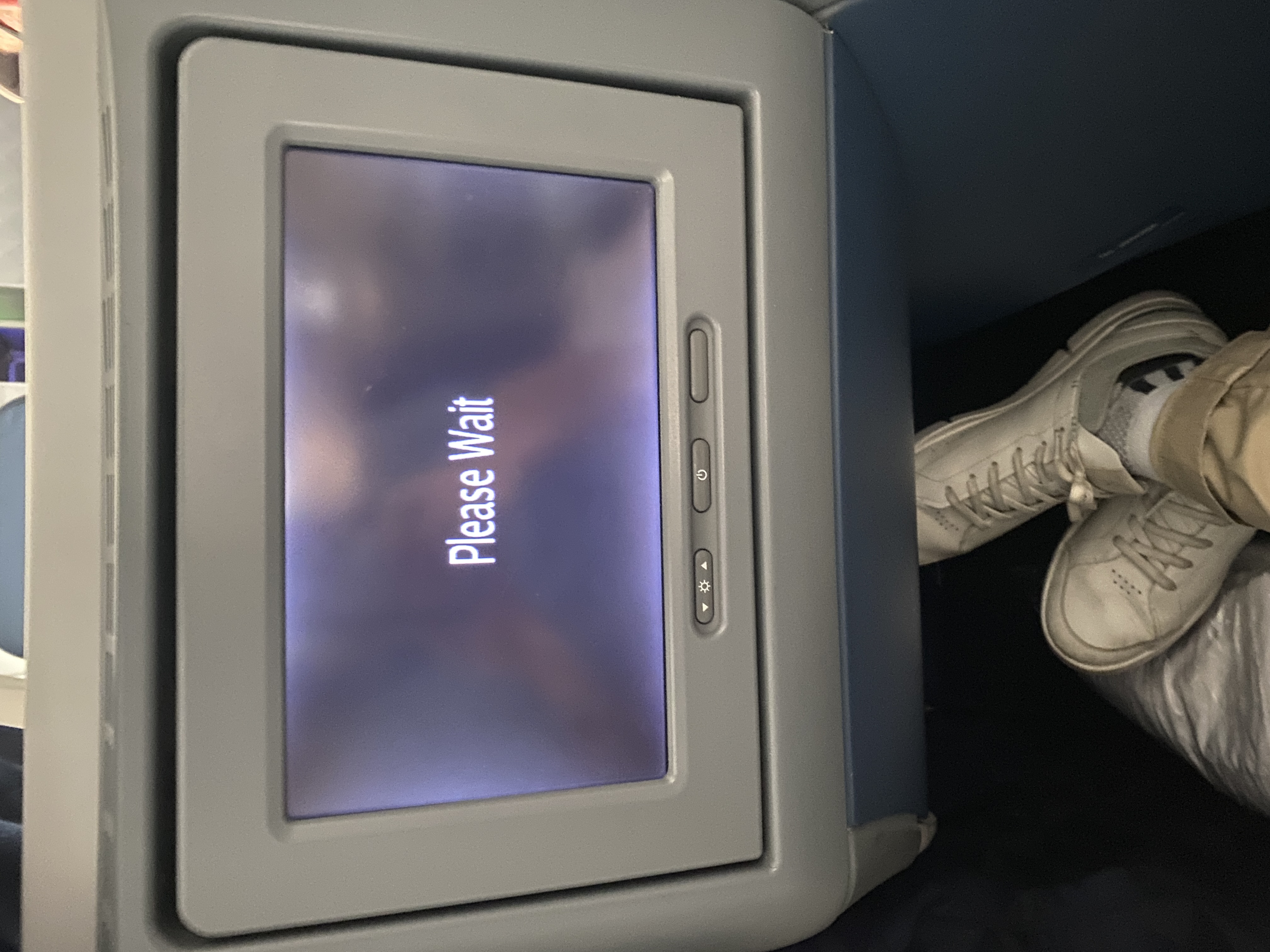 I think this image sums up my experience with the IFE system perfectly. The worst part of the flight was definitely the IFE experience. The screen was incredibly hard to navigate, as it wasn't receptive to touching the far right side. If you tried to tap the arrow to go to the next screen it would think you touched the farthest right movie, so there were some movies I could not navigate to via the screen alone and instead had to do so using the controller in the armrest. This "Please Wait" followed a ten-minute period of no IFE due to a system reboot since several passengers were complaining that their IFE were not working properly. Once it came back on, I had to find where I was in the movie manually which was a minor pain, but I'm sure it angered others. The screen is also incredibly small, even compared to the 757 screens.
I was planning on watching one or two movies for most of the flight but I wound up watching one and deciding I didn't want to go through the process of slowly looking for one again.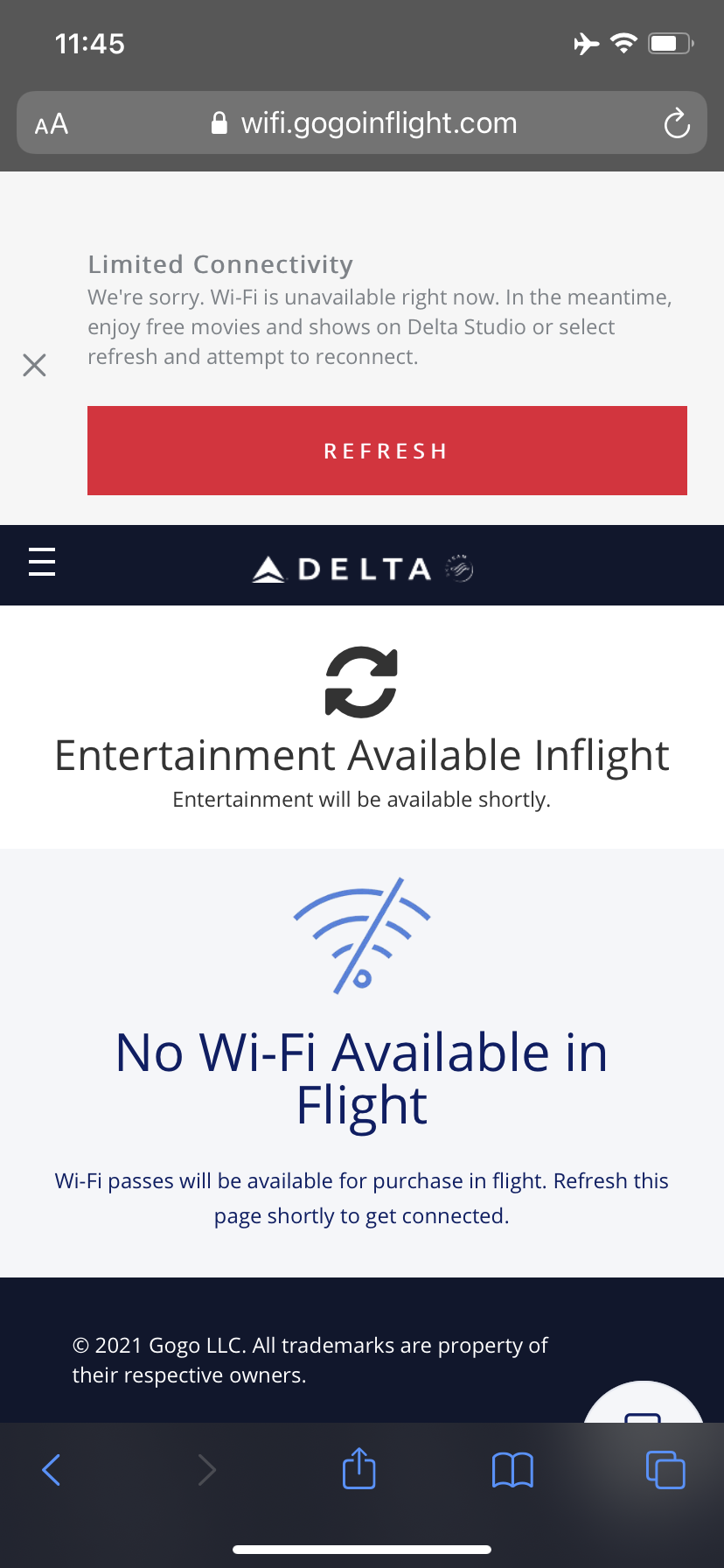 The crew announced early on that we could use WiFi on the flight ... so much for that. WiFi was not available until 45 minutes before landing, so for 5 hours, there was no messaging or internet usage. To say there were upset passengers is an understatement. The lady across the aisle was doing lots of work via a personal hotspot and asked about WiFi regarding if it would come on but had no luck on multiple occasions. I actually found out the WiFi was working when she finally loaded it since the crew made no announcement of it working. If I had followed the advice of refreshing the WiFi page given by Delta, I would have been refreshing for hours.
Upon takeoff and the IFE struggles, we were given food and drink, which I was super excited for!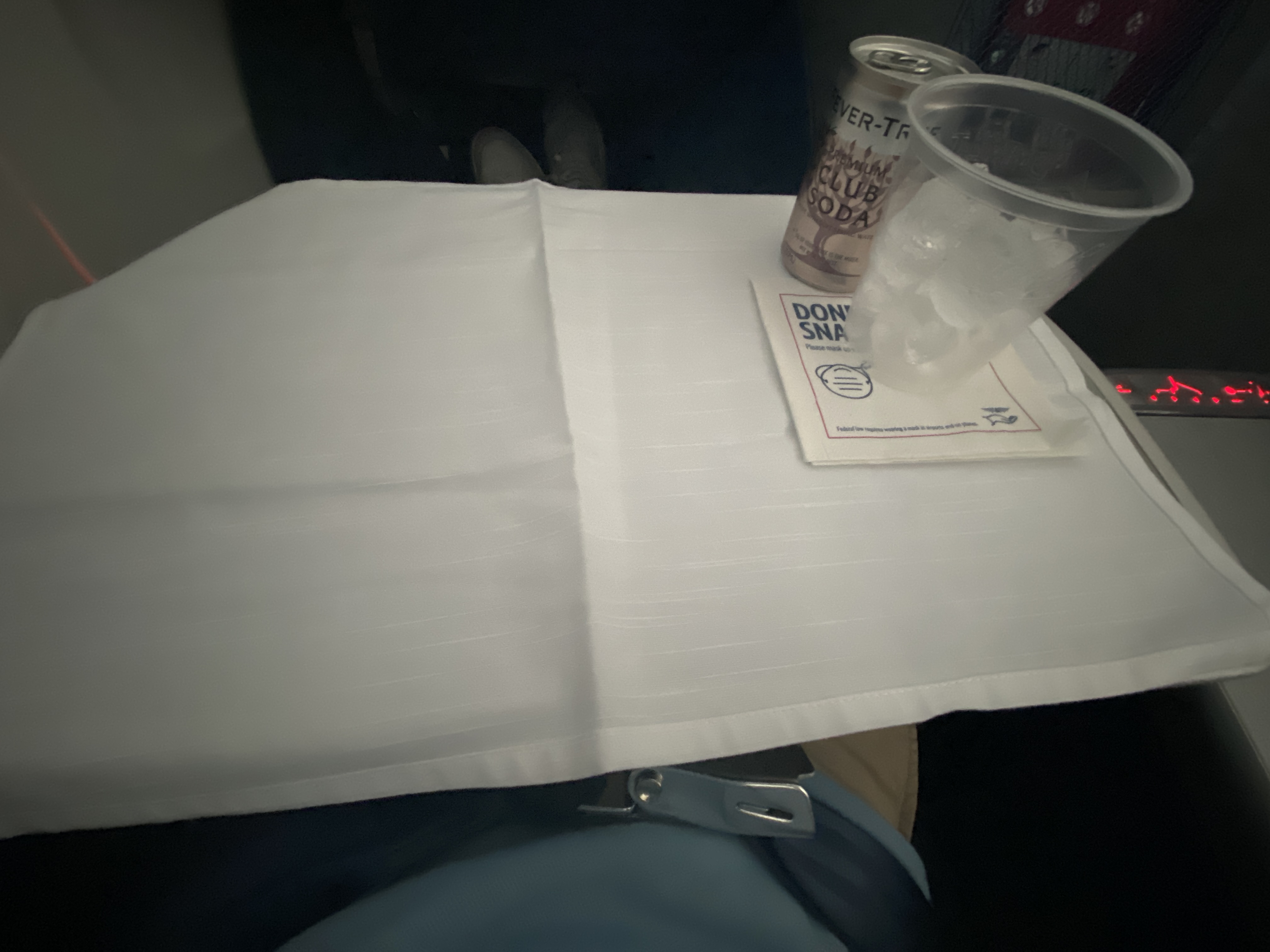 The table was actually decently sized and it came with great-tasting sparkling water that certainly made the technology troubles easier to manage. I'm not sure if it is visible from this image, but this leg of the flight felt much darker with no bright LEDs and older interior lighting instead. The 757 felt bright and "cheery" and this flight the exact opposite.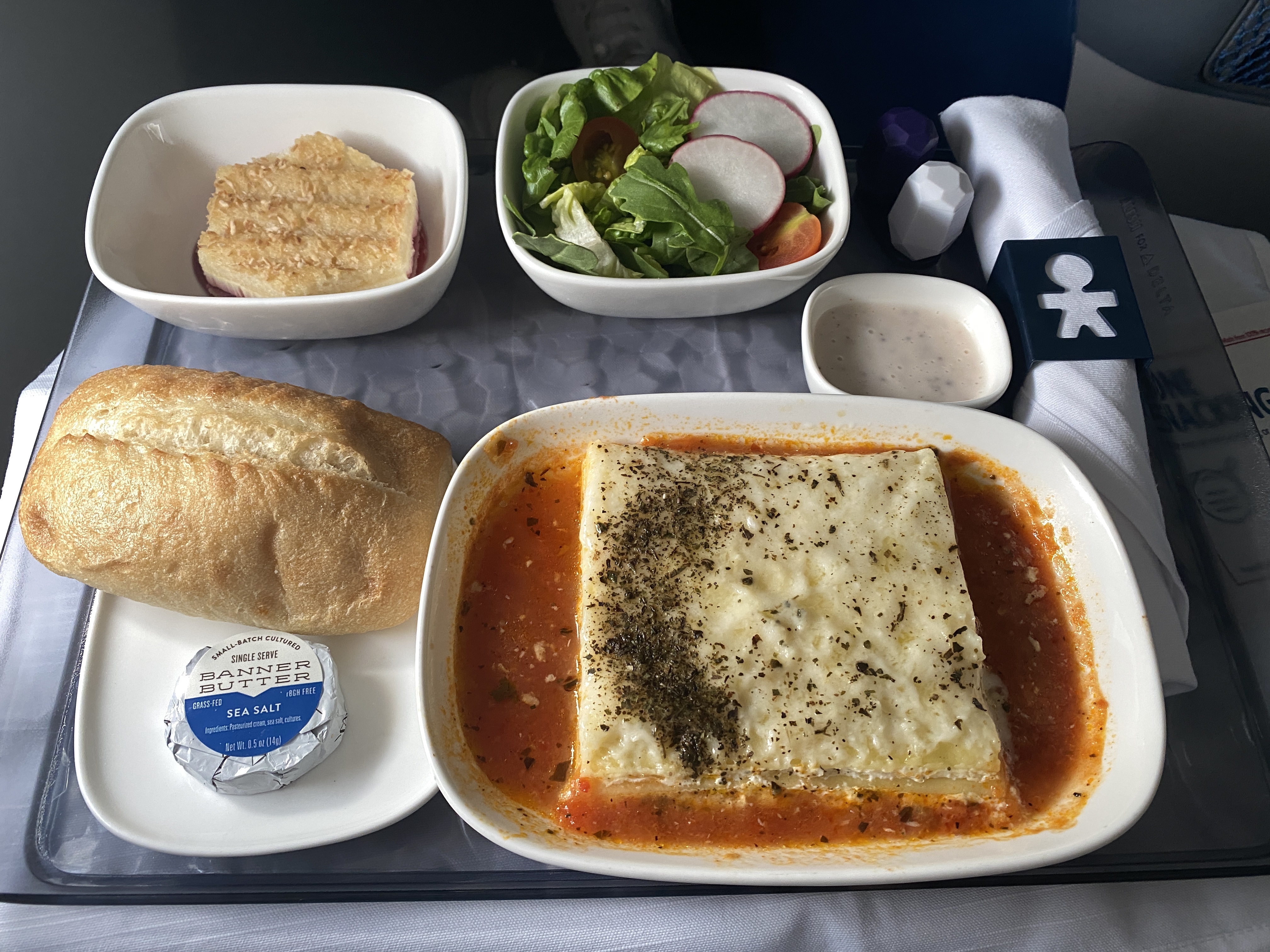 Mozzarella Lasagna ... mmm! Decent lasagna, and much better than I was expecting. The bread was mildly warm which wasn't what I was expecting, so the butter didn't melt like it did on the flight to JFK. They added a sweet raspberry dessert which I also wasn't expecting, but it was quite delicious! This was one of the only times during the flight the window was open — 95 percent of the other Delta One windows were closed so I didn't want to be disrespectful.

Our landing in SFO was uneventful, and to be honest I was happy to be off the flight. Not only was I returning home but the onboard experience wasn't all that great. I would have much preferred to have stayed in the JFK Centurion Lounge all day than board this flight.

Final Thoughts:
There is a winner here and it is not even close: the 757 Delta One. Granted, this was an old 767-300 with a non-refurbished interior, but still: the 757 blew my expectations away. Landing and being disappointed is no small feat for me since I love being in different cities than my hometown. Unfortunately, the same cannot be said of the 767 experience. The darker and less cheery atmosphere along with the poor WiFi and entertainment screen left me desiring a lot more. I don't think Delta One was worth the money on the way back, although it was certainly a great experience on the way there that might be worth the money one time around (I also enjoy Delta economy and comfort plus).
You must be logged in to contribute.
1 Likes Cite Us



Recently Released Articles