One of the toughest aspects of flying on a commercial airliner through an airport for an avgeek is the fact that most airports around the world have little-to-no good areas for aviation enthusiasts to "plane spot". That is, an area with no obstruction (windows, fences, lamp poles, etc.) between the spotter and the aircraft.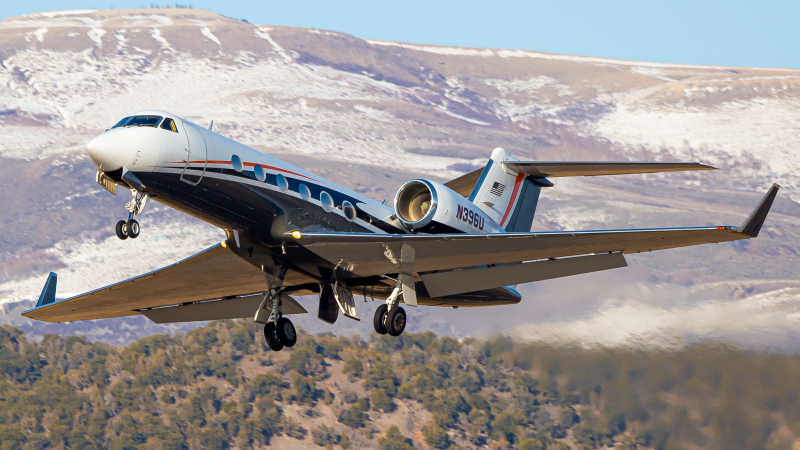 Before we get into the technical details of Zurich airport and why it's one of the best airports for plane spotting, we need to first figure out...
What is plane spotting?
Plane spotting refers to civilians' "spotting" or observing of, the movements of planes on or around airports and in the sky.
People who plane spot do so for a variety of reasons. Some are amateur aviation enthusiasts, while others are family watching their loved ones' flights take off. Most of the time, a person who enjoys this hobby will typically employ the use of their phone or camera to photograph or record the airplane movements they see. This is how websites such as flightradar24.com obtain images of the planes that they are tracking.
Where does plane spotting come from?
The hobby of plane spotting has its origins in the Second World War in which the governments of various countries would encourage civilians to attempt to spot enemy planes flying over their country's skies.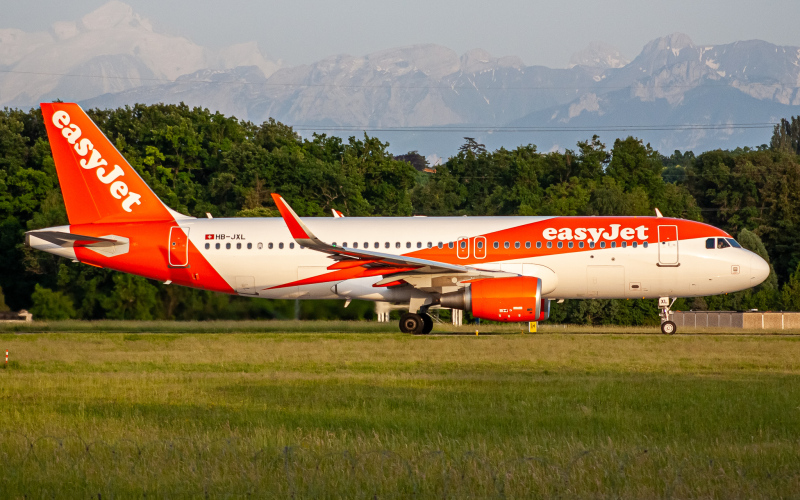 The most notable instance of this during WWII was the British government and their Royal Observer Corps, which had existed prior to the war, but became mainstream among British aviation enthusiasts during and after the war. The Royal Observer Corps operated between 1925 and 1995.
As previously mentioned, the development of point-and-shoot, DSLR, and other types of civilian cameras drastically changed plane spotting, allowing various spotters to photograph planes from a further distance and at a higher quality. The rise of the internet allowed spotters to post pictures of the planes they spotted on the internet, just like you can right here at AeroXplorer!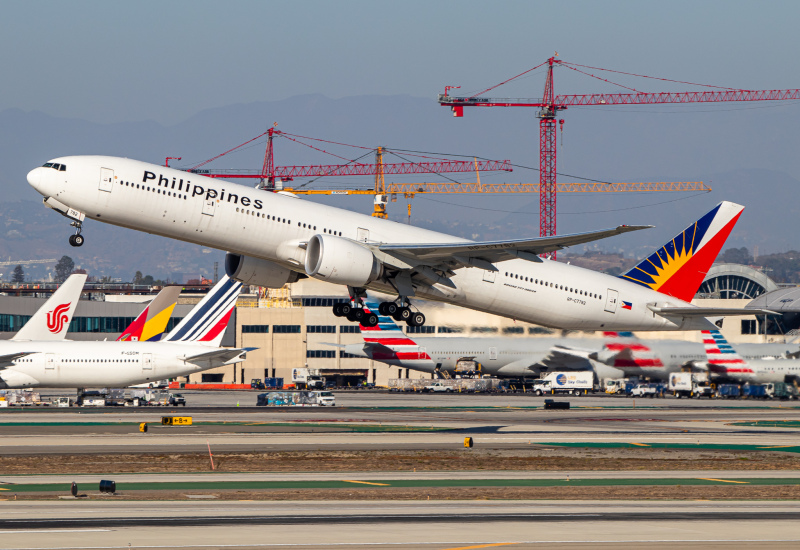 Prior to 9/11, rules that plane spotters had to follow at airports were almost non-existent. After that unfortunate day, plane spotting came under a high degree of scrutiny due to the fact that it could be utilized by people wanting to inflict malice on aviation via terrorism. This is a concern that is still of high prominence in North America, as police heavily patrol the exteriors of most airports looking for plane spotters or as airport police sometimes refer to as "suspicious activity".
While most major airports in the United States have little to no dedicated areas for plane spotting, besides a few parks near airport grounds, European airports have taken a different route with plane spotters. Most major European airports such as London Heathrow (LHR), Amsterdam Schiphol (AMS), and Prague (PRG) have dedicated areas for plane-spotters to engage in their hobby.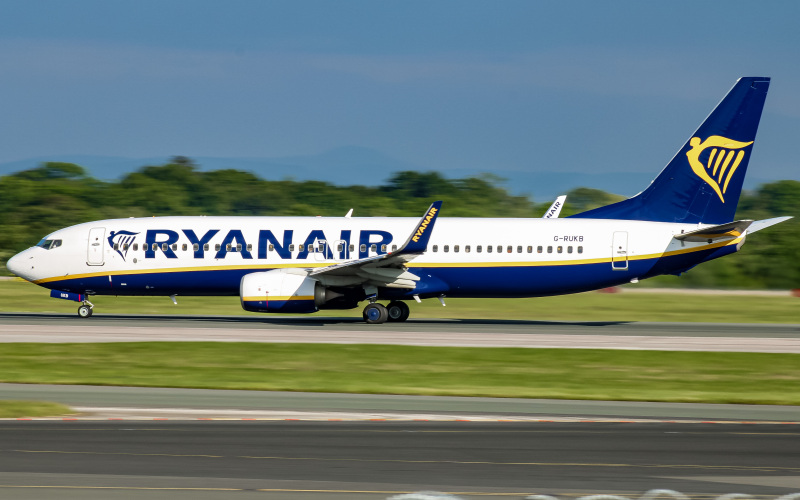 Now that we know what plane spotting is and how to do it, let's talk about plane spotting in Zurich.
Plane-spotting at Zurich Airport is quite a unique experience due to the variety of areas available to spot, and the fact that the airport actively offers in-airport tours on the tarmac for plane spotters and aviation enthusiasts.
The layout of Zurich Kloten Airport (ZRH) is rather unique for a European airport because it is situated between various hills and mountains.
On the airport are three runways numbered 16/34, 10/28, and 14/32. The longest 12,178 ft (3711 m) runway 16/34 and shortest 8,193 ft (2497 m) runway 10/28 intersect to the left of the terminal buildings, while the 10,813 ft (3295 m) runway 14/32 is to the right of Dock E and its E gates (international gates).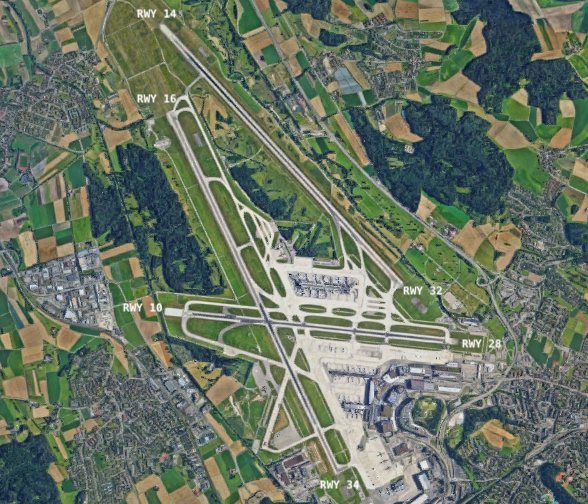 As for the variety of airlines and aircraft that fly into the airport (all seasons), they are as follows (not including cargo airlines):
| | |
| --- | --- |
| Airline | Aircraft That Fly Into Zurich |
| Aegean | A320, A321/neo |
| Aer Lingus | A320 |
| Air Baltic | A220-300 |
| Air Cairo | A320 |
| Air Canada | A330-300, B777-300ER |
| Air Europa | B737-800 |
| Air France | A318, A319, A320, A321, A220-100 (Seasonal) |
| Air Malta | A320/neo |
| Air Montenegro | E190/5 |
| Air Serbia | A319/ ATR 72 (Depends on Season) |
| American Airlines | B777-200ER, B787-8/9 |
| Austrian Airlines | E190/5, A320 (Depends on Season) |
| British Airways | A320/neo |
| Blue Islands | ATR 42 |
| BA City Flyer | E190/5 |
| Brussels Airlines | A319, A320 |
| Bulgaria Air | A320 (Chartered, Seasonal), E190/5 |
| Cathay Pacific | B777-300ER, A350-900 |
| CH Air | A320 |
| Condor | A320 |
| Corendon Airlines | B737-800, A320 (Chartered, Seasonal) |
| Croatia Airlines | DASH 8 Q-400 |
| Cyprus Airways | A320 |
| Delta Air Lines | B 767-300ER |
| easyJet (UK, Europe) | A320, A320neo, A321neo |
| Edelweiss | A320, A330-200, A340-300 |
| El Al Israel Airlines | B 737-800 |
| Emirates | B 777-300ER, A380 |
| Ethiopian Airlines | B 737-800, B 787-8 |
| Etihad Airways | B 787-10 |
| Eurowings | A320 |
| Finnair | E190/5, A320, A321 |
| Helvetic Airways | E190/5, E190-E2 |
| Iberia | A320, A321 (Seasonal) |
| Icelandair | B 737-MAX 8/9, B 757-200/300 (Seasonal) |
| ITA Airways | A320 |
| KLM | B 737-700/800, E175 |
| Korean Air | B 777-300ER, B 787-9 |
| LOT Polish Airlines | E190/5, B 737 MAX 8 (Seasonal) |
| Lufthansa | A320, A321 |
| MGA Airlines | B 737-800 |
| Oman Air | A330-200, B 787-9 |
| Pegasus Airlines | B 737-800, A321neo (Seasonal) |
| Qatar Airways | A330-200 (Seasonal), B 777-300ER |
| Royal Jordanian | A319, B 787-8 |
| SAS | A320/neo |
| Saudia | A318, A330-300 (Seasonal) |
| Singapore Airlines | A330-300, A380 (Seasonal) |
| Southwind Airlines | A320 |
| Star East Airlines | A320 |
| Sun Express | B 737-800 |
| SWISS | A320/neo, A321/neo, A330-300, A340-300, B777-300ER, A220-100, A220-300 |
| Tailwind Airlines | A320 |
| TAP Air Portugal | A320/neo, A321/neo |
| Thai Airways | B 777-200ER, B 777-300ER |
| Turkish Airlines | A321/neo, A330-200 (Seasonal) |
| United Airlines | B 767-300ER |
| Vueling | A320 |
| Atlas Air | Occasional Military/Civilian Charters |
Spotting Inside the Airport Area- Terminal Building Roofs and Parking Lots:
Of the terminal buildings inside Zurich airport, two out of the three have their own dedicated plane spotting, or as the airport calls them, observation decks. These decks are located on the roof of Terminal A, and Dock E. The deck above Terminal A is accessible to all passengers flying into and out of the airport, as well as those just wanting to spot.
Meanwhile, the spotting deck on Dock E, which arguably has the best view of all the runways at the airport, is only accessible to passengers passing through Zurich airport to other flights or airport employees.
From the spotting deck on top of terminal A, spotters are able to see the ground operations in terminals A and B as well as the departures/arrivals into runways 10, and 34, and a partially obscured view of runway 28.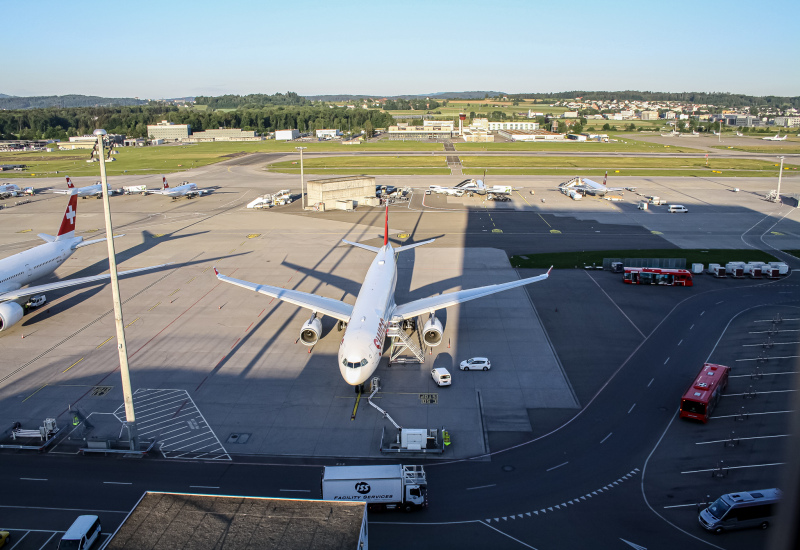 If you're passing through Dock E and have time to spot, I highly suggest it. From the plane spotting deck of Dock E, which can only be accessed by ticketed passengers via the use of a staircase or elevator near gates E62-67, one will have views of all three runways at ZRH.
Located on every spotting deck of the three terminals or "docks" of ZRH airport are seating areas (chairs, benches), plaques teaching visitors about ZRH airport, a small children's playground, and multiple free-to-use periscopes to view aircraft up-close while at a distance. There are also separate bathrooms to those in the terminal for visitors to terminals A and B.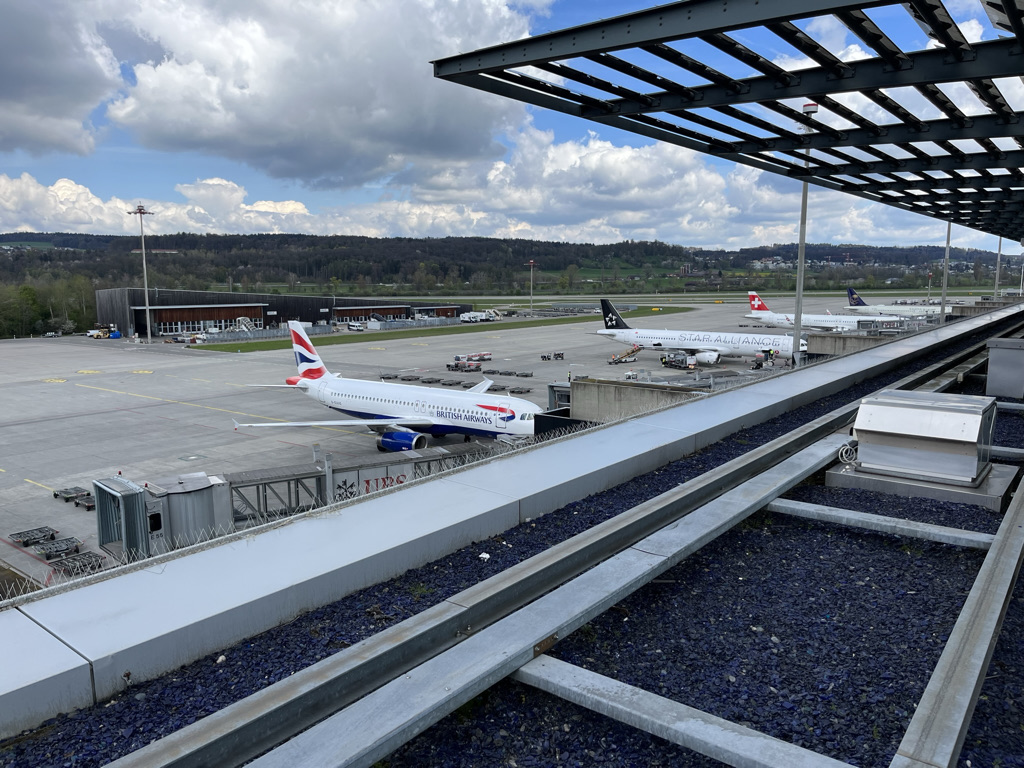 Spotting outside the terminal area
As for other areas around ZRH, those who are not looking to visit the airport terminals or who are not flying out of the airport can spot on the sides of the various roads surrounding the airport.
As well as this, there are two restaurants close to the runways of the airport where spotting is allowed. At the end of ZRH airport's runway 34, there is a restaurant creatively named "Runway 34", as well as another restaurant - Heligrill - halfway between the beginning and end of runway 16/34.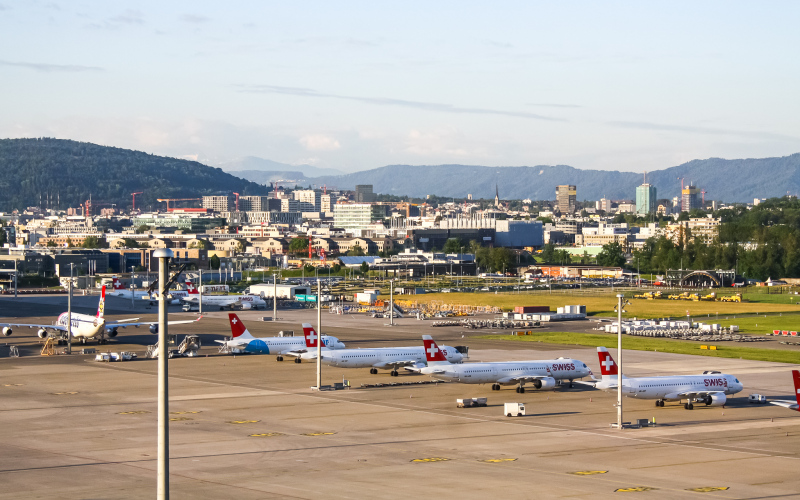 As I have only visited the spotting locations within the terminal area of ZRH airport, I suggest you click here to find out more information in regards to spotting outside the terminal areas of ZRH airport.
Airport tours are offered!
Zurich airport is one of the few in the world that offers year-round airport tours for not only plane spotters but those who are curious about airport operations too.
Currently, the airport authority of Zurich Airport offers 10 tours about varying aspects of the Swiss capital airport for you to choose from.
These 10 tours are each about:
- Aircraft maintenance
- General airport (walking) guided tour
- General airport (walking) + bus guided tour
- General airport tour for individuals
- General airport tour with food provided (beforehand)
- Captain's dinner
- Circle tour
- Emergency services
- Photography tour for individuals (spotting on tarmac)
- Swissport - follow the luggage
For the prices and more information regarding any of the tours listed click here.
Overall, Zurich Kloten Airport (ZRH) is a plane spotter's heaven. With countless places to spot due to the high tolerance for spotters by the airport police and airport authority, as well as countless airport tours (some of which are on the tarmac) offered by the airport, this airport is not one that disappoints. The aircraft operates a variety of airlines that can be seen from unobstructed locations making this airport one of the best in Europe for plane spotting.
Comments (0)
Add Your Comment