Royal Jordanian ordered four additional Boeing 787-9 Dreamliner aircraft on the first day of the Dubai Airshow on November 13. This order adds to another purchase for two Dreamliners made earlier this year.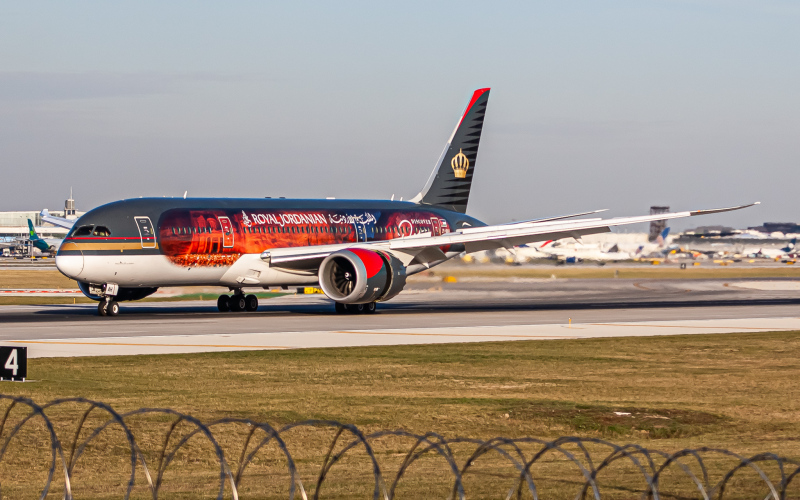 Boeing 787-9 Dreamliner Order
Royal Jordanian currently has seven Boeing 787-8 Dreamliners in service. The new aircraft ordered today are part of the airline's plan to expand and modernize its widebody fleet. The 787-8 can carry 246 passengers in economy class and 24 in business class. The 787-9 can accommodate 296 passengers on flights up to 7,565 nautical miles (14,010 kilometers), making it beneficial for longer-distance routes.
Royal Jordanian offers nonstop flights to destinations across Africa, Asia, Europe, the Middle East, and North America from Queen Alia International Airport (AMM) near Amman. Since the airline's longest routes fly to the U.S. and Canada, the following destinations will likely benefit from the new aircraft:
Chicago O'Hare International Airport (ORD)
Detroit Metropolitan Wayne County Airport (DTW)
Montréal–Trudeau International Airport (YUL)
John F. Kennedy International Airport (JFK)
Toronto Pearson International Airport (YYZ)
[AMM,ORD],[AMM,DTW],[AMM,YUL],[AMM,JFK],[AMM,YYZ]
Samer Majali, Royal Jordanian's CEO and Vice Chairman, said about the orders:
"Royal Jordanian, having been the first in the Middle East to order the 787 over 16 years ago, continues to lead in adopting advancements in aviation. The airline's current fleet of seven 787-8 Dreamliners has proven successful in connecting Amman to major global destinations. This additional order underscores Royal Jordanian's forward-looking approach and commitment to meeting the growing demand for long-haul travel."
Royal Jordanian's fleet also has Airbus and Embraer aircraft alongside the previously mentioned Boeing aircraft. The airline has five A319-100s, nine A320-200s, and two A321-200s from Airbus. The carrier's two E175s and E195s from Embraer will be complemented by orders for four E190-E2s and E195-E2s, with deliveries starting later this year. Finally, Royal Jordanian has one Airbus A310-300F for cargo flights.
Jordan is a key market in Boeing's plan to expand its presence in the Middle East. Boeing's 2023 Commercial Market Outlook estimates that the region requires 3,025 new commercial aircraft by 2042. Aside from the 787 Dreamliner family being useful for longer flights, the aircraft reduces fuel usage and carbon dioxide emissions by 25% compared to other aircraft.
Impact of the Israel-Hamas War on Royal Jordanian
Revitalizing the widebody fleet is not the only priority for Royal Jordanian. Jordan's geographic location means that the Israel-Hamas war has impacted the country's aviation industry. Even though Jordan has been spared from the fighting, passengers are canceling their trips there due to the geopolitical situation.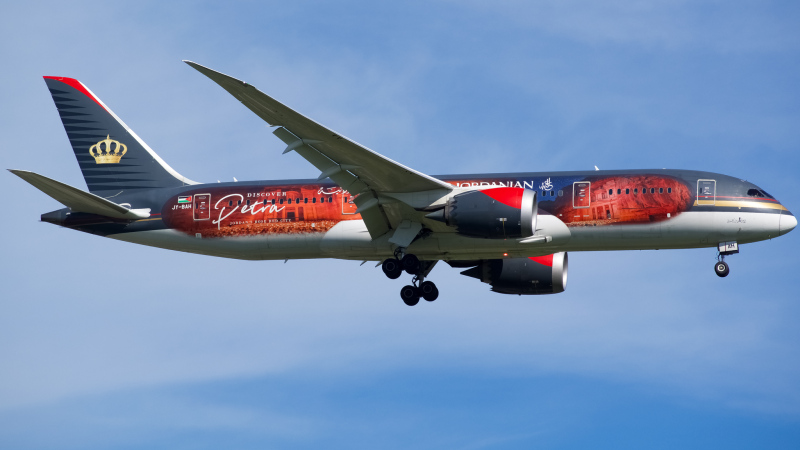 On November 13, Royal Jordanian's CEO said that the war led to some booking cancellations and is forcing the airline to operate longer flights. The carrier's fourth-quarter earnings may suffer because longer flights are more expensive, and fewer bookings mean less revenue. Royal Jordanian made 10.7 million Jordanian dinars ($15.1 million) in profit in the first nine months of 2023.
Although Majali said that Jordan is an "oasis of stability," passengers are still afraid of visiting the Middle East in general due to the Israel-Hamas war. One factor for Jordan's weaker performance could be that many international flights fly over Israel and Palestine before landing in Jordan. Royal Jordanian changed some of its routes to avoid flying over conflict zones. The next few months may be a turbulent time for Royal Jordanian, especially if the Israel-Hamas war becomes a regional conflict.
AeroXplorer is on Telegram!
Subscribe to the AeroXplorer Telegram Channel to receive aviation news updates as soon as they are released.
View Channel
Comments (0)
Add Your Comment