ZEROe — Airbus' global initiative to develop the world's first zero-emission commercial aircraft by 2035 — has taken a giant leap forward today with the manufacturer's announcement that it will commence a380 hydrogen engine testing by 2026.
In a press release posted this morning by Airbus, it was announced that Airbus had signed a partnership agreement with CFM International, a 50/50 joint company between GE and Safran Aircraft Engines. CFM and Airbus will collaborate on a hydrogen demonstration program that will hopefully commence later this decade.
Airbus is providing the a380 test aircraft, which will be equipped with liquid hydrogen tanks prepared at Airbus facilities in France and Germany. The a380 will retain the classic four turbofan engines but a fifth engine — the GE Passport adapted for hydrogen — will be added to the rear fuselage which will help engineers monitor emissions more easily. Airbus will also oversee flight testing and control the hydrogen propulsion system. CFM will modify the fuel and control systems, among other mechanical operations. The Passport turbofan engine was selected for testing due in large part to its fuel flow capability.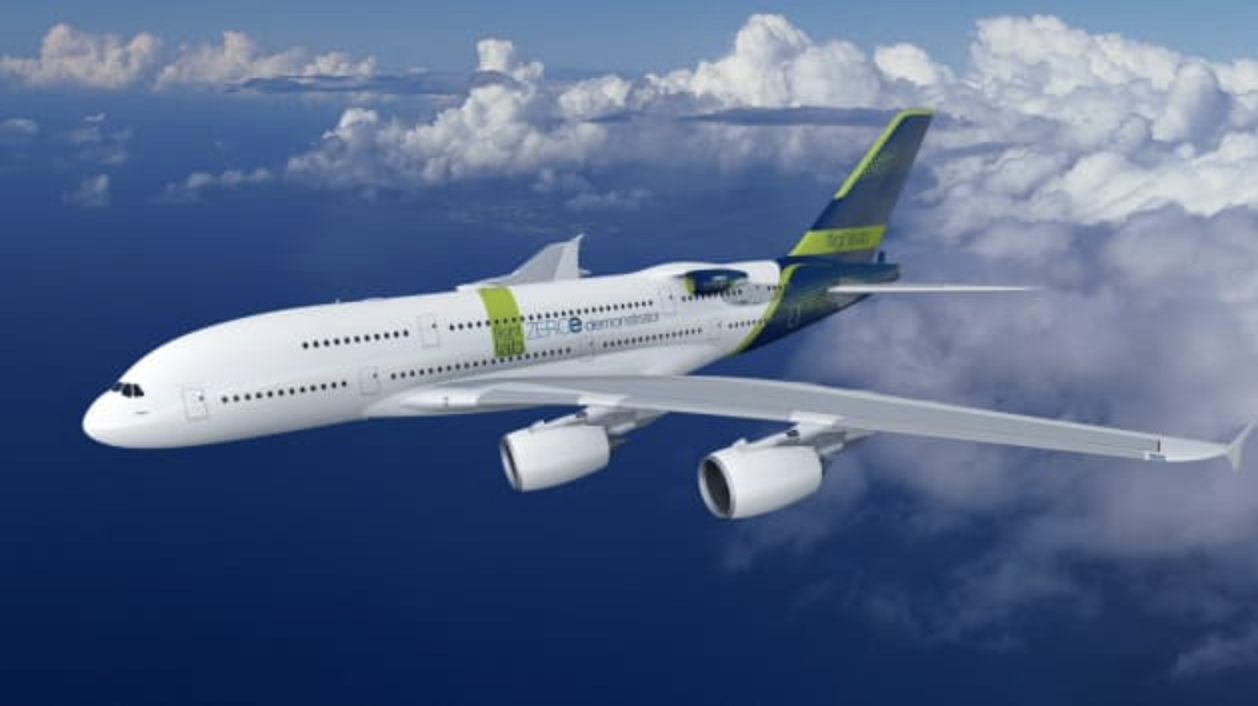 Upon the announcement's release, Airbus' Chief Technology Officer Sabine Klauke noted that "This is the most significant step undertaken at Airbus to usher in a new era of hydrogen-powered flight since the unveiling of our ZEROe concepts back in September 2020," and reaffirmed that an international partnership is critical to long-term legitimacy of zero-emission engines. Gaël Méheust, president & CEO of CFM, was quoted saying, "Bringing together the collective capabilities and experience of CFM...we really do have the dream team in place to successfully demonstrate a hydrogen propulsion system."
Airbus has taken an adamant stance in affirming the potential of hydrogen combustion technology in Aviation. This is a stark contrast from Boeing's stance, as the Chicago-based aircraft manufacturer has invested millions in biofuel technology. Many Boeing officials believe hydrogen is too heavy to make it economical in commercial use, and it is more flammable than biofuels. In turn, these fears may reduce passenger confidence and the weight of liquid hydrogen could slash the number of available seats on an aircraft.
Obviously, Airbus' endeavor is not without technical challenges. 400 total kg of hydrogen will be stored in four separate tanks at a chilly temperature of -253 degrees celsius. Special cooling systems will be required once the liquid hydrogen becomes gas. Yet, Airbus believes it is the way forward. The a380 makes for a perfect testing aircraft as many have been retired from commercial service and there is ample storage for hydrogen tanks on board. The real product will be much smaller than a hydrogen-equipped a380, but high-quality data is of utmost importance. Despite these challenges, the future looks brighter for sustainable, emission-free aviation.
Comments (0)
Add Your Comment