One of my more recent bucket list items has been to fly Breeze Airways after it began flying in early 2021. For those of you unaware, Breeze is the new project of serial aviation entrepreneur David Neeleman, who has achieved much success with airlines such as JetBlue, Azul, WestJet, and Morris Air (acquired by Southwest in the 1980s).
Now, Neeleman has shifted his attention to Breeze, a low-cost airline that flies mostly point-to-point traffic using small planes. In an industry as cutthroat as aviation is in the U.S., it can be hard for new airlines to form as there just isn't much of a market. Breeze, however, thinks it has what it takes. Breeze, to an even more extreme degree than Southwest, flies to very small airports, and between medium-sized cities. The airline sells tickets at low prices and charges passengers extra for any accessories they may want. At its start, Breeze exclusively flew used Embraer E190 aircraft but has now acquired Airbus A220-300s that come equipped with first class.
Living in San Francisco, I was excited when Breeze launched several routes out of SFO last year. One of them, their six times weekly flight from San Francisco (SFO) to San Bernardino (SBD), had $39 fares while I was on break from college, so I decided to book it and spend a day in Southern California.
Flight Details
Origin: San Francisco (SFO)
Destination: San Bernardino (SBD)
Flight Number: MX600
Aircraft: Embraer E190
Aircraft Registration: N115BZ
Travel Date: Wednesday, January 18, 2023
Departure Time: 10:10 a.m.
Arrival Time: 11:35 a.m.
Flight Time: 1 hour 25 minutes
Booking
I paid for the flight using cash given the cheap price and searched around on Breeze's website for the days where fares were the cheapest. As long as you book a couple of weeks in advance or fly on a less busy day during the week, it should be pretty easy to find those $39 fares.
The fare got me a one-way flight to San Bernardino in their "Nice" seats, which are essentially standard slimline economy seats with no extras. On flights operated on the Embraer E190 aircraft, only two classes of service are available: "Nice" and "Nicer". "Nicer" was sold at $64 and offered an extra-legroom seat and a snack and drink. The base fare, however, does not cover seat selection, so to select a seat you have to pay extra. I paid $15 to select a seat just behind the wing, which all in cost me $54.
One week before the flight departed, I noticed Breeze had lowered the prices to select seats, so I quickly moved myself to an extra-legroom seat for only $5. The nice thing about Breeze is that you can select a seat anywhere on the plane even if you book the "Nice" fare. In theory, you would not be guaranteed a snack and free water, but more on that later.
In total, I paid $59 to fly from San Francisco to San Bernardino in an extra-legroom seat, which is roughly the cheapest you can expect to pay on a full-fare Southwest ticket on a comparable flight to Southern California.
At the Airport
Breeze has very little in the way of amenities at SFO. They do have dedicated check-in agents but because I checked in online prior to arriving at the airport, I went straight to security. With my discounted Clear status through my parents' American Express Platinum, security was a breeze (pun intended). I only arrived at the airport about 70 minutes before the scheduled departure time but ended up with plenty of time to spare before boarding.
Breeze uses Terminal 2 in San Francisco, which is currently shared by Breeze, Alaska, Delta, and select United Airlines flights. Breeze usually doesn't post which gate they are using until the day of departure, so be sure to check the Breeze app ahead of time.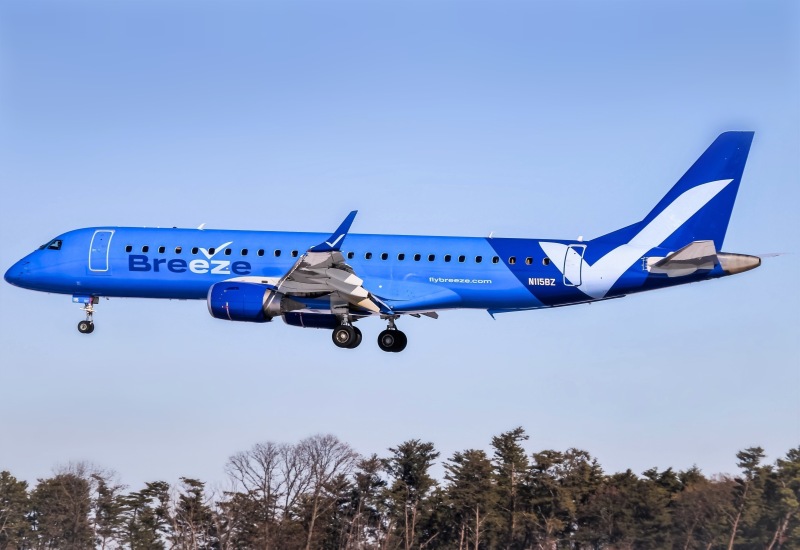 The Seat

The plane boarded on time after arriving from Provo (PVU). My seat, 6A, was a nice window seat as seen below.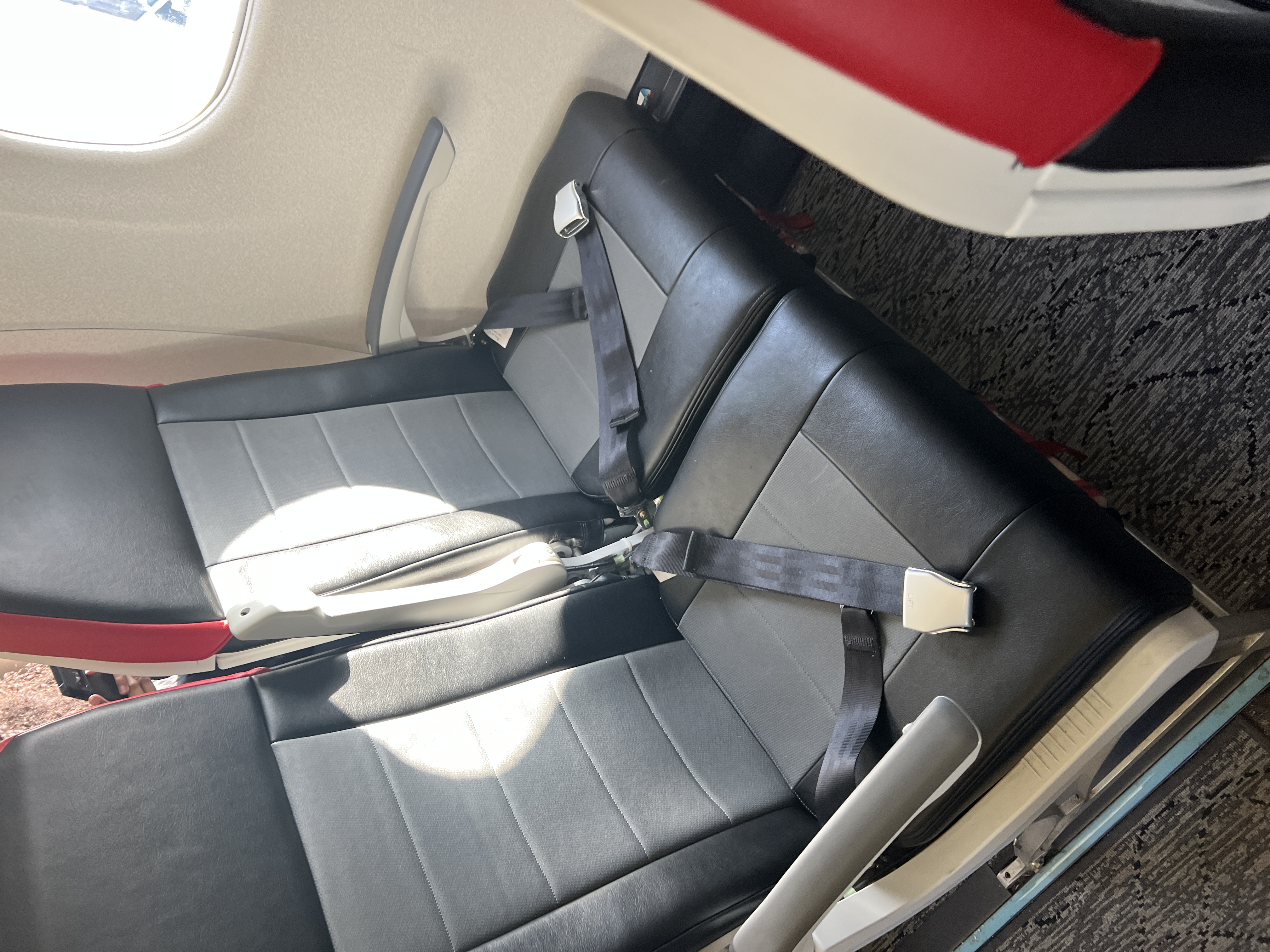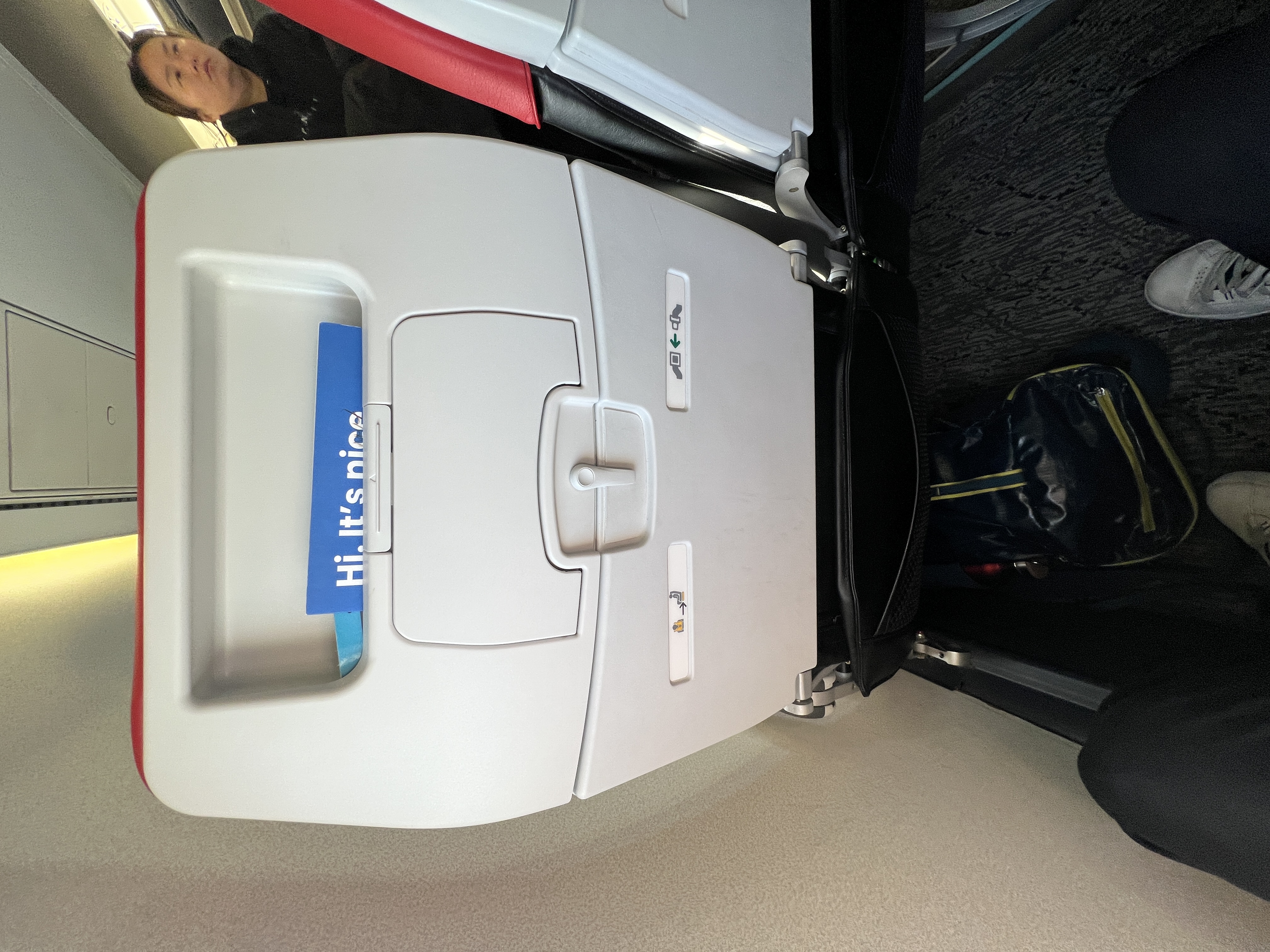 The padding itself was comfortable at first but became very uncomfortable over time. I wouldn't want to spend more than two hours in the seat ideally. The legroom, though, was quite nice and with nobody sitting next to me, I had lots of room to spread out. The flight was only approximately 60% full—a sign that Breeze is still trying to gain market share in the competitive flying market between Northern California and Southern California.

The "Nice" seats were identical in form to the extra legroom seats although they featured slightly less legroom and a yellow-and-black color scheme.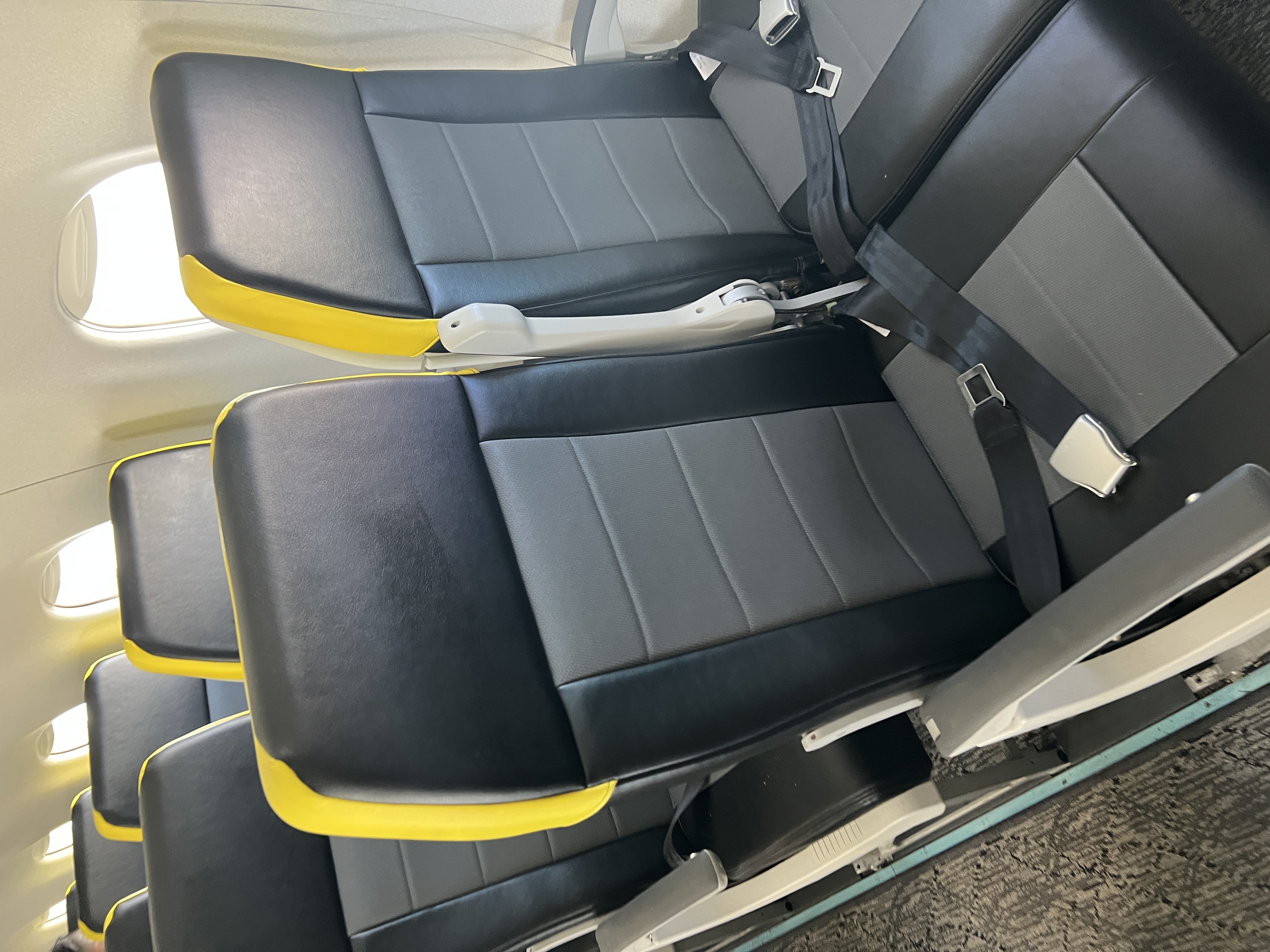 In-Flight Entertainment

All seats across Breeze's entire fleet do not come equipped with seat-back in-flight entertainment. Breeze, though, has been working on building a wi-fi system and allowing passengers to stream to their devices. On this particular flight, Breeze did have some streaming options, but I only counted 24 movies available and 30 TV shows, a far cry from the extensive options on airlines like Delta or United. Given that this flight was only 56 minutes from wheels up to touchdown, I decided to watch the real in-flight entertainment, the stunning window views, for the duration of the flight.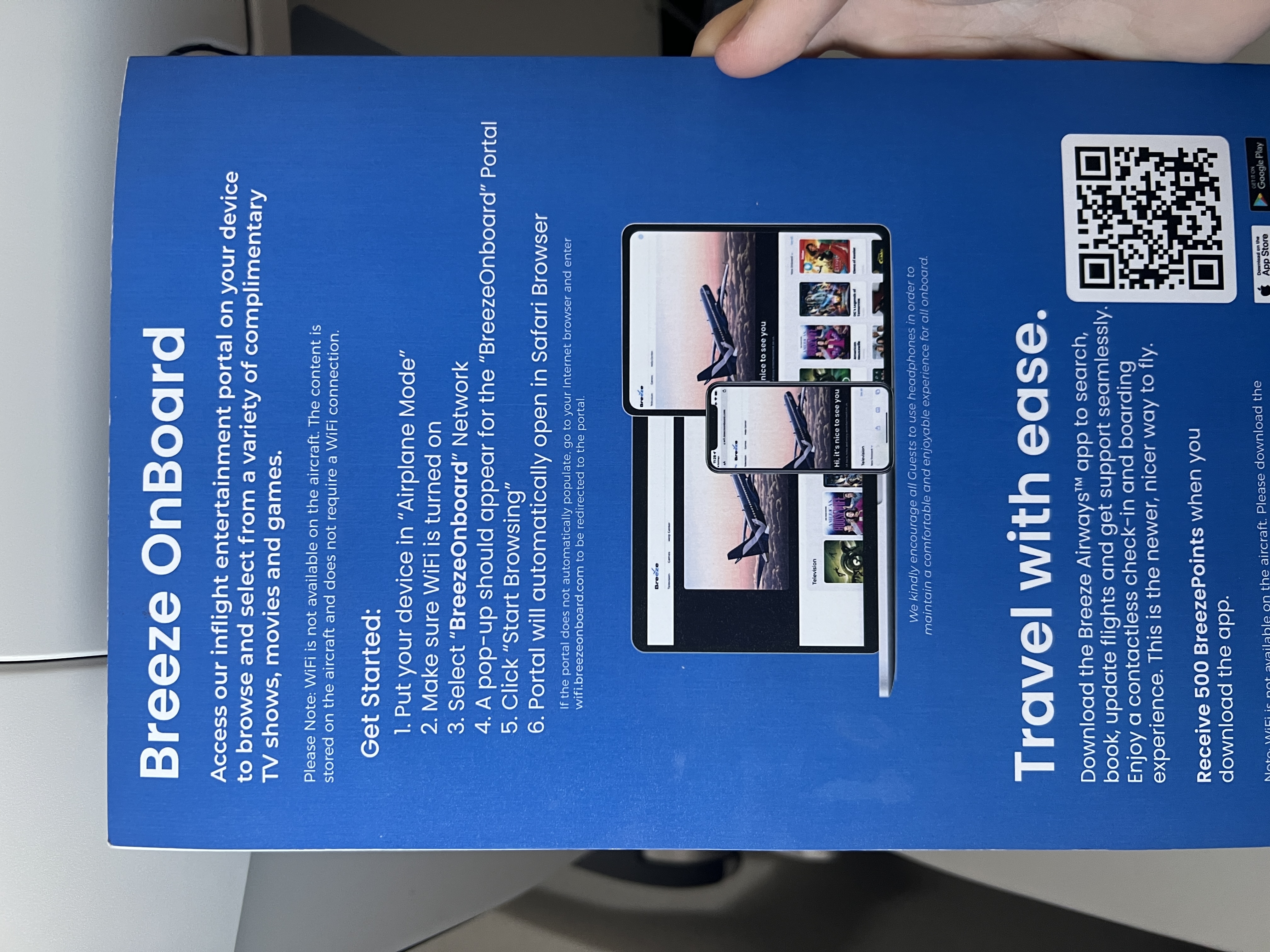 The Service
Breeze's service is pretty rudimentary. I was instantly struck by the casual nature of the crew—I couldn't actually tell if any of them were wearing Breeze-branded attire which was interesting to note.

All of the members were kind and did their job of keeping passengers happy on this short flight. I was especially happy that I was given a free snack and water despite not paying the "Nicer" fare. This makes me think—it is feasibly possible to book a "Nice" fare and select an extra-legroom seat and save upwards of $20 by not paying the "Nicer" fare.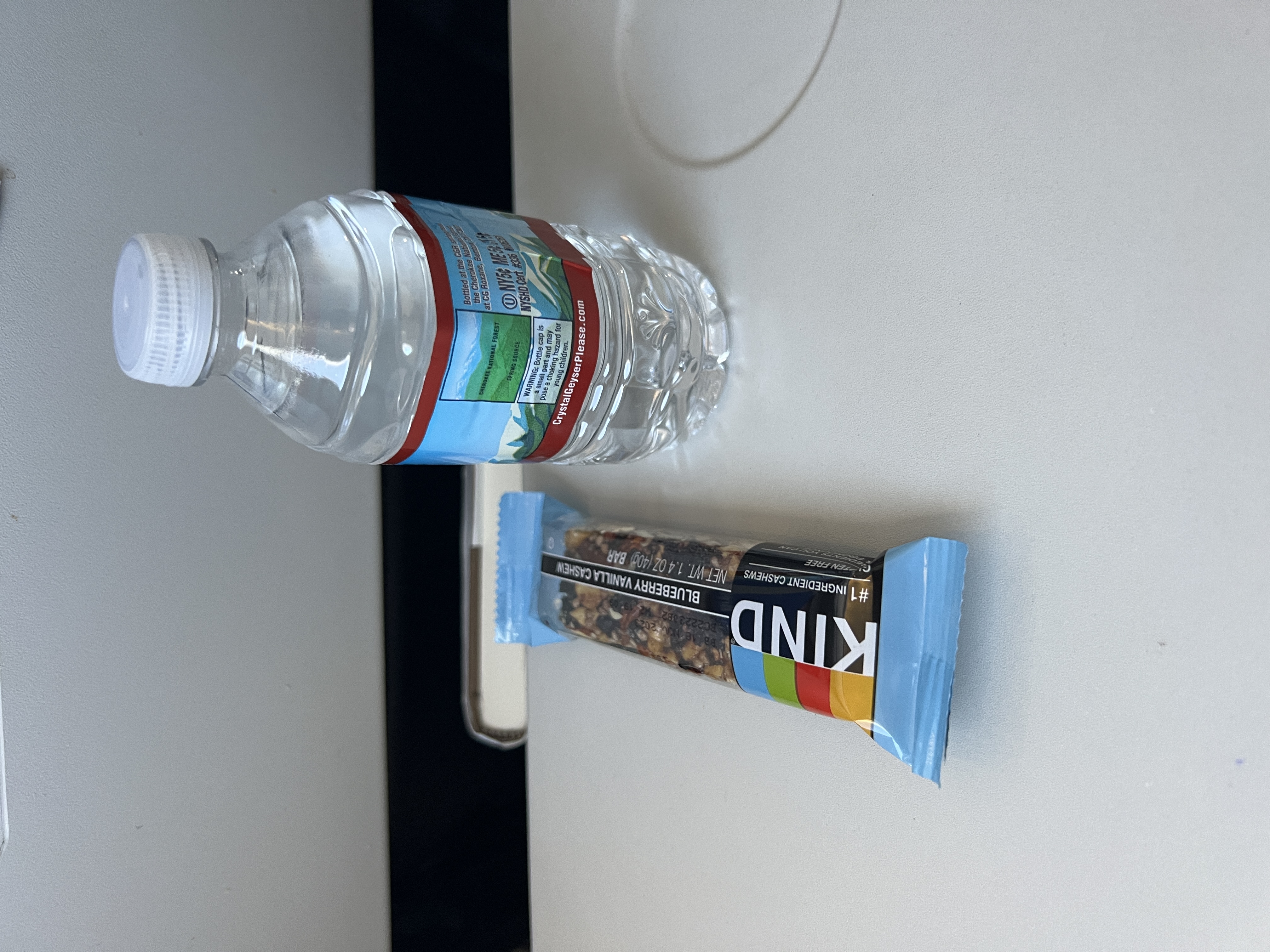 Passengers sitting in the "Nicer" Extra Legroom seats were given a Kind bar and bottled water. Note: I didn't purchase the "Nicer" fare but was still able to receive the free snack. Breeze does offer a selection of snacks and drinks for purchase if you don't want the free water available to all passengers or the free snack for those who sit in the extra legroom seats. To my knowledge, the passengers seated in the "Nice" section have to request water if they would like it.
Final Thoughts
All in all, I had a very enjoyable experience on Breeze. The fare was particularly cheap and I had extra legroom too. While nothing about the experience feels "premium" in the way that Delta or Alaska might, the flight was short and got me from point A to point B. I was especially grateful that we landed on time as my trip on Breeze was just one leg of a massive transit adventure around Southern California for the day before flying home from LAX at night.

The main challenge that Breeze faces right now is that the airline cannot strictly have more than one flight per day in any of the markets it serves. Flight MX600 from SFO to SBD only operates six times per week and leaves at 10:10 a.m. every day. If you are not flying around that time, Breeze really isn't a viable option. Of course, you also have to be going to San Bernardino or at least near San Bernardino to get the benefits of the cheap fare.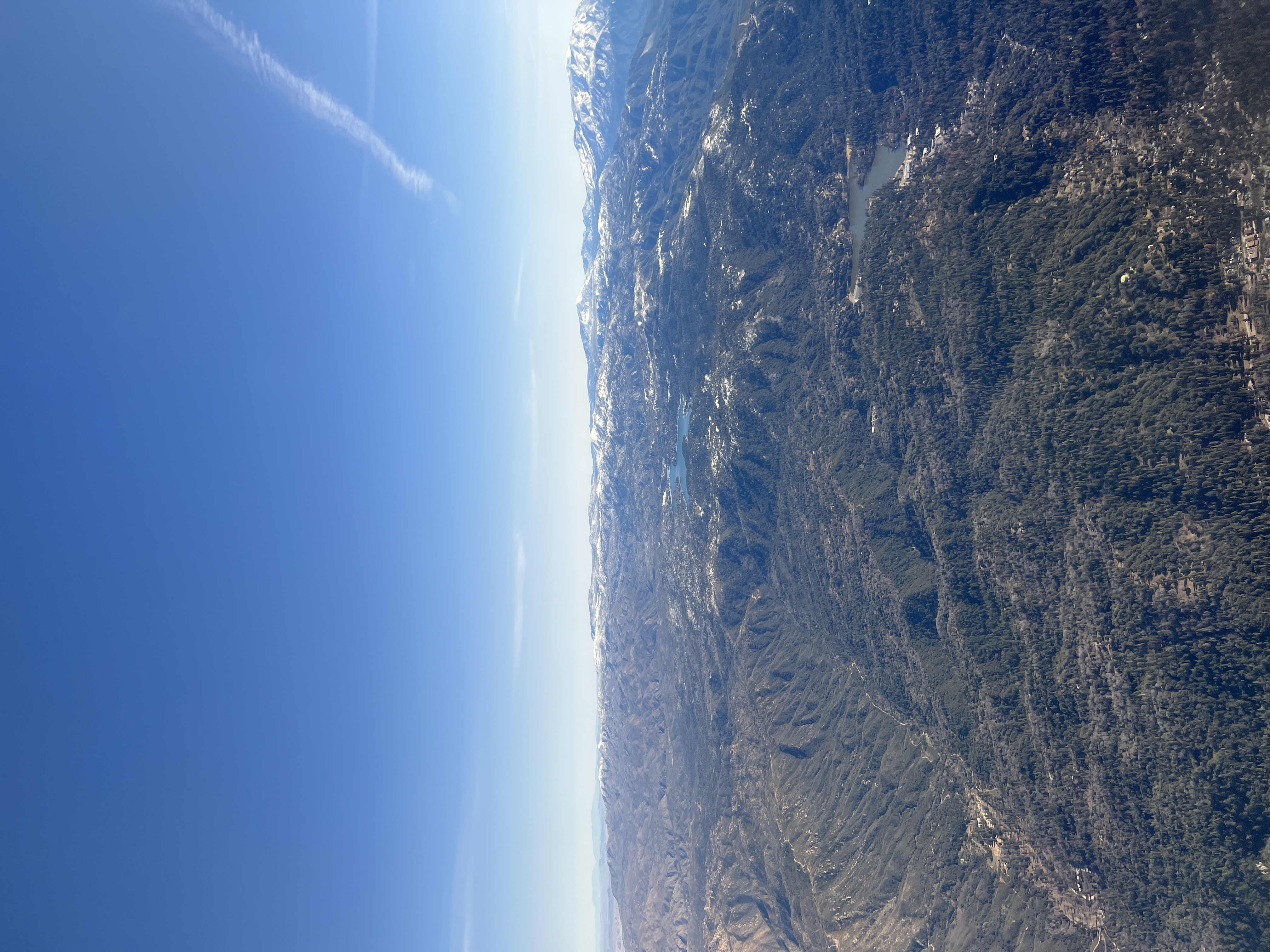 I would absolutely fly Breeze again and flying into San Bernardino is definitely a lot easier than flying into a bigger airport such as LAX. I am particularly curious about the product Breeze has on its A220-300s that fly much longer routes, but that may have to wait as I return to college for the semester.
Comments (0)
Add Your Comment