In this article:
For many Washingtonians, the passenger experience at Washington Dulles may improve dramatically within the upcoming decades. In an October meeting with the Fairfax County Board of Supervisors, Metropolitan Washington Airports Authority (MWAA) CEO Jack Potter highlighted that the Airports Authority is close to signing a new lease and use agreement for Dulles, containing $6 billion worth of capital investment.

The proposed new lease and use agreement would include the replacement of the dreaded temporary C/D Concourse, first reported by AeroXplorer in May. Furthermore, it would allow for the completion of the E gates, a third parallel concourse complex to the right of and in line with the current control tower.
This investment is separate from the airport's first phase of replacing the C/D Concourse, a new $580 million Tier II East Concourse south of the existing temporary C/D complex. This 14-gate concourse is slated for completion by 2026.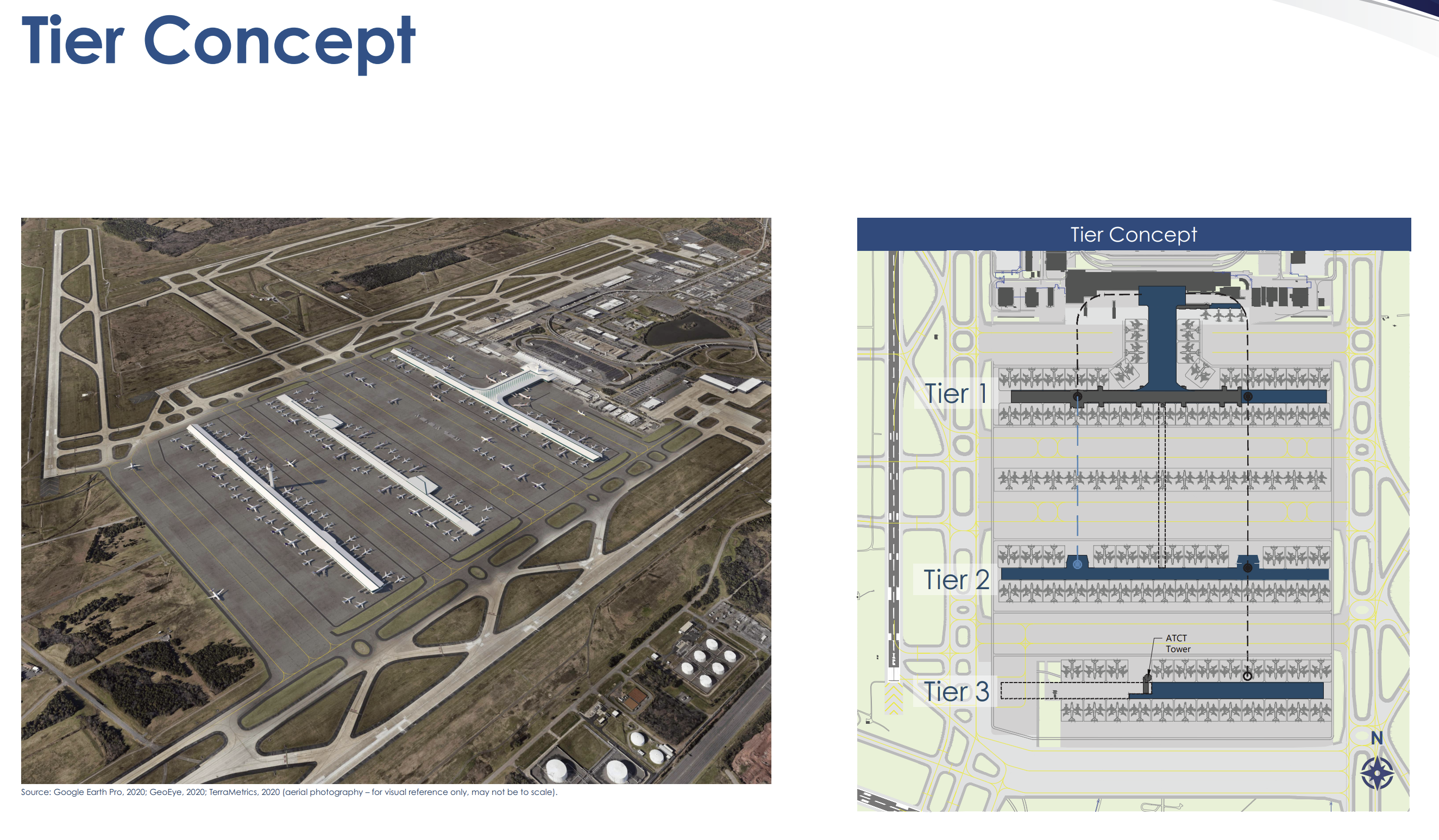 Potter states, "We are very close to signing an agreement with the airlines on top of $580 million [for Tier II East], for another $6 billion investment over the course of that time. The $6 billion will encompass the buildout of C/D gates, the current A gates that are the regional gates that will become contact gates for international flights, [and] the E gates."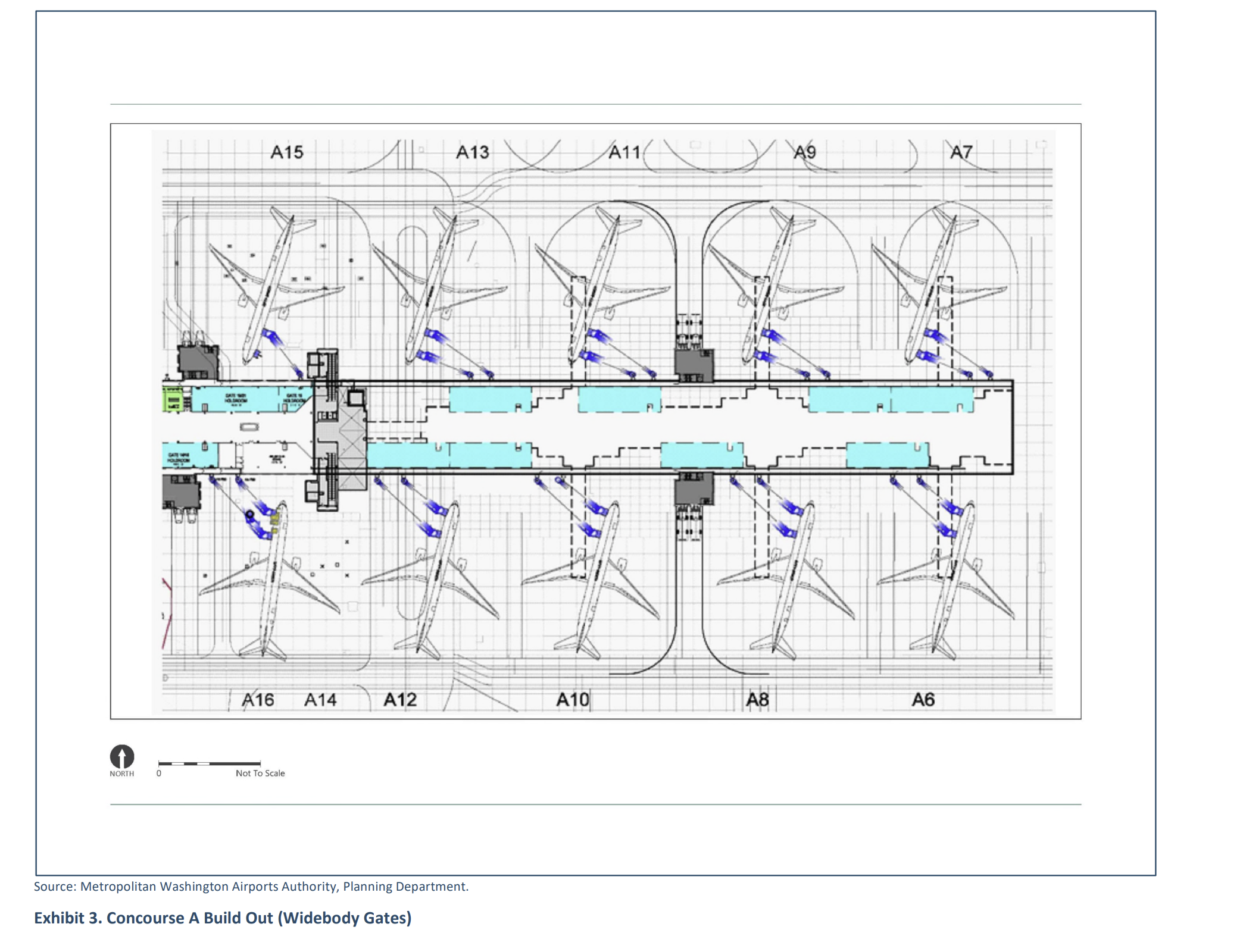 Potter refers to a set of 14 regional gates on the A Concourse designated for United's regional operations, formerly housing now-defunct Independence Air. This set of gates is best suited for United's 50-seat regional jets, 200 of which will be eliminated by the end of the decade.
A buildout of the A gates could accommodate eight widebody aircraft or twelve narrowbody aircraft. Potter expressed concern for the airport's peak flight bank in the late afternoon when most of its international flights depart. Adding international gate capacity bolsters the flexibility of Dulles to handle more international flights during its peak bank.
New International Arrival Facility
To complement the new set of international gates on the A Concourse, MWAA plans to transform the international arrivals experience as part of its master plan. Jack Potter proposes a new above-ground concourse connector between the main terminal and the A/B Concourse complex, which will house a new FIS and international arrivals facility.
"What we intend to do is to put on that A/B Concourse all of our international flights… The connector will have a FIS for those people who are getting off the plane and transferring. So, they will go through a customs facility that will enable their transfer. For those who are destinating here in Washington D.C., we are going to move the international arrivals into that facility. People who will be connecting will no longer have to take a mobile lounge, " Potter said.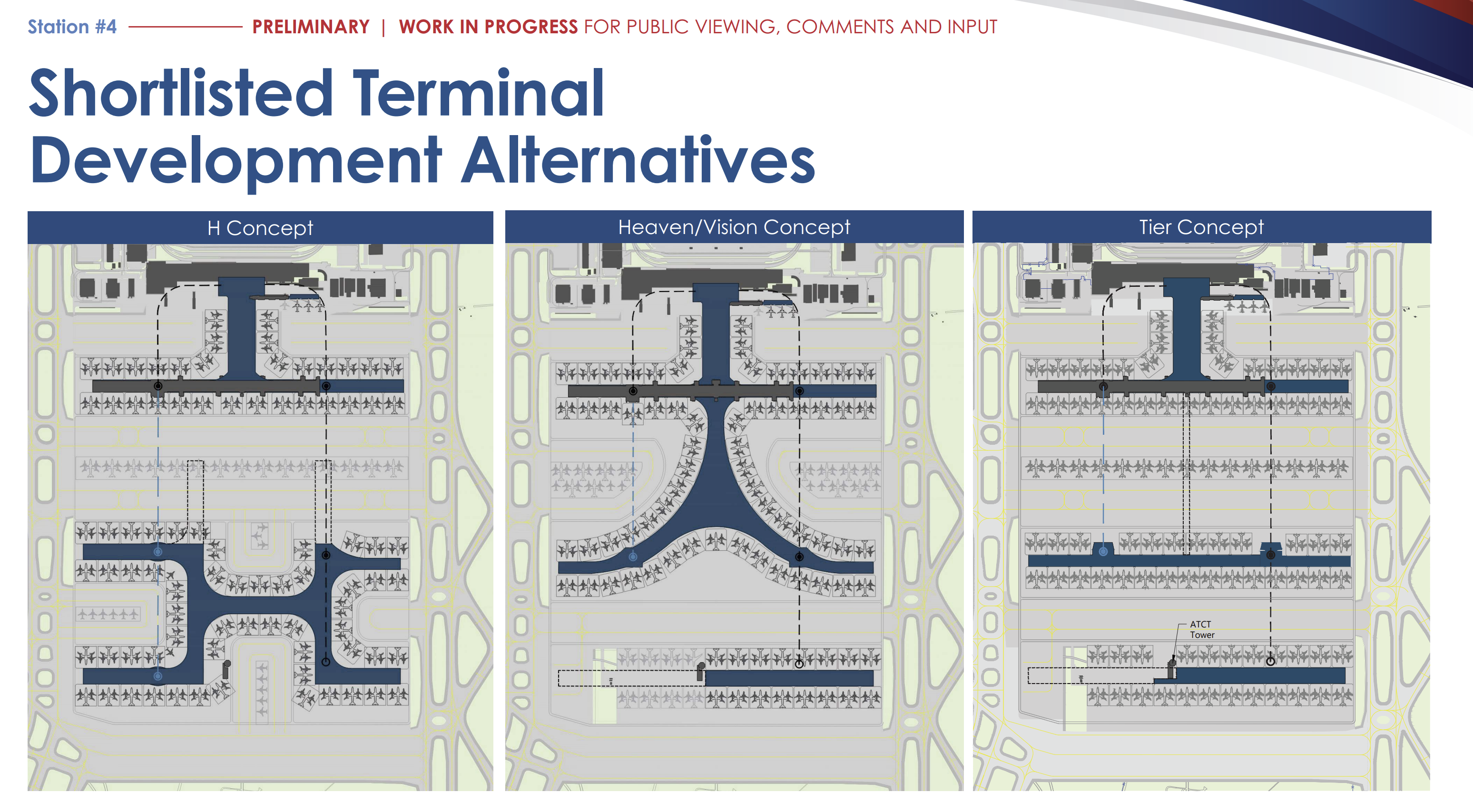 The connector will bisect a current taxiway and allow for additional international gate capacity, per graphics from the airport's master plan. However, the new international arrival processing connector could spell the end for Dulles' iconic mobile lounge and/or plane-mate. Both of these vehicles serve the primary purpose of shuttling passengers from international flights to the airport's International Arrivals Building.
It is unclear whether a portion of the $6 billion will help cover its new international arrivals facility. Moreover, it is uncertain how United Airlines will operate international arrivals since the new C/D Concourse complex is slated for its own FIS facility.
Among other aspects of the proposed new use and lease agreement, it is unclear whether MWAA plans to expand its automated people mover: the Aerotrain. Existing infrastructure will allow for the cost-effective creation of a new train station at the E Concourse.

"That is an existing station that hasn't been built out. But literally, the train runs through the station. The only thing there that hasn't been done is the installation of elevators, escalators, and some finishes. We are going to without major investment build gates at that area," Jack Potter states.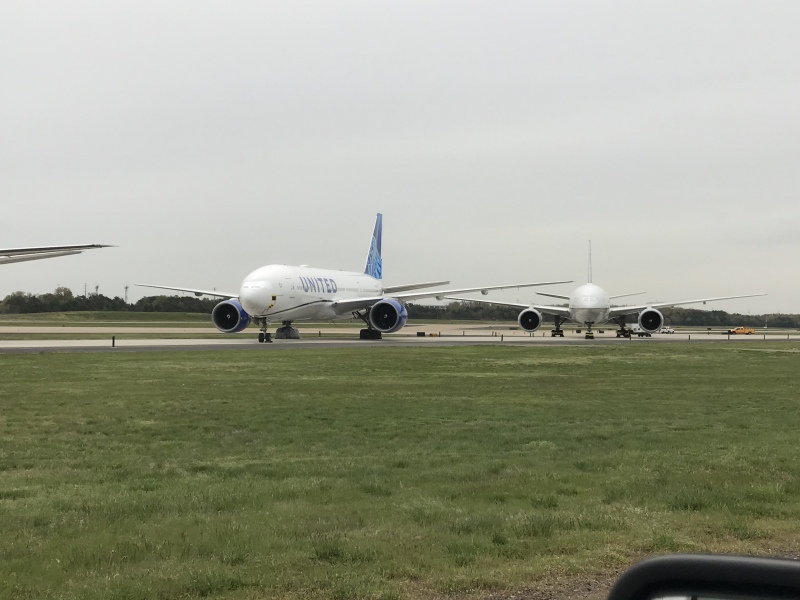 Meanwhile, heavy slowdowns on the roads at Dulles during peak travel hours will cause the airport authority to invest in its roadway network.
Potter adds, "There is also a major investment in improving the roadway structure because that has been problematic so we will make an investment to really build up the efficiency of the curbside." Currently, there is no immediate word on the scope of these plans.
The proposed lease agreement would take effect in 2025. At a luncheon in late June, Jack Potter added, "... that use and lease agreement will set the table for what we're going to do for the next 15 years. The goal here is to again, continue construction in a phased way so it doesn't disrupt operations but it continues to modernize the airport."
United "Leads the Way"
An expansive new $6 billion lease and use agreement is primarily driven by United Airlines' trademark fleet renewal and expansion scheme, United Next. From 2023 to 2032, the Chicago-based carrier is expected to receive 800 narrowbody and widebody aircraft, including 150 Boeing 787 Dreamliners.
Flight banks represent blocks of time where flight arrivals and flight departures are scheduled en masse, allowing for efficient connections. United CEO Scott Kirby previewed a plan for Washington Dulles to expand to seven banks in an interview with CNBC earlier in 2023. He stated, "We've got a big expansion going on at Washington Dulles. A lot of the growth, particularly in a market like Dulles, is going to occur in the off-peak. Instead of having four banks a day, we'll have seven."
"United does have plans in the next five years to grow 25 percent," confirmed Jack Potter in October 2023. However, he later caveated his statement with geopolitical conditions and a healthy economy without any hiccups.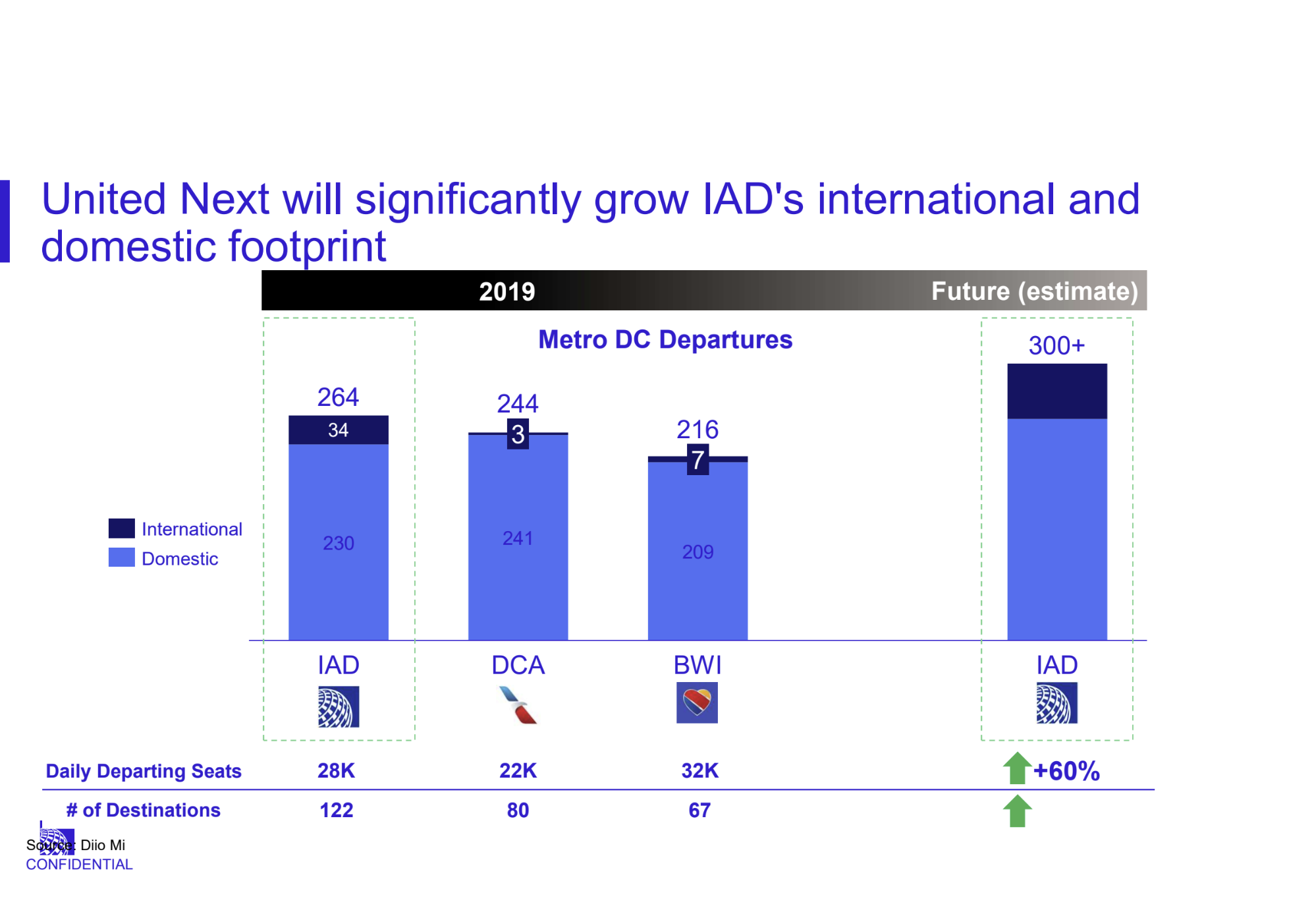 A more modest proposal at a United breakfast for the economic organization — Committee for Dulles — in 2023 promised a 60% jump in daily departing seats from 2019 levels due to United Next. Furthermore, the presentation expected 300+ daily departures, and a 135% leap in available international connections from pre-pandemic levels, thanks to United's expansion prospects.
A key cornerstone of the United Next program is up gauging, replacing smaller regional jets like the Embraer E175 with larger narrowbodies like the Boeing 737 MAX or Airbus A321NEO. For example, flights between Burlington, Vermont to Washington-Dulles might operate on a Boeing 737 MAX, when it formerly used a 50-seat regional jet.
Larger aircraft necessitate larger hold rooms for passengers and more gate space. New concourses will replace the obsolete regional concourse at Concourse A, and the temporary C/D Concourse originally built in 1985, both with limited gate space for passengers and the former designated for smaller regional jets..
Nonetheless, both United Airlines and Washington Dulles need to watch costs amid an inflationary economic environment. Almost a decade ago in 2014, the airport's CPE rose to $26.55, a metric used to determine the average cost of the airport per departing passenger, per Airline Weekly.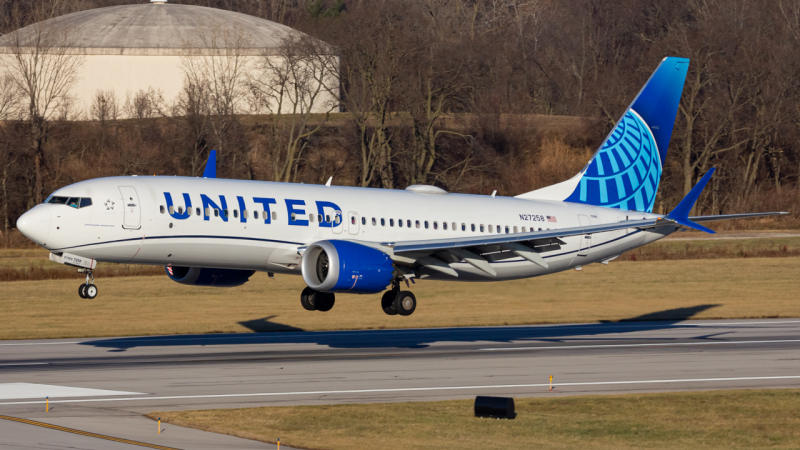 This was due to debt from a massive infrastructure program in the 2000s known as D2, as well as lowered service from multiple recessions and slot divestitures at nearby Reagan National Airport (DCA), where service is range-restricted via a perimeter rule. Several exemptions to this rule were created in the 2000s, further hampering Dulles.
As a result, analysts from the 2008 recession and onwards until 2014 pointed to Washington Dulles as a potential hub on the chopping block. In 2013, per Flightglobal, former United CEO Jeff Smisek highlighted that it was "more difficult to do business here compared to other hubs."
"[We] have to figure out how to do it and not destroy the economics of the hub — they built a beautiful facility in Pittsburgh and there's no hub there anymore. So we've got to do it smartly," current United CEO Scott Kirby told Airline Weekly in 2021.
Fortunes turned with an improving economy and new leadership at United Airlines charting growth. Furthermore, the state of Virginia subsidized $50 million to reduce costs, and MWAA transitioned revenue from nearby Reagan National to cover lowered costs at Dulles.
Pre-pandemic, in 2018, Flightglobal reported that United eyed an increase from four to six flight banks, during Scott Kirby's speech at an investment conference. "Today we have a four-bank structure at Dulles. The team is actually evaluating a six-bank structure that would create opportunity to add more frequencies in markets."
United Airlines' strategy pre-pandemic involved moving connections from crowded Newark to Washington Dulles. Several regional routes were relocated to Dulles, including flights to Ithaca, New York; Asheville, North Carolina; and Philadelphia, Penn.

The pandemic derailed United's regional expansion prospects, especially with the airline's reliance on regional feed at the airport. The COVID-19 pandemic led to thousands of early retirements for pilots, causing a pilot shortage that rippled throughout the industry. During the pandemic, United Airlines cut 14 regional routes from Washington Dulles, gutting key regional feed and shifting several routes back to Newark. A regional pilot shortage further harms United's ability to broaden its route network.
However, significant investments in the infrastructure in Washington Dulles may result in the revival of regional growth, as United Airlines continually up gauges aircraft, creates flight banks, and adds lucrative international destinations from Washington D.C. such as Amman, Jordan and Cape Town, South Africa.
United Airlines' growth is not limited to Washington Dulles. At Chicago O'Hare, the airline is expected to receive two new satellite concourses slated for completion by 2028. In Los Angeles, a new 12-gate terminal will allow United Airlines to expand and cooperate with its Star Alliance partners. Moreover, a new master plan vision for 2025 for Denver's International Airport eyes four new concourses comprising 100 new gates, a portion of which will probably be United's.
Short Term Improvements
Before 2025, MWAA plans to solicit and commence architectural and design work on the D Concourse and E Concourse, which it brands as part of its Tier II and Tier III development program. In addition, the airport is studying extending sterile corridors across the B Concourse to expand its international flight handling capability.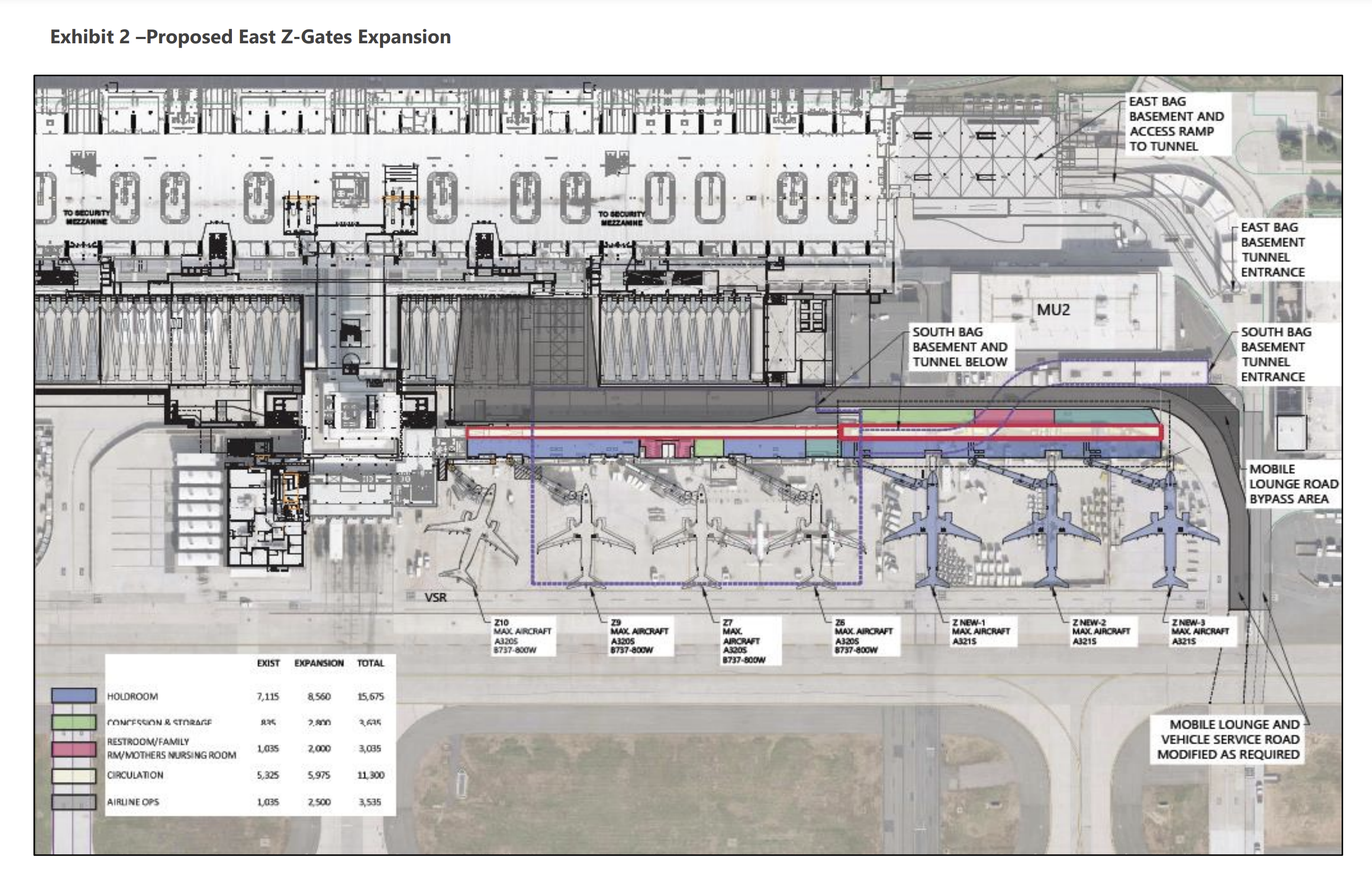 Moreover, the Z Gates, a set of narrowbody gates next to the historic tower, will see a three-gate 20,000 sq. ft. expansion and improved interior amenities, including new concessions. Pending a final environmental determination, the Z-gates will begin construction in May 2024 at the earliest.
Furthermore, the airport is planning a new VIP Terminal, similar to other initiatives in Miami and Los Angeles. This private terminal will include check-in and TSA security separate from the main terminal with a wide range of proposed amenities.
Overall Master Plan
The airport's new use and lease agreement negotiations come amid MWAA's development of a new master plan. Its previous master plan dates back to 1985, benchmarking a fourth runway and the development of its automated people mover. At the ultimate buildout, the former master plan envisioned a new second terminal and a total of four concourse complexes.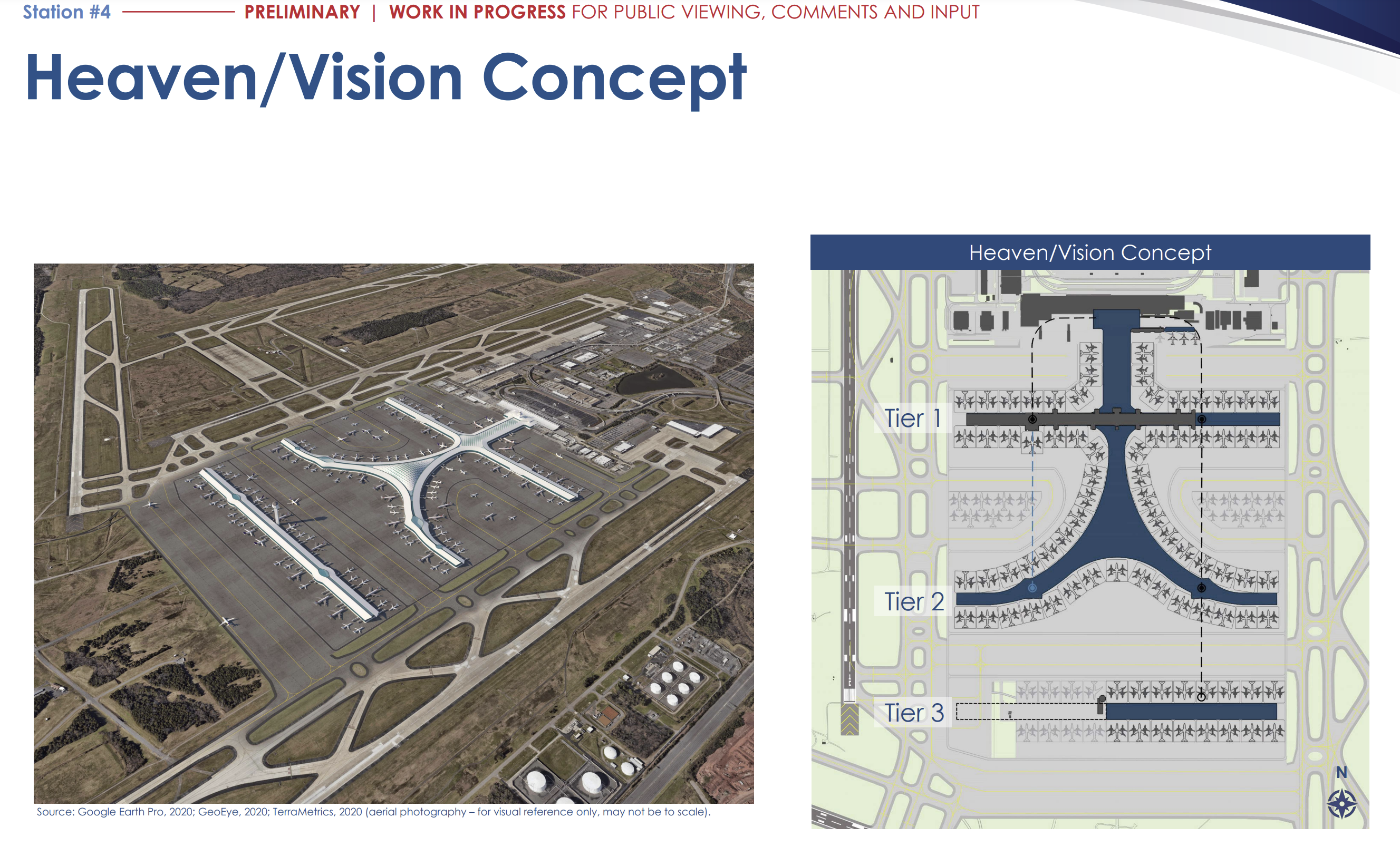 In its new master plan, the airport anticipates it will only need 24 additional gates by 2045. MWAA highlighted three primary terminal development alternatives for display at a master plan workshop to the public. The concept — titled "Heaven/Vision" — was the airport's shortlisted development alternative to the "Tier Concept" under its "Vision Concept" from 2017 until 2021.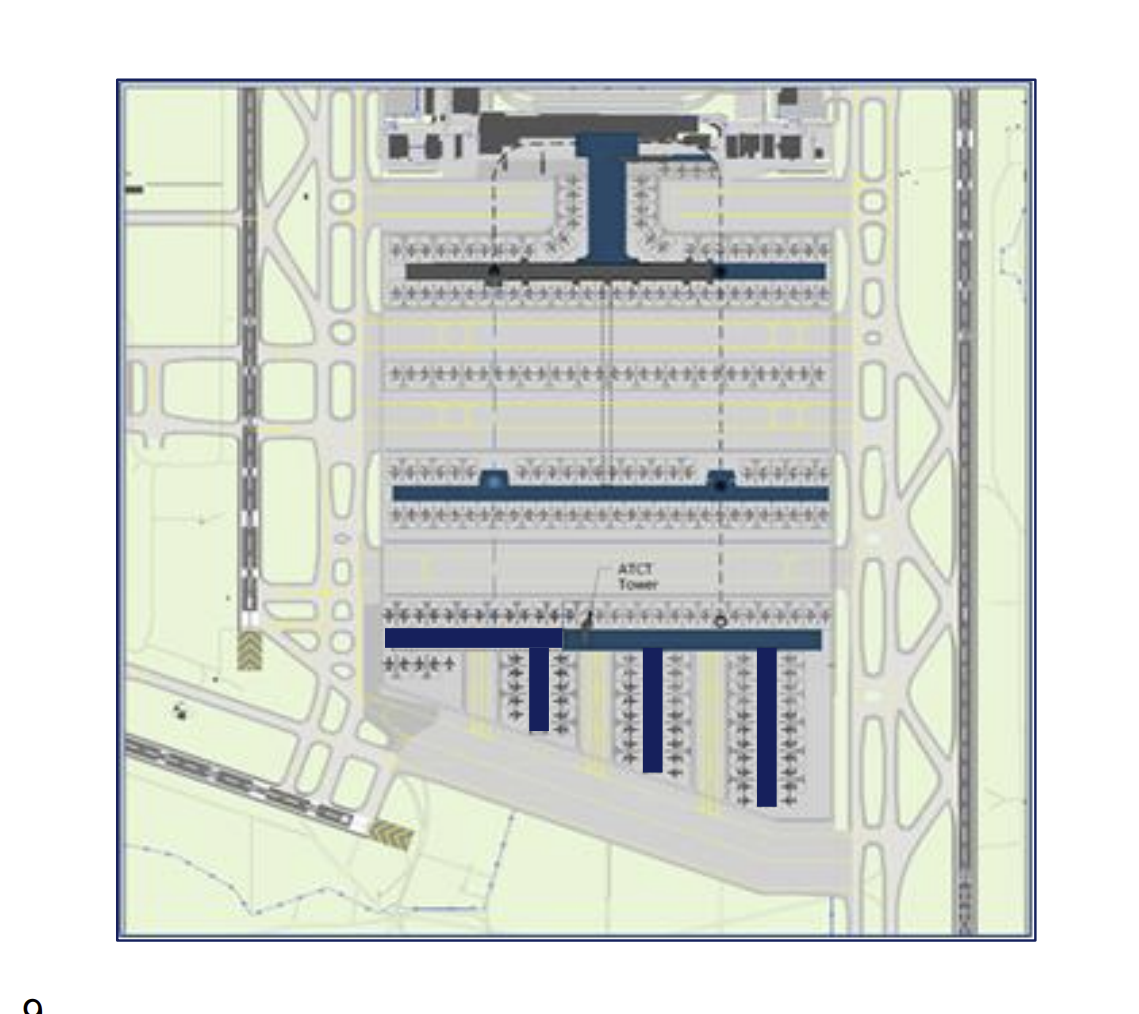 Ultimately, it appears the airport has settled on the tier concept, relying on parallel concourses. The ultimate Tier Concept showcases two new concourses, with the third concourse including the possibility of three fingers extending south.

The new master plan will also encompass a new fifth runway, as well as other aspects like general aviation, cargo, and landside facilities. For example, the airport showcased several sites for expanded and new general aviation development, northwest and northeast of the main terminal.
Scrapping Lofty Cargo Ambitions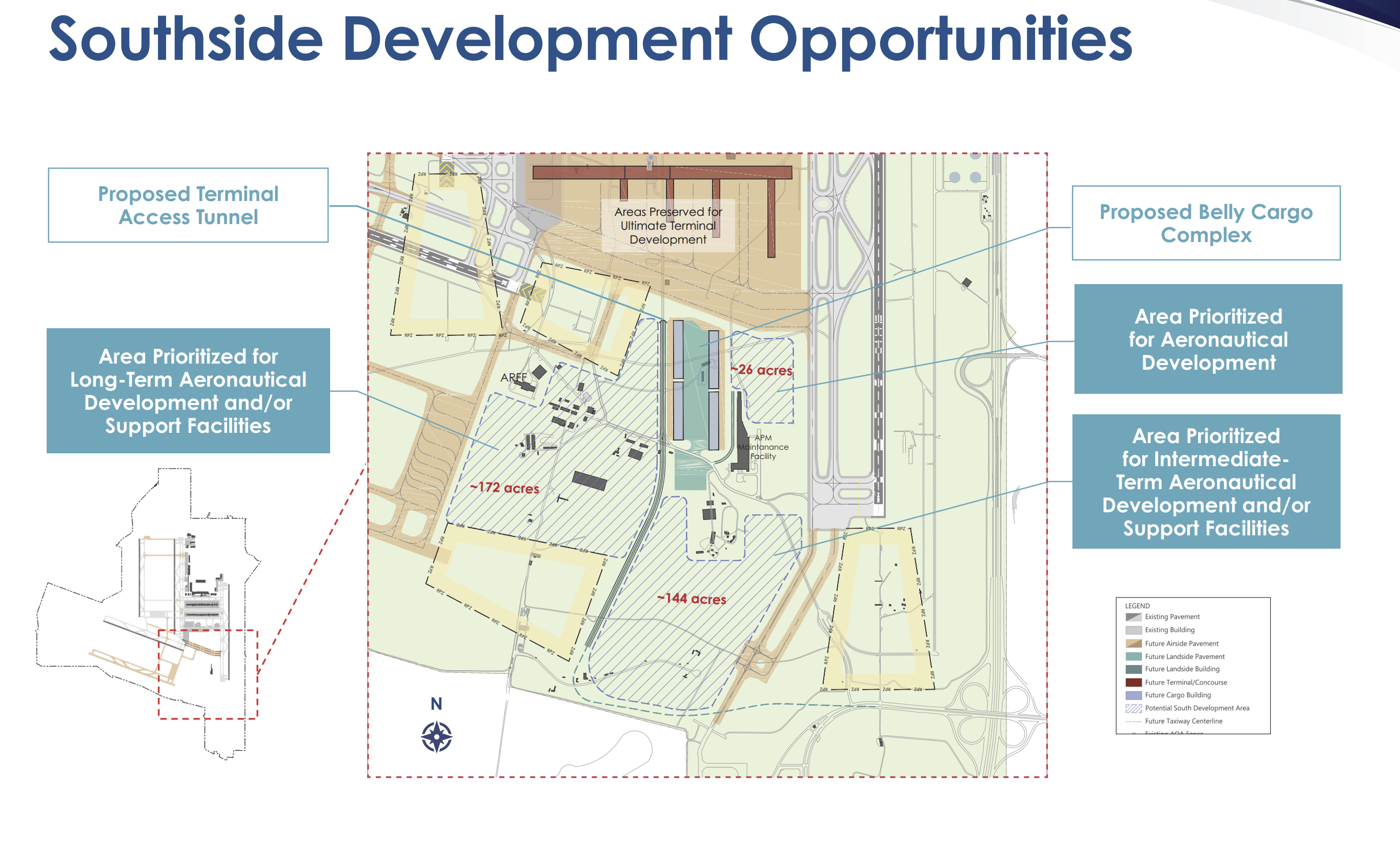 Moreover, the new master plan highlights a modest belly cargo processing facility to the south of the concourse complex. However, plans for a larger cargo presence were floated last year by airport officials.
Jack Potter said, "We did a lot of work to look at what cargo might be bypassing this metropolitan area like going up and down [Interstate] 81 to go to New York that go south to Atlanta and spent a lot of effort on it. And there just simply wasn't the volume to attract a dedicated cargo plane into this area."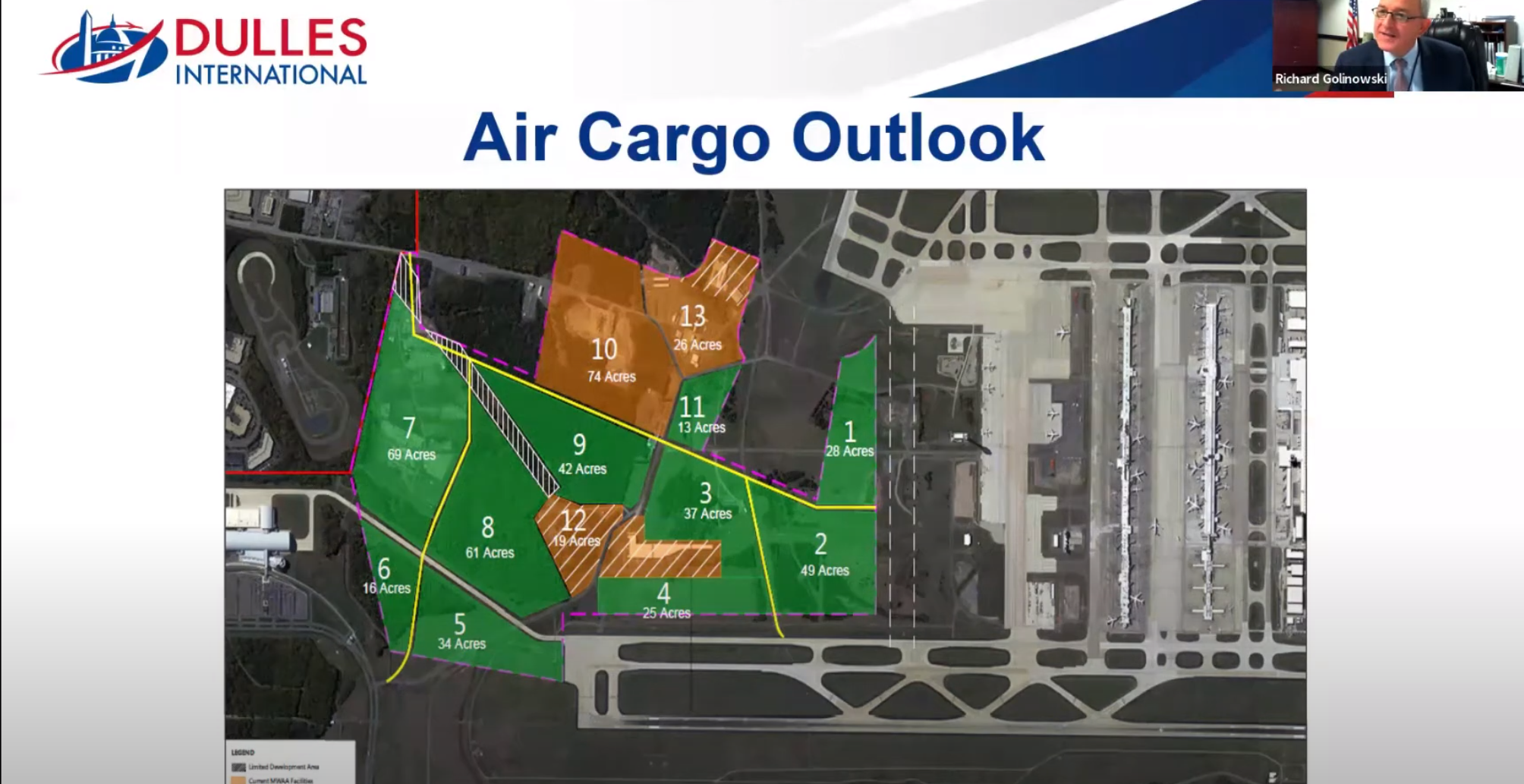 Formerly, the airport had set aside 313 acres south of the airport's control tower for cargo development.
In a meeting with the Committee for Dulles in September 2022, Dulles Airport manager Richard Golinowski highlighted its South Cargo expansion proposal in tandem with a Loudoun County connector road parallel to Route 50, a key east-west road corridor next to Dulles.
"Every time we think we're heading in the right direction or to an expansion opportunity, things happen. The economy changes, Business models change," remarked Richard Golinoswki, referencing air cargo growth at Dulles.
"FedEx has talked to us in the past and they were not necessarily interested in having us develop property. They were interested at one point in FedEx developing their own facility in the south end, and that has come and gone through several iterations with FedEx," Golinowski said.
He added later, "They [FedEx] don't want to invest any more than they have to expand their operation."
Ultimately, expansion from FedEx never came to fruition. During the meeting, Golinoswki staunchly pointed out that there were no leads on air cargo expansion at the time.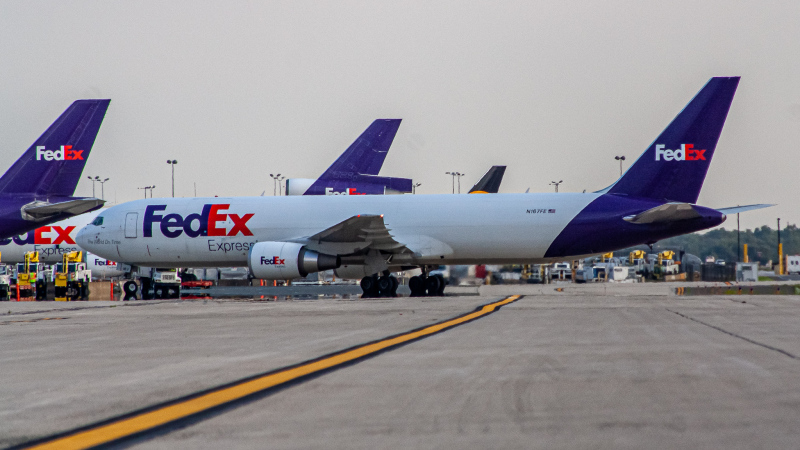 However, Golinowski talked about the risk involved for the South Cargo opportunity, due to the high infrastructure costs of the project. "There's not a lot of infrastructure down in this area, so there'd be a lot of money sunk into infrastructure to develop these 313 acres." He adds, "We are not a manufacturing region, and manufacturers are the ones who need cargo moving in and out."
Golinowski remained optimistic in 2022, as he highlighted how developers have looked at the viability of the option. "I think at some point the dam will break." The airport lists a larger cargo processing facility as a potential alternative in the future in its master plan.
Since the meeting, air cargo demand continues to decline in 2023, as demand slumps due to inflation and tamed consumer spending. For example, amid a pilot shortage, FedEx announced in an internal memo earlier this week that flight operations were significantly overstaffed, amid decreased volumes and revenue compared to 2019.
Simply, Jack Potter states, "We don't have anything to put on the plane. People don't deadhead into a place with very expensive transportation and leave empty."
AeroXplorer is on Telegram!
Subscribe to the AeroXplorer Telegram Channel to receive aviation news updates as soon as they are released.
View Channel
Comments (3)
Add Your Comment