As part of my recent trip to and from Buffalo, I had the chance to fly on three different United aircraft: the Boeing 777-300ER, the Embraer ERJ-170, and the Boeing 737 MAX. This specific report will look at my trip on United's Boeing 737 MAX-8, on a flight from Buffalo (BUF) to Newark (EWR) in first class. Come along!
Trip Details:
Origin: Buffalo-Niagara International Airport (BUF)
Destination: Newark Liberty International Airport (EWR)
Aircraft: Boeing 737 MAX-8
Registration: N37257
Flight Number: UA 421
Departure: 6:05 AM ET
Arrival: 7:32 AM ET
Seat: 3A
For this flight I booked an economy ticket, but due to my family's Premium Gold status with United, as well as the availability of seats, I was upgraded to first class 48 hours before departure. United clears upgrades based on many different qualifications, but the easiest way to get a complimentary upgrade is to have status with MileagePlus. Note, however, that United does not offer complimentary premier upgrades on premium transcontinental routes. After a very early wakeup call in Buffalo, it was time to head to the airport and board the flight.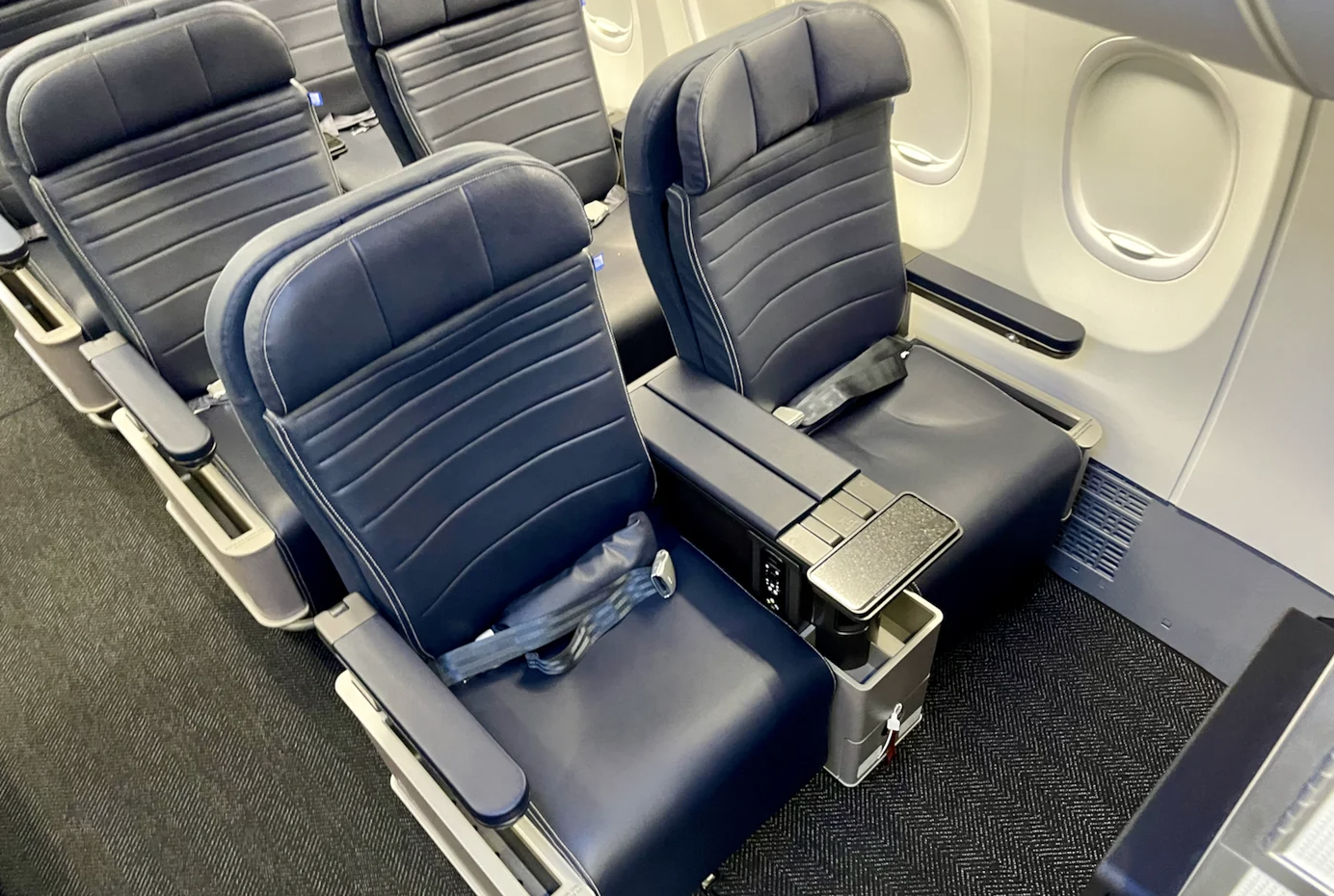 The seats on United's 737 MAX first class are effectively the same as other United domestic first class recliners with some exceptions. United has installed IFE screens on these planes as part of their eventual cabin overhaul to bring seatback IFE to all mainline aircraft by 2025. I did not use the entertainment system much outside of the moving map feature (which is excellent!) as I greatly prefer the seatback Live TV offered by Jetblue and Delta. The United seats are decently wide, and feature ample legroom. For flights of short to medium length, the seats would be quite comfortable, though for longer flights, something lie-flat would be preferable. United flies their 737 MAX on all sorts of routes—from this hour long hop from Buffalo (BUF) to Newark (EWR) all the way up to transcontinental flights from San Francisco (SFO) to Washington Dulles (IAD).
A couple minutes after settling in our seats, the flight attendants came by offering a welcome drink. They only had three options—orange juice, water, and champagne—and since I am not 21 yet and am not a huge fan of orange juice I opted for the water. Still, many airlines do not offer welcome drinks on short flights like this, so I was very impressed. Interestingly, for this welcome drink United opted for their traditional plastic cups, but for the regular drink service they used more premium glassware. More on that later.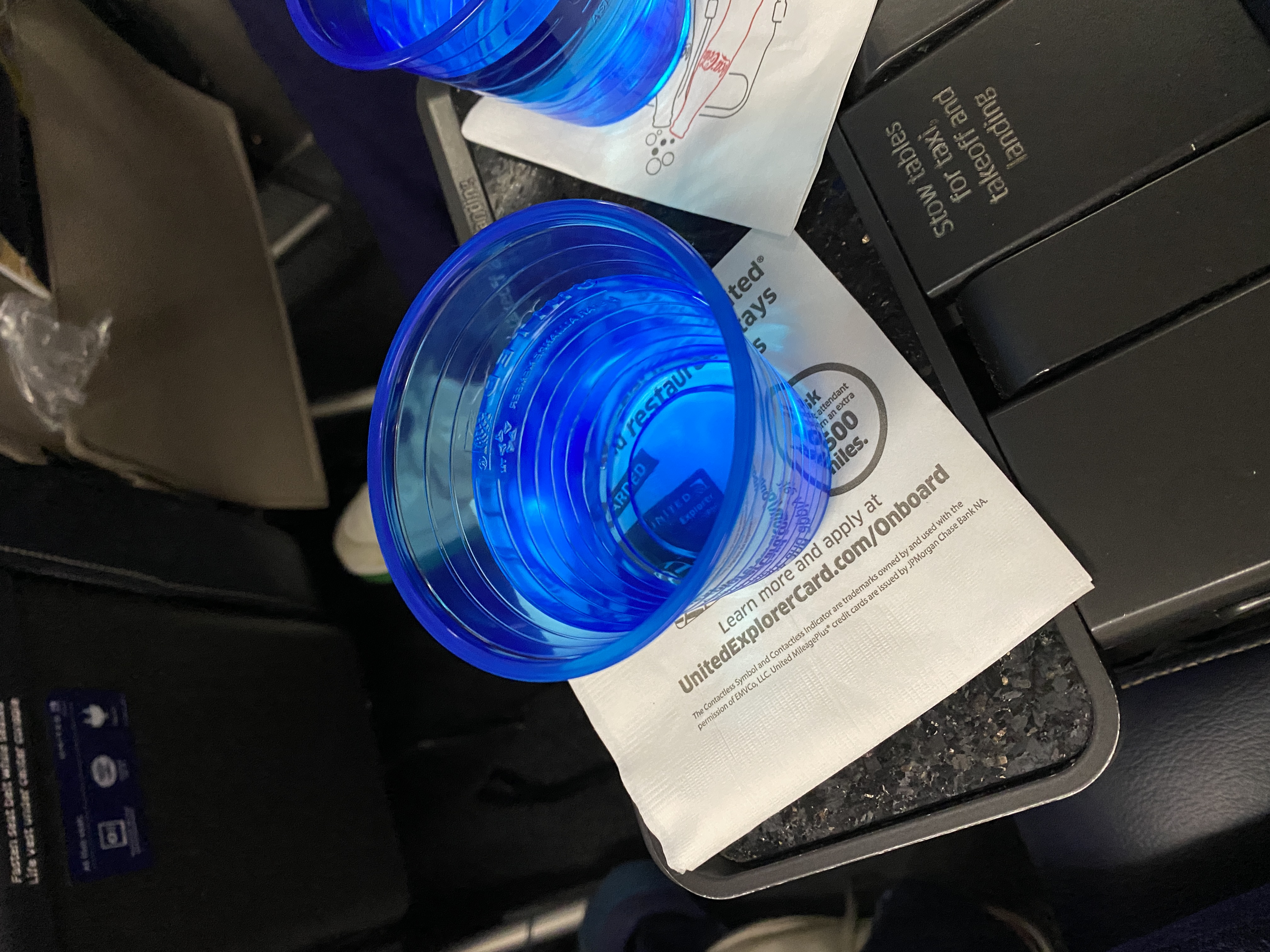 The flight itself was quite short as noted above, but the flight attendants did come around fairly quickly for a drink service. No snacks were offered on this fight, even for first class passengers. Other airlines like Delta tend to offer snack service more often, even on short flights, so not getting anything on United was somewhat disappointing, but I can can't complain too much as we didn't pay for these seats after all. For drinks, I went with my preferred seltzer water, and it was great as always. I did love the glassware and mugs for hot drinks.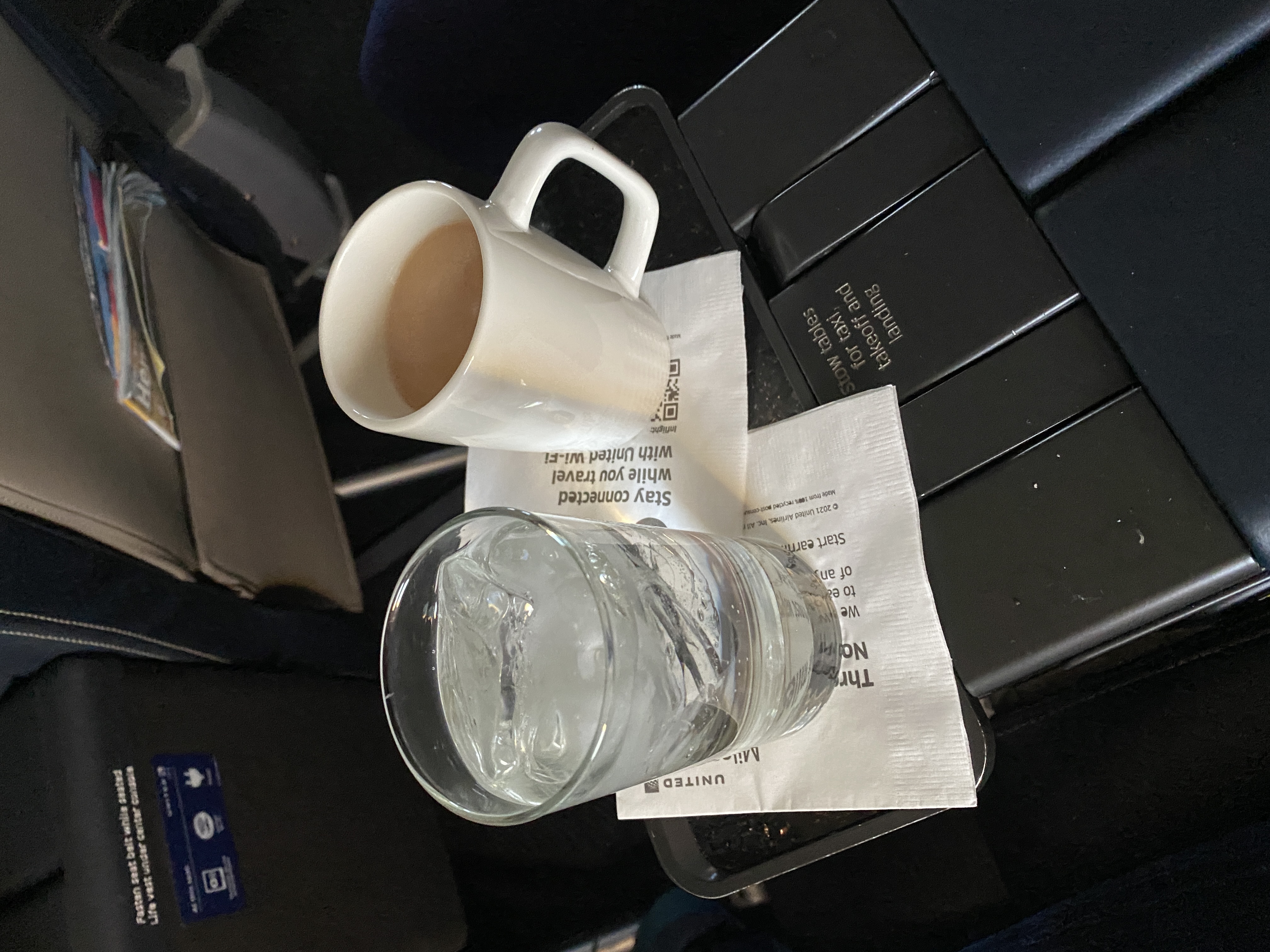 Despite the seat being comfortable and having a large seatback screen, there were a couple issues. Firstly, the seats themselves are stationed fairly low to the ground, and there seems to be an entertainment box below every seat. Compounded, those issues meant there was very limited space to store my backpack under the seat. There is a small section in between seats, but alas, only one bag can fit there. My legroom ended up being somewhat limited by my backpack extending out into the open.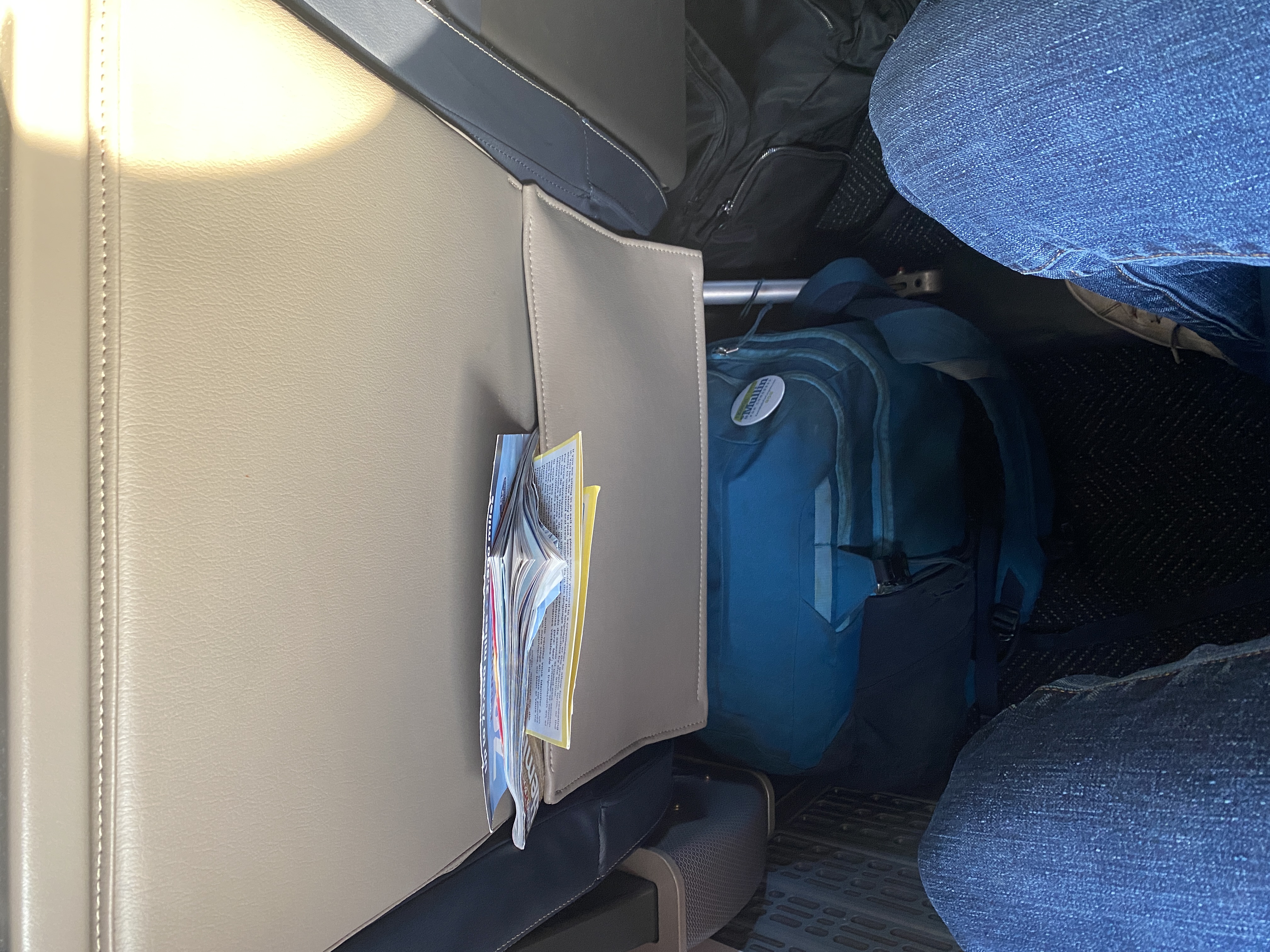 The other problem I had was with the tray table design. I am generally a fan of tray tables that extend out of the armrest, which is standard for long-haul business class seats, but this tray table was very hard to use. The compartment is quite narrow, so it took a couple of seconds to pull it out without trapping my hand in the compartment (I later found out there was a small handle). The table itself was also very difficult to move forward and backwards, making it hard to move around in the seat. Even more frustrating, it takes a couple efforts of pushing the table back into its original place before the armrest cover can be fully closed.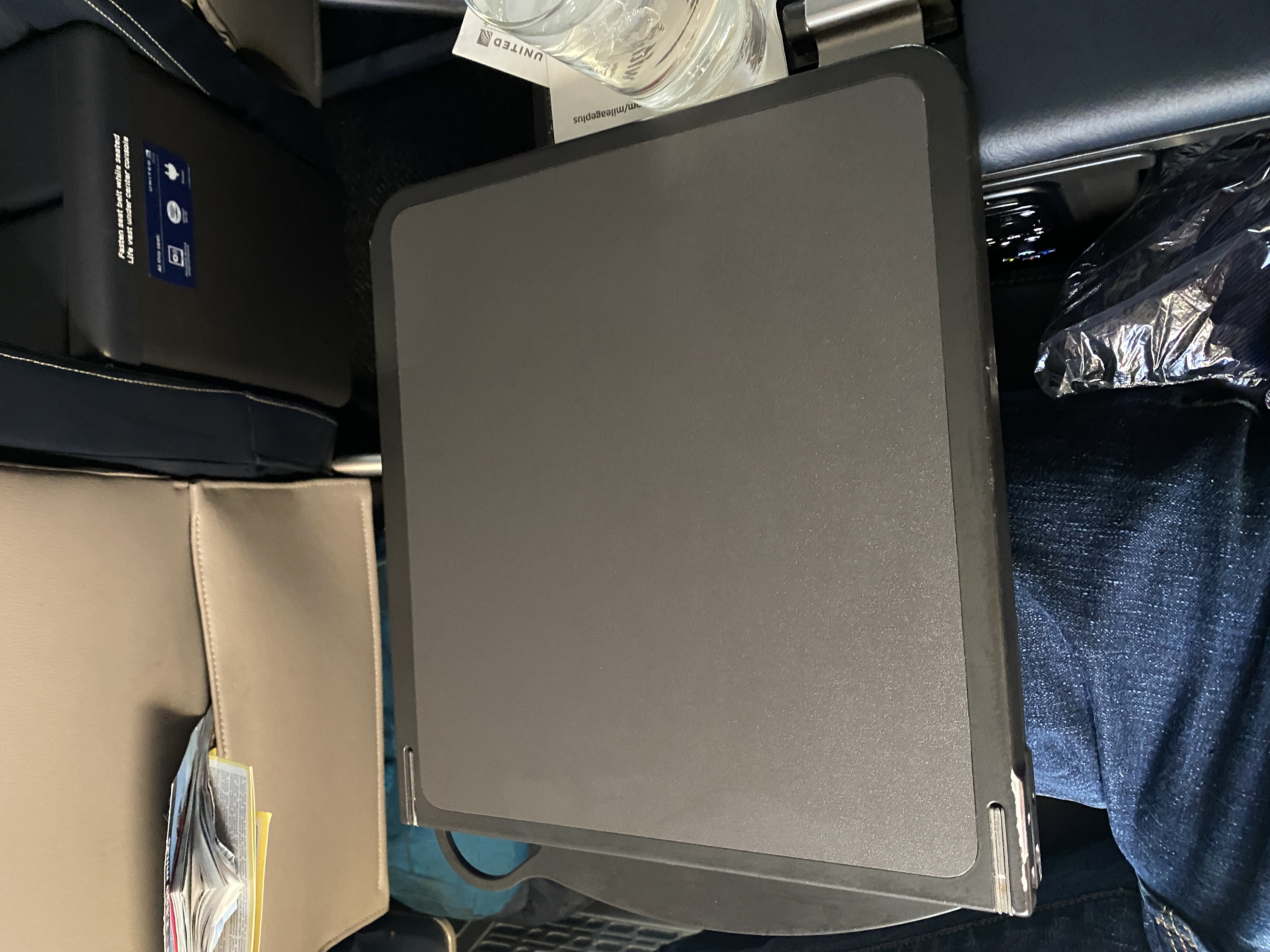 Outside of those two hard product issues, the experience was quite enjoyable. As with most domestic first classes, I don't find that the additional comfort is worth what can often be upwards of a $500 premium.
All in all, if the price is compelling and comparable to economy, first class on United's 737 MAX is totally worth it, but in reality economy is just fine for most flights of this length. In the absence of snacks or food on short flights, there isn't too much additional benefit in the soft product for first class.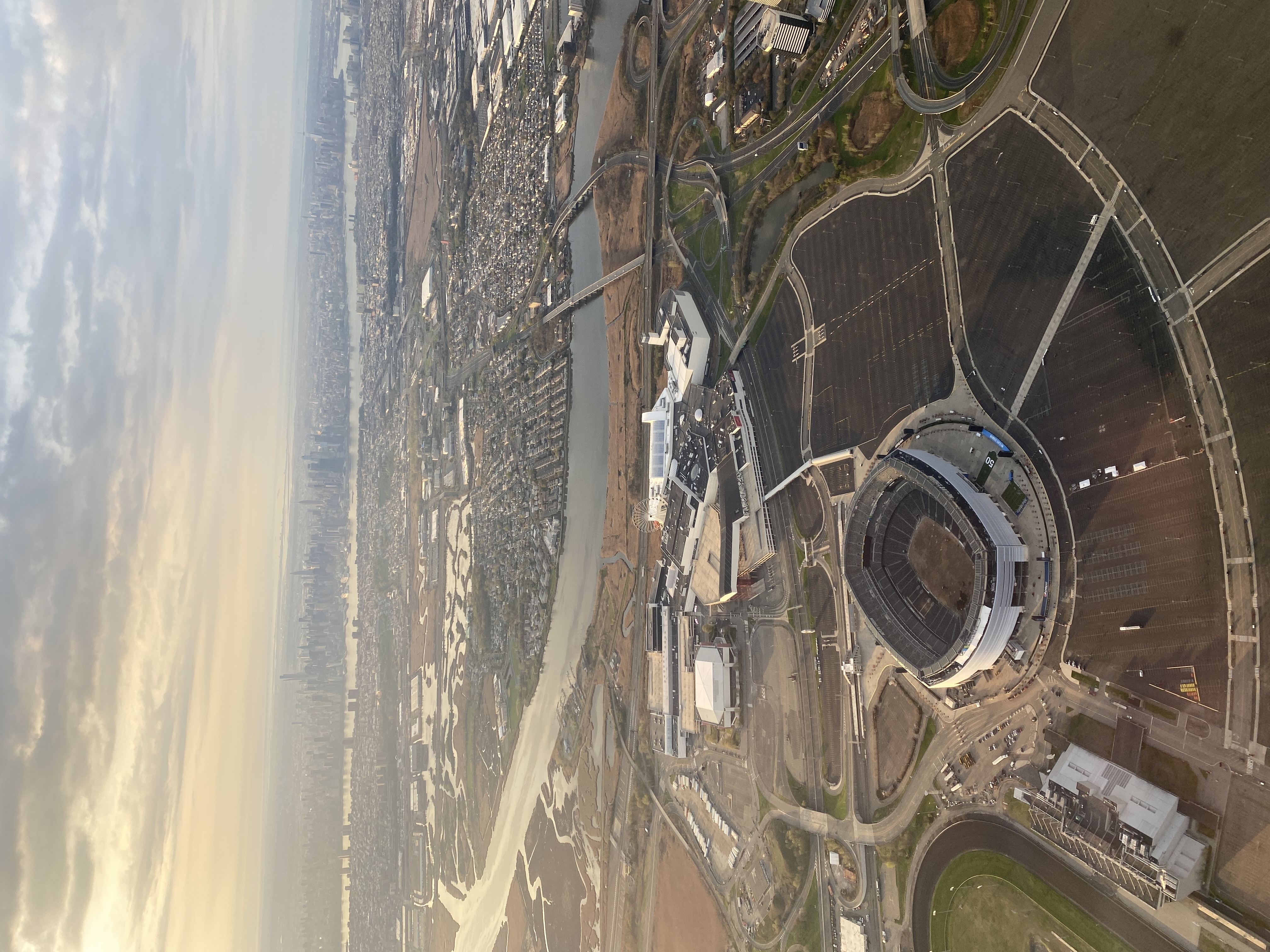 Hopefully you enjoyed this trip report, and let me know down below if you have any experiences with United, the 737 MAX, or United first class!

Comments (0)
Add Your Comment