DISCLAIMER: This article contains opinions that some may disagree with. Opinions expressed in this article are my own and do not reflect those of AeroXplorer.
The A220 is quite possibly the greatest regional/narrow-body aircraft out there, and thanks to both my love for Delta and geographical positioning, I have been able to fly the Delta A220 in both First Class and Economy Class.
I first flew the aircraft in August of 2019 when I needed to head to Seattle, so I will focus the first part of this article on that experience, which was in economy. I flew the A220 in economy again later in the year as a part of my annual winter trip to Utah where lots of my family lives. When I finally returned to Utah in 2021 after a year-long absence, I found myself on a Delta A220 again, this time in their first-class product for the first time. I will talk about both of the experiences in this article and hope to illustrate not only what makes the A220 a great aircraft, but also what makes Delta my favorite airline. I'll admit that on the latter I am biased having flown Delta to and from SLC many times as a kid, and I was engrossed in Jay Shabat and Seth Kaplan's book Glory Lost and Found, which I highly recommend you read! With that out of the way, here is the complete Delta A220 experience.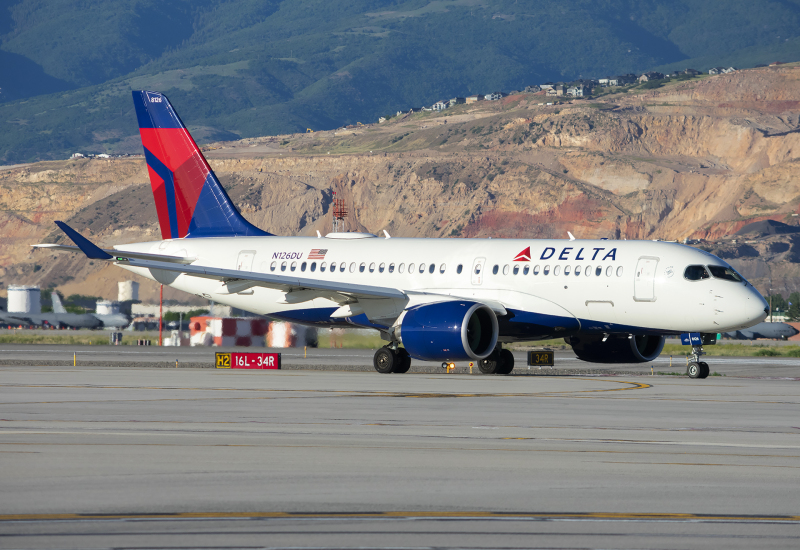 Delta A220(-100) Economy Class
Routes I've flown on: SFO - SEA, SFO - SLC, SLC - SFO

The Delta A220 economy experience is unparalleled among other economy offerings on other narrow-body planes. There are several areas in which the A220 stands out. First off, Delta's economy cabin on the A220 is arranged in a 2-3 configuration, meaning that if you sit on the left side of the plane, you don't have to climb over the middle seat if sitting by the window. The seat pitch and seat width are standard for any narrow-body plane, which is great for a plane intended at times to be a regional jet. That said, the plane as a whole has many upgrades over other narrow-body planes. The windows are massive and make the plane an AvGeek paradise. Even the lavatory in the back of the plane has a window, too! The overhead bins are also quite large, meaning that the plane can accommodate many checked bags. With those upgrades in mind, the economy experience is exceptional for short-haul routes, and when considering the aircraft being quieter and more environmentally friendly, there is quite simply no better plane for economy passengers.
Outside of the hard product, the soft product on Delta is the same as any economy flight -- Biscoff cookies are offered as are soft drinks. One thing I particularly appreciate about Delta is that they often give out the entire drink can versus just one small pour. It's the small things that count!

Delta A220(-100) First Class
Generally first class is quite similar across all narrow-body non-transcontinental Delta flights in the United States, and the first class on the A220 is pretty standard for Delta first class. I did notice that the first class seats on my flight home from Salt Lake City on a 737-800 were a bit different, but nominally the seats are basically the same.
I found the service on both the outbound and return flights to be quite good. I was offered drink refills, given the choice of any snack I wanted, and they were generally quite friendly. I would have liked a full meal being the reviewer that I am, but alas the flight was not long enough to meet Delta's distance threshold for giving out meals in first class. Oh well.
The overall product was overall pretty good for first class. Given that it was such a short flight, I wouldn't recommend booking first class as it isn't really necessary. One thing to note is that domestic Delta first class doesn't give you access to the Delta Sky Clubs—unless you are flying first class on a transcontinental flight—which means that you have to resort to other means of getting in. As my parents hold the American Express Platinum Card, we were able to get in with the cardholder (my mom) getting in free and having to pay the guest fee of $39 per person. So in addition to not having lounge access, meals as I mentioned not offered on flights under 900 miles. That combination mixed with the short duration leads me to believe that on the A220 specifically, and any Delta plane for that matter, economy is just fine.
That said, we paid with miles for this trip, and unfortunately, I don't remember the exact cost, but I believe it was in the ballpark of 60,000 miles roundtrip. One of the huge perks of Delta first class is two free checked bags per person and given we were on a ski trip, we took full advantage, checking six bags on our return flight! In the end, the perks you get as a first-class passenger on a short flight are almost never worth the cost, but the product itself is certainly nothing to complain about, and I highly recommend what Delta offers on their A220.
In Summary
No matter which class you sit on on the Delta A220, the experience is one of the most comfortable in the U.S. domestic short-haul market. The plane has unmatched space and comfort for narrow-body and regional aircraft, and with Delta continuing to expand its use and spread (the bulk are on flights to and from Seattle and Salt Lake City) around the country, I expect its popularity to only grow. As it does, I urge you all to consider booking economy unless you can get a great deal. Of course for longer flights first class is great, but the A220 isn't usually assigned to long flights.
Comments (12)
Add Your Comment