Bamboo Airways will modify services from Hanoi to London by shifting its services from London-Heathrow (LHR) to London-Gatwick (LGW) for the winter. Beginning on October 29, 2022, the fledgling Vietnamese carrier will commence new services from Hanoi (HAN) to London Gatwick, marking the newest of a wave of low-cost carriers to commence services out of London Gatwick.
The Hanoi-based airline will operate its flights once a week. The flight will depart Hanoi at 11:55 P.M. on Saturdays and arrive at London-Gatwick at 6:55 A.M. on Sundays. On the return leg, the flight will depart London-Gatwick at 11:10 A.M. and arrive at Hanoi at 6:20 A.M. the next day.

Bamboo Airways will utilize its sole long-haul aircraft: the Boeing 787-9 Dreamliner. The aircraft showcases two seating configurations, one featuring 294 seats with 26 business class seats, 21 premium economy seats, and 247 economy seats, and another featuring 292 seats with 30 business class seats, 36 premium economy seats, and 226 economy seats.

In a statement, Hoang Ngoc Thach, Deputy Chief Commercial Officer of Bamboo Airways, states: "The nonstop Hanoi – Gatwick route is Bamboo Airways' next effort in serving UK market in particular and Europe in general. We hope the sense of hospitality and international 5-star oriented services bearing Vietnam footprint of Bamboo Airways will win European passengers' hearts as well as Vietnamese diaspora in the UK."

Bamboo Airways' service to London-Gatwick will complement twice-weekly flights from Hanoi to Frankfurt, which were launched on February 25, 2022. Bamboo's previous services to London Heathrow were similarly launched this year at a twice-weekly frequency, decreasing later to weekly services.

While the brunt of the airlines' focus is on Hanoi for European flights, Bamboo Airways hopes to commence flights between London-Gatwick and Ho Chi Minh City (SGN) by the end of 2022, upon receiving more Boeing 787-9 Dreamliners. The airline obtained two weekly slots from London Gatwick, which allows another once-weekly service to Ho Chi Minh City. Any flight from the Vietnamese hubs to London would face competition from Vietnam Airlines and its nonstop services from London-Heathrow.

London Gatwick will receive its newest low-cost carrier in a string of route additions by Scoot, Norse Atlantic, and JetBlue. Recently, Norse Atlantic, a European long-haul low-cost carrier, filed its intentions to add services to Los Angeles (LAX), San Francisco (SFO), Chicago-Rockford (RFD), Orlando (MCO), Fort Lauderdale (FLL), and Baltimore (BWI) from Gatwick. Currently, the Oslo-based airline operates flights to New York's JFK and Oslo (OSL) from Gatwick. In addition, Scoot, a Singapore Airlines-owned low-cost subsidiary, launched fifth-freedom flights in 2021 between London and Bangkok (BKK), continuing to Singapore. Furthermore, AirAsia is mulling flights to Kuala Lumpur (KUL) via Dubai (DXB) from Gatwick.
Fleet Growth in the Future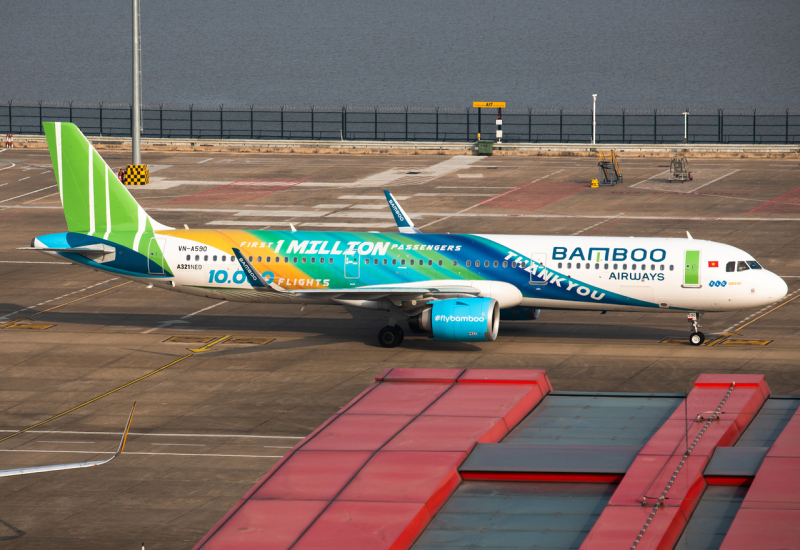 To fuel future growth internationally and domestically, Bamboo Airways will triple its fleet size to 100 aircraft by 2028. In a statement to Aeroxplorer, the airline stated it hoped to offer a diverse fleet of narrowbody, regional, and widebody jets. Currently, Bamboo Airways has 11 Boeing 787-9 Dreamliners on order with an MoU for 20 more airframes and a supposed order for another 26 A321neos with 20 options. The airline will receive another Airbus A321NEO in the third quarter of this year and hopes to receive its fourth Boeing 787-9 during the same timeframe.
In the past, Bamboo Airways has shown interest in the Embraer E2 and the Airbus A220 for its regional operations, building upon or replacing its fleet of Embraer E190s that serve Vietnamese airports with smaller runways. In 2020, Bloomberg reported a possible order for 12 Boeing 777X from Bamboo Airways, which never came to fruition. Nonetheless, the airline revealed that it is in discussions with Boeing regarding the Boeing 777X during the Singapore Air Show this year.
As the Hanoi-based airline heads into the second half of 2022 reeling from the effects of the pandemic, Bamboo Airways saw rising revenues of 150% in the first half of the year. However, the road ahead is difficult as Bamboo Airways faces increasing fuel costs that place pressure on operating costs and profits.
Comments (0)
Add Your Comment